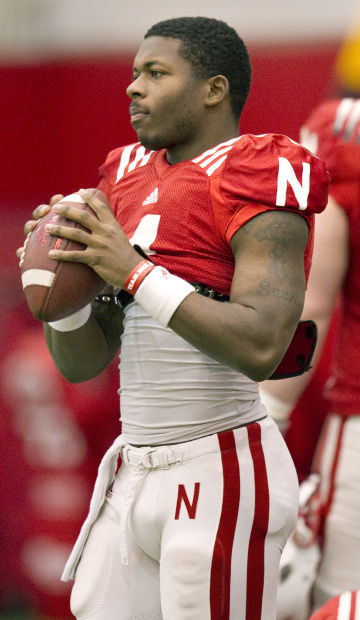 Tommy Armstrong has started 20 games during his college career, and has a 16-4 record.
Dice and slice that mark any way you choose, 16-4 is sturdy. He solidified himself as Nebraska's starting quarterback, at least in the minds of his coaches.
His former coaches, that is.
The sophomore is learning a life lesson. Sometimes you earn a measure of comfort, a degree of control, then forces beyond your control wipe out much of what you've earned.
It's difficult to say exactly what new Nebraska coach Mike Riley's offense will look like. He's favored a pro-style approach that's produced a nice run of pass-oriented quarterbacks at Oregon State. But Riley says he will evaluate NU's talent "and then fit our system into the best way to play and win games."
No matter how Riley ultimately configures his offense, Armstrong, a dual-threat QB, deserves first crack at the starting role, if based only on his battle scars.
Armstrong said Tuesday he's had a few conversations with Riley. 
"He really hasn't watched us a lot," Armstrong said. "But we had a conversation about the things our style of offense and his style had in common."
Armstrong endured ups and downs running Tim Beck's spread system this season. He completed 51.7 percent of his passes, with 19 touchdowns and 11 interceptions. Last season, he completed 51.9 percent, with nine TDs and eight picks.
He's like the vast majority of college quarterbacks — he typically locks in on his first read.
Of course, his 6-for-18 passing day at Wisconsin was a low point. Beck, who also was the quarterbacks coach, sat down with Armstrong afterward and told him to quit trying to be perfect. To just play.
"I thought in the last couple of games he really grew up and played really well, and showed why we recruited him — gutsy leadership, making plays, using his feet when he had to, strong arm, tough kid," said Beck, no doubt referring to Nebraska's Nov. 29 overtime triumph at Iowa, when Armstrong made several clutch throws.
Beck thinks Armstrong's struggles and inconsistency essentially began at Michigan State and continued for much of the ensuing four games (Northwestern, Rutgers, Purdue and Wisconsin).
You have free articles remaining.
"As every game became bigger and bigger, more pressure was put on him," Beck said. "For a young guy, a sophomore, all a sudden the critics came out and questioned him.
"It's hard. He was trying to prove people wrong instead of just playing the game the way he knows how to play it."
Beck felt empathy for Armstrong as he endured criticism.
"I know where he's coming from," Beck said. "He and I aren't much different in terms of when we win, it's great and when we lose, it's on us. It's always getting critiqued and never feeling like a time when it's been good."
Armstrong said he's learned plenty. Foremost on that list?
"It all starts off with me, week in and week out," he said.
He added, "You have to stay level-headed when things are falling apart. You have to make sure you're the guy who picks everybody up sometimes."
Beck praised Armstrong's development, but couldn't pinpoint a specific area where the quarterback improved this season.
"It's like looking at your kids when they get older," Beck said. "You can't really put a finger on it; they're just growing up."
Growing up in the heat of battle. That alone should give Armstrong an immediate advantage over sophomore walk-on Ryker Fyfe and redshirt freshman Johnny Stanton, ostensibly the leading candidates to overtake Armstrong. While at Oregon State, Riley recruited Stanton out of Rancho Santa Margarita, California.
True freshmen AJ Bush and Zack Darlington likely will get long looks as well.
Bottom line, this discussion is mostly about system — as in, what exactly will Riley run?
Armstrong said he didn't catch himself peeking at Riley as the new coach watched practice earlier this week. After all, Beck is still his coach.
"He's a great coach, one of my most favorite coaches I've ever had," Armstrong said. "Honestly, he's given me a chance, believed in me. This coaching staff's believed in me. They gave me a chance to go out and make plays. ..."
Can Armstrong make plays in the new offense? Can he make the adjustment? He'll obviously have to improve significantly as a passer. But I wouldn't count him out.