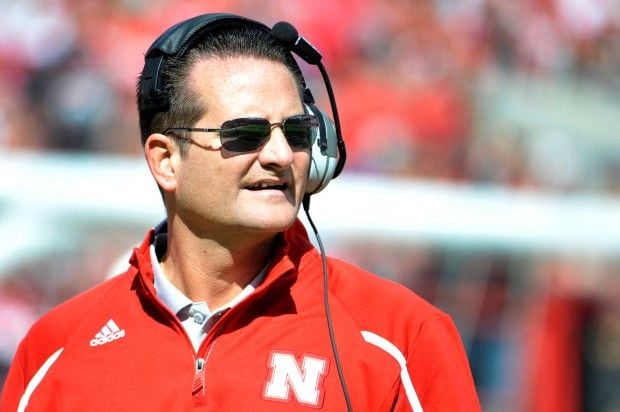 Watch the smooth and confident manner with which he deals with a herd of reporters. Great patience. Great poker face. Unflappable.
Watch him interact with players, with an approach that is businesslike and at times properly stern, but also patient and personable.
Watch his versatile offense, one that deftly intertwines elements of the power game and the spread. It's unique.
It is all very appealing. You can bet at least a few athletic directors have taken notice.
Beck, the third-year Nebraska offensive coordinator and quarterbacks coach, possesses an air of confidence that stems in large part from his fast-paced, no-huddle system's effectiveness. He doesn't claim it's perfect. But he clearly believes in what he teaches, in his play-calling and in the players who execute his wide array of plays.
Nebraska appears poised to have a memorable season — a top-10 season — on offense. And we all know what that means. If the offense flourishes as expected, the 47-year-old Beck will surface at season's end as a leading candidate for head-coaching jobs. Maybe Illinois will come calling. Or Maryland. Or someone out of the blue.
With an annual salary of $700,000, Beck may not be interested in many non-BCS-conference jobs.
This much is clear: Beck is ready to rise. That's my read, for what it's worth. He has the deep resume. The maturity. The demeanor. He has a fourth-year starter at quarterback and a manageable schedule. Of Nebraska's 11 FBS opponents, only three last season ranked among the top 30 nationally in total defense (Michigan State, Michigan and Penn State).
For Beck, the stars seem aligned. And he makes no bones about his willingness to give major-college head coaching a try.
If nothing else, he has created the perception that he is ready to run his own program.
He already has been a head coach at three high schools — two in Texas (R.L. Turner and Mansfield Summit) and one in Arizona (Saguaro). He thinks those stints, especially the ones in Texas, were integral in his career growth. He was like a CEO, he said.
"You have a lot of players, a lot of staff," Beck said. "There's pressure."
Beck, of course, has been influenced by many head coaches. He mentions, in order, Don Bucci, the former Youngstown (Ohio) Cardinal Mooney coach; Bill Snyder and Mark Mangino. Beck was a graduate assistant under Snyder at Kansas State in 1991-92. He was passing game coordinator at Kansas in 2007 when the Jayhawks made their Orange Bowl run.
At K-State and KU — programs that struggled for years — Beck learned the importance of simply outworking opponents. Of trying to find any advantage possible, however tiny.
Beck's ideas for offense have come from too many sources to list. When folks ask him to characterize his system, "I say we're kind of like a mutt," he said. "I can watch a game on TV and see a play and say, 'Hey, I'll put that in.'"
Sounds easy. But we know better. That he's able to pull it off speaks to his system's flexibility. It speaks to his ability to teach players to execute. He also mentions the ease with which young players can learn his system. He seems proud of that. He should be proud of that.
"I don't want them thinking a lot," he said.
At the end of the day, he hopes the plays he adds complement plays already in the book.
"Even though a certain play may not work, the idea is you better run it so the defense sees you have it, so the play you really want to run works," Beck said.
Tom Osborne was a master at setting up defenses in such a manner. He called plays that would lead to grumbling in the stands — perhaps a short-side option pitch for short yardage. Osborne was thinking ahead. Beck can relate.
"Sometimes fans will be like, 'That call stinks,'" Beck said. "But I'm up there (in the coaches' box) thinking, 'OK, now I got them.'"
Nebraska head coach Bo Pelini, who runs the defense, gives Beck ample leeway.
"That's why he hires hard-working guys, guys he knows," Beck said. "But he's always involved in terms of knowing the (overall) plan. He may not know we're running this play and this play and this play. But I may say, 'Hey, we're going to run up the middle against these guys. We think we can get them there.'"
Beck is savvy. He enthusiastically discusses his offense, but knows when to pull back. Last week, he was hesitant to discuss the system's various tempos. Pelini has said there are basically four different tempos Beck can call on. Beck didn't want to get into it. No reason to tip off opponents.
Beck, at the moment, is a poker player with a loaded hand. Martinez completed 62 percent of his passes last season. Beck said he could see Martinez eclipsing that mark. The speedy senior is said to be making better decisions. He has been taught well. Folks almost take for granted that Beck's offense, which ranked 26th nationally last year, is ready to explode. It is easy to envision.
Could an athletic director envision Beck having success as a head coach? The answer is easy.
Yeah, watch Beck closely.
He may not be around here much longer.