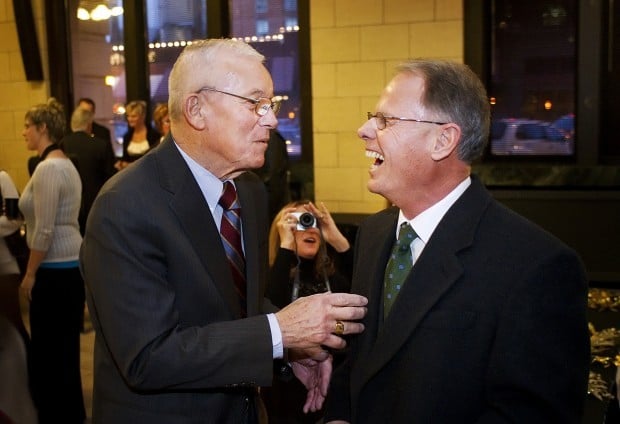 The 46 Botox injections in his face help Wally McNaught move his mouth.
His wife, JoAnn, and his children and grandchildren, along with volunteering at the Lincoln Food Bank, help McNaught move through each day.
Moving isn't easy. Balance is an issue. The former longtime (36 years) basketball coach and athletic director at Lincoln Southeast is still fit. He works out a couple of times a week.
But Parkinson's disease doesn't wait.
In his downstairs den, overlooking the 10th hole at Woodland Hills Golf Course near Eagle, McNaught and his wife understand the work to fight the disease that has no cure.
"Michael J. Fox, Muhammad Ali have it," JoAnn said. So did Salvadore Dali, Pope John Paul II and Vincent Price. The Rev. Billy Graham and Janet Reno have Parkinson's.
Wally works with a speech pathologist at the Barkley Center on the University of Nebraska-Lincoln East Campus. He works out to help his balance and strength. He's still got the build of the sprinter from Polk High and Nebraska Wesleyan so many years ago.
"I'm good as I can be," said McNaught, who was part of the famous Lincoln basketball coaching foursome along with Ed Johnson at Lincoln Northeast, Paul Forch at Lincoln East and Aldie Johnson at Lincoln High.
Those four dominated the basketball scene in the area and Class A for more than 25 years.
"Boomer" Forch with his up-tempo, "score a 100" style. Ed Johnson, with his strict discipline and state titles. Aldie Johnson with a mix of patience and speed, and McNaught with "Wallyball." The contrasts in styles helped fill Pershing Auditorium for intracity games.
"Paul Forch came up with 'Wallyball,' because he wanted an up-tempo game and we played a passing game," McNaught said. "We'd control the tempo and it drove him crazy. But that's the way I thought we had a best chance to win."
JoAnn helped Wally remember he had been to a basketball clinic put on Dean Smith of North Carolina, who was a proponent of the famous four-corner offense (read "slow and patient").
"I went to clinics every summer and picked up something new, but the way I learned basketball was the patient offense and strong defense," Wally said.
"The three-point shot changed basketball. Now, you take a three or drive to the basket," McNaught said. The three-point shot became a rule in 1987-88 in high schools. McNaught finished his coaching in 1985.
He coached three sports at Harvard High and his star athlete was former NU assistant football coach Milt Tenopir. McNaught coached at Polk and Crete, eventually landing in Lincoln. All along he taught American history.
He once said, "There's a perspective beyond winning that helps me over the rough spots. There are doubts and discouragement that go with the territory. But tomorrow you wake up and it's a new day and you gain more perspective on how appreciative you should be in having as good a job as teaching and coaching."
Wally and JoAnn are coming up on their 60th wedding anniversary.
"When we were all set to be married, Wally was drafted 10 days before the wedding," JoAnn said. "By the time he got back from Korea, our daughter, Linda, was 9 months old. This time, we'll be together."