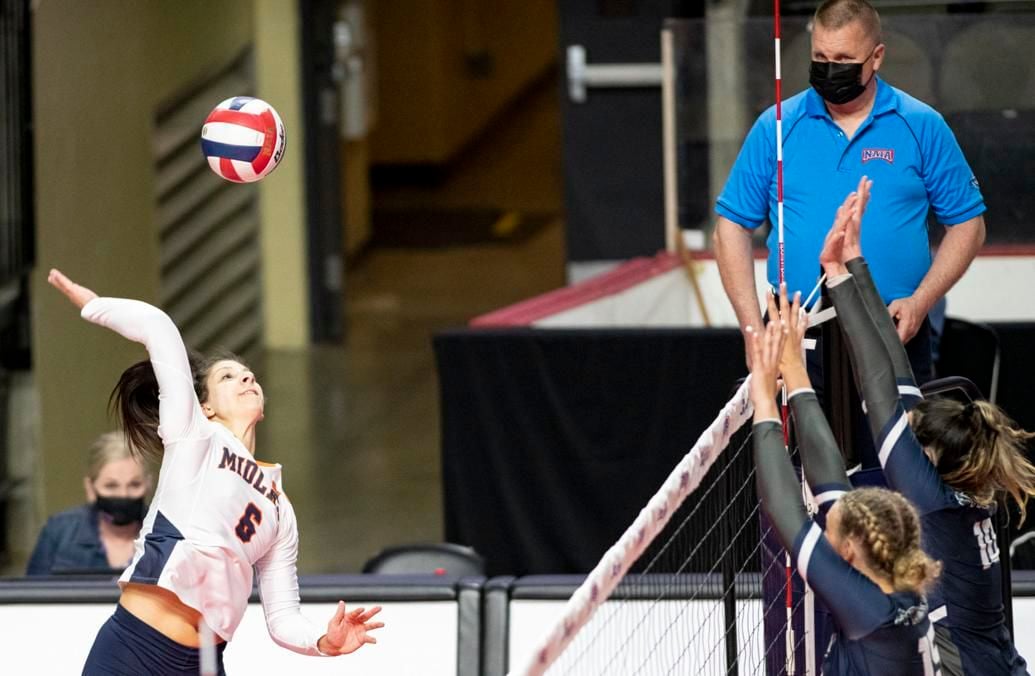 No. 6 Missouri Baptist won the final two sets to outlast No. 12 Midland 23-25, 25-14, 24-26, 25-19, 15-12 in the NAIA volleyball tournament championship match Saturday night at Tyson Events Center in Sioux City, Iowa.
Giovanna Tapigliani had 22 kills to lead Missouri Baptist, which also defeated Midland in five sets during the regular-season opener 238 days earlier.
Sydney Morehouse led Midland with 21 kills on 49 swings and Taliyah Flores had 15 kills and 17 digs. Lincoln Lutheran graduate Hope Leimbach had 49 set assists.
"There's nothing to hang our heads about here," Midland coach Paul Giesselmann said. "When you consider that there are 240 plus NAIA programs, and it came down to just two of us, how can you be anything but proud?"
Midland scrambled from a 10-5 deficit in the fifth set and pulled to within 13-11 on a Missouri Baptist hitting error. But Tapigliani delivered a kill on the next rally, and she sealed the match with another kill.
The Warriors were up 23-21 in the third set before Missouri Baptist rallied to take a 24-23 lead. But Flores tied the match on a kill, and Morehouse delivered another to give Midland a 2-1 advantage.
Momentum carried into the fourth set where Midland jumped to a 10-5 lead. But Missouri Baptist chipped away and then won 10 of the final 15 rallies to send the match to five. Missouri Baptist hit .270 in the fourth set while holding Midland to a .053 clip. The Warriors hit just .033 in the final set.
Midland was playing in its first NAIA national championship match. The Warriors got there by upending No. 1 Jamestown in Friday's semifinals.
"We would've liked to have won, but in the end, whether the trophy says 'runner-up' or 'champion' isn't going to define who they are or what these women have accomplished this season," Giesselmann said.
Flores, Leimbach and Maggie Hiatt were named to the all-tournament team.