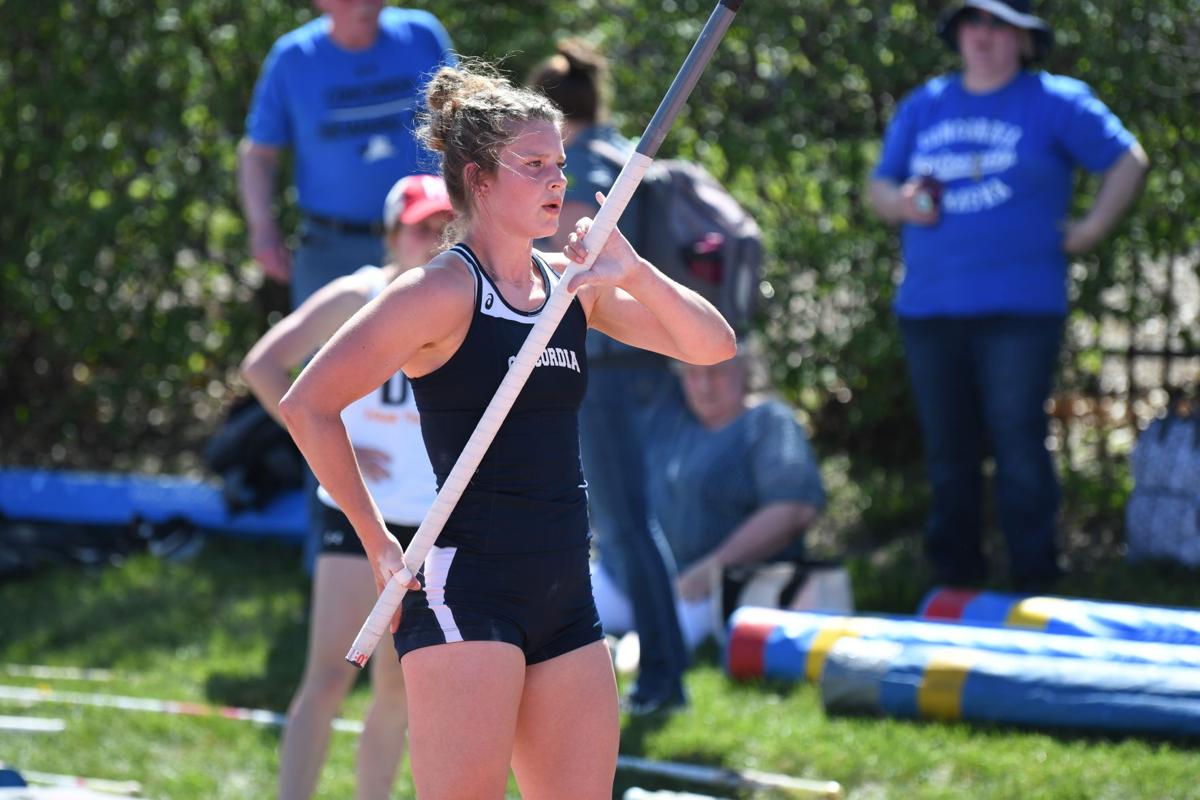 Josie Puelz's high school didn't have a pole vault coach or pole vault pit, so who would blame her for focusing only on the hurdles?
Or she could have been a sprinter.
"A mediocre sprinter," she says.
There was just something "addictive" about pole vaulting, and once Puelz got her first taste for it at an eighth-grade camp — where the poles were stubby and the the jumpers were clearing an A frame into a sand pit — she was hooked. It was all up from there.
With much of her collegiate career still in front of her, Puelz has already established herself as the top pole vaulter in the NAIA. The Concordia sophomore quietly won an indoor national championship in March in Brookings, South Dakota. She followed by winning the outdoor championship for an indoor-outdoor sweep of the pole vault gold medals.
"I always have pretty lofty goals, so of course I'd be like, 'Oh, man, how cool would it be to win a national championship as a freshman?'" said Puelz, who is the Journal Star's 2021 state college women's athlete of the year. "Obviously that didn't happen, so it fired me for this year for sure."
The runways, so to speak, for Puelz's national championships were quite different but just as rewarding.
She tied a school record with a leap of 13 feet, 4½ inches at the NAIA indoor championships, holding off Hastings' Abigail Collingham. But very few people were there to watch Puelz jump due to COVID-19 restrictions, including no family.
The field events were done in shifts and pole vault went last. Only the pole vaulters and the coaches were on site.
"We would run down the runway and you could probably hear a pin drop," Puelz said. "It was dead silent."
That's what made the outdoor national championship extra special for Puelz, who vaulted to a title in front her family, friends and teammates in Gulf, Shores, Alabama.
"I had a lot more adrenaline outdoor for sure, especially when you have people watching and you can hear people screaming for you," said Puelz, who won with a vault of 13-3½. "That's like a special feeling and I love it.
"It meant the world that all my family drove out there to see me."
The objective in pole vault is to clear an initial height and then work your way up. It's a concept that matches Puelz's mentality to a T. She's always looking for ways to go higher. Always looking to raise her edge.
That's why Puelz spent more time lifting weights while training for her sophomore campaign. She said she was adamant to push her own limits in the weight room, and that included more sprint training, too. She also credits Concordia pole vault coach Jason Berry for pushing her daily in practice.
The results began to show.
Puelz was jumping around 12-6 last year, and went 12-10¼ at NAIA indoors to place third. Now she's jumping into the 13s, including a school and meet record 13-7¼ at the Great Plains Athletic Conference outdoor championships.
And though Puelz has accomplished a lot — two national titles, school and GPAC records — in a short amount of time, she believes there is much more to achieve.
"I think I kind of have to look beyond just winning the titles and kind of look at how I can improve myself," said Puelz, who also competes in the hurdles for the Bulldogs. "I don't ever want to settle for what I'm jumping. Every time I have a practice session, I'm nitpicking apart, 'OK, what can I do better?'
"There's always something out there for me to chase. Also, staying humble and knowing that just because I won two national championships doesn't guarantee me anything in the future."
There was no way for Puelz to practice pole vault when she attended Lincoln Lutheran. She'd practice hurdles and relays during the week with her Lutheran teammates and then head to the Devaney Sports Center once a week for private pole vault sessions with Nebraska volunteer coaches Clayton Pritchard as a freshman, Ethan Sundusky as a sophomore and junior, and NU pole vaulter Tyler Loontjer as a senior. Puelz would rent poles from Loontjer.
Those lessons helped Puelz win two Class C state championships and set a Class C record with a leap of 12-9 as a senior.
Now Puelz is raising the bar at Concordia.
"I like to feel productive, so unless I'm improving and keeping up that work,  I'm just not a happy person otherwise," Puelz said with a laugh. "I love working at things and setting goals for myself and raising my expectations each and every day. That really keeps me going."