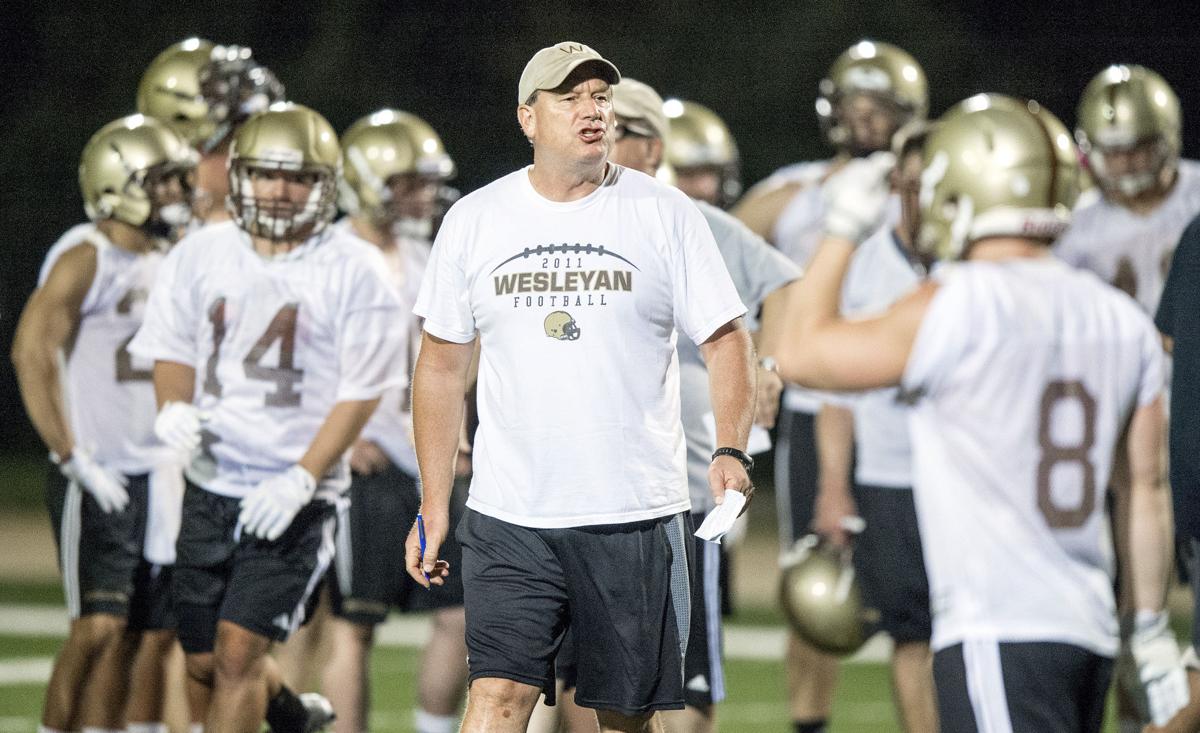 COVID-19 has been messing up spring break plans for a second year.
Nebraska Wesleyan football coach Brian Keller was unable to escape the disruption in 2021. He and his son, Quinn, a sophomore on the NWU squad, had to stay behind as the rest of their family went on their annual Colorado ski trip during NWU's spring break earlier this month.
Because of the pandemic, NCAA Division III football was postponed last fall and an abbreviated American Rivers Conference schedule was put in place for the spring, so the Prairie Wolves are in the middle of preseason camp.
"It was hard, really hard," said Coach Keller, an avid skier when asked about sacrificing his yearly visit with the moguls and black diamonds on the slopes. "But football trumps skiing."
Even so, the NWU players felt for their coach, especially the ones from Colorado.
"Coach was upset he couldn't hit the terrain park and do some tricks," said a laughing Kevin Tims, a senior wide receiver from Colorado Springs. "But he's having fun out here working with us."
What the Prairie Wolves are working toward is a three-game conference season in April, although the opener at home against Buena Vista on April 2 (6 p.m. kickoff) has been downgraded from an official game to a controlled scrimmage because of injuries for the Beavers this spring.
NWU will be home at Abel Stadium again on April 10 (1 p.m. kickoff) against Central before traveling to Coe for its final spring contest April 17.
Every player receives an extra year of eligibility, and Keller said about half of this year's seniors plan to return in the fall and play the 10-game, 2021 season and the other half are graduating in May and moving on to graduate school or the workforce.
So Keller is faced with a balancing act in the spring with the three-game schedule, using it as a development time as a springboard for the fall season, but also making sure it's a memorable experience for the seniors who are wrapping up their careers.
"We're going to develop our young players, and we've got a lot of new ones in key positions," Coach Keller said. "But we also want to go out and compete to win, that's why we have the scoreboard up there."
Both Tims and senior all-conference linebacker Jacob Garnas are planning to return in the fall. They've seen the 25 practices and five scrimmages last fall as well as the practice time this spring laying the groundwork for possibly something special come August.
"It can get physical at practice, and we have a lot of tough dudes here who have put in a lot of work and want to show it," said Tims, NWU's leading receiver back from 2019 when he had 39 catches for 403 yards in seven games.
"There's a few nice words that are thrown around here at times, but we still never forget we're one team and we play for each other. We're super excited to have some competition finally coming to town."
For the offense, sorting out the replacement for graduated all-conference quarterback Jonathan Curti will be the top priority. A pair of former all-state signal-callers — sophomore Carter Terry (Northwest) and freshman Evan Johnson (Adams Central) — are in that mix as well as junior Tyler Auman (Norris).
Garnas said the Prairie Wolves are in the middle of learning a new defense, but he thinks the change will be good because it fits the personnel NWU has on the defensive side of the ball.
"This new defense allows our more mobile and athletic players to make more plays," said the 6-foot, 225-pound Garnas, a Julesburg, Colorado, native who has 218 career tackles and three interceptions. "We have some young guys stepping in who didn't play last year (in 2019) that are going to be able to make some great plays in some of our new schemes. We will have that mentality of being aggressive, but also being smart and working as a team."