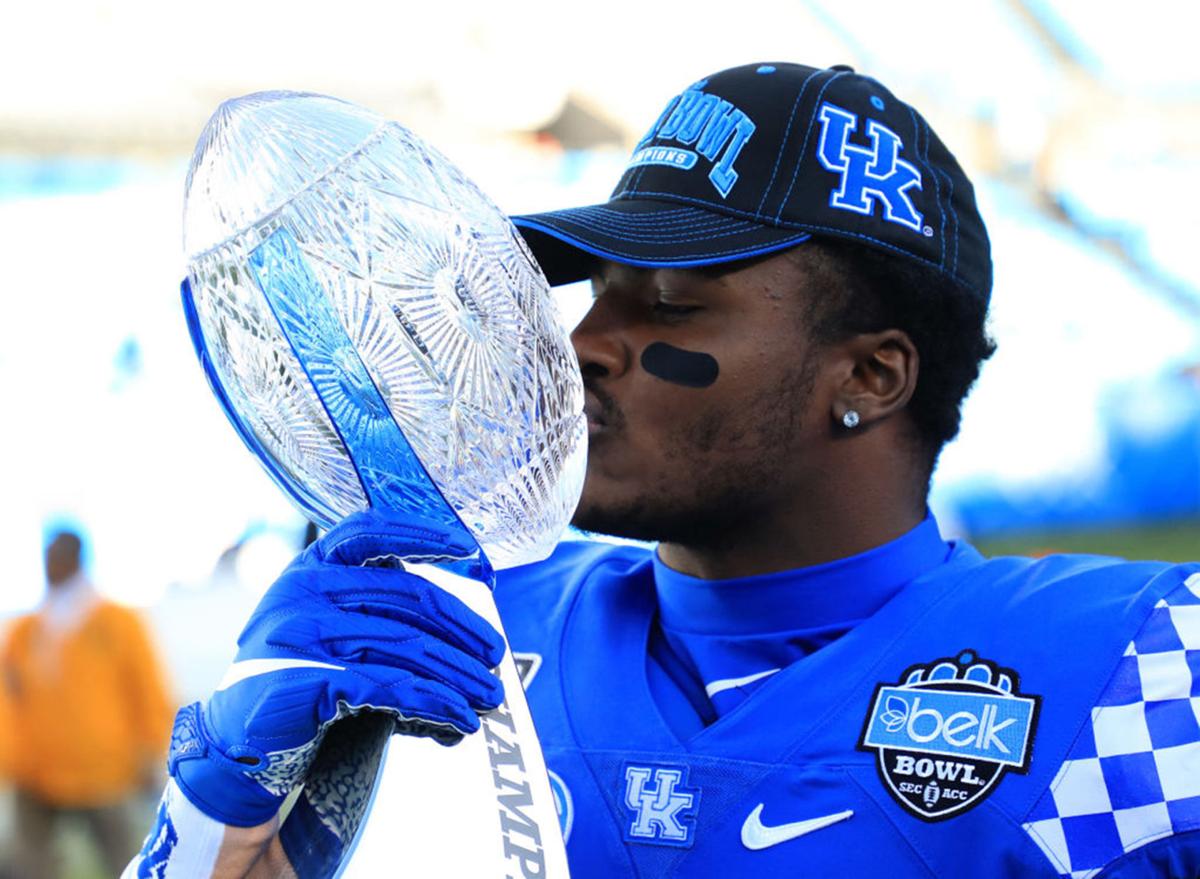 We know you want to know if there is going to be a college football season in 2020.
Despite what the commissioners and the coaches and the administrators and the doctors and the health experts might be telling us, the determination isn't going to come in July or August or even early September.
The first part of the answer is going to be determined right here, right now.
"We're excited to be back," said Kentucky defensive lineman Josh Paschal during a video conference call with the media on Tuesday.
You know the inspiring Paschal story. Talented redshirt junior out of Maryland. Diagnosed with skin cancer on the bottom of his foot before the start of fall camp 2018. Underwent surgery. Received chemotherapy. Missed most of season. Played in three games. Healthy in 2019. Started all 13 games.
During this year's incomplete spring practice, Paschal was being moved from outside linebacker back inside to defensive end when - bam - the coronavirus hit. Bye-bye helmet, shoulder pads and tackling drills. Hello online classrooms, Zoom meetings and home workouts.
Then, finally, Paschal and his UK teammates received the Cat signal they could return to campus for voluntary workouts, Monday, June 8.
Remember, Paschal is a cancer survivor. He knows a thing or two about compromised immune systems. So, he was asked Tuesday, any hesitation about coming back? No, said Paschal.
"We have full faith in our training staff and our strength staff that we have a clean environment and they keep our safety first," he said Tuesday.
Even as a cancer survivor?
"My oncologist said I don't have to take any unnecessary precautions," Paschal said. "As far as the research goes, I'm good. I feel like we're all on the same level as the average human right now."
It's assumed that's the way most student-athletes feel. They're young and healthy and ready to get back to work, to school, to seeing their friends and teammates. If they have to jump through a variety of public health hoops to do it, so be it.
Tennessee reported Monday that none of its 72 players who were back on campus had tested positive for the coronavirus. Only a graduate assistant had turned up with COVID-19 and he was being quarantined for 14 days. Said head coach Jeremy Pruitt, all Vols were good to go.
Others haven't been so lucky. Auburn had three players test positive. Alabama had five. In fact, the Tide administered tests and then let the players work out before receiving the results that showed that in fact there were infected players. Oops.
Meanwhile, South Carolina Coach Will Muschamp hinted Monday that it was nobody's business whether any of his Gamecocks tested positive. Coach Boom told ESPN's Golic and Wingo parental concerns were part of the reason his program is not releasing test results.
Still, this is but the first step of what will be a curvy road between now and the scheduled first Saturday (Sept. 5) of the college football season. In fact, the NCAA is reportedly set to approve a preseason practice plan. Normal workouts could start July 6. Enhanced training could start July 24. Training camps could start Aug. 7.
One provision the NCAA is considering: Mandating that coaches 65-and-over wear masks. North Carolina's Mack Brown will be 69 on Aug. 27. Alabama's Nick Saban is 68. Duke's David Cutcliffe is 65. At Kentucky, young whippersnapper Mark Stoops doesn't turn 53 until next month.
Overall, the attitude appears we're going to do what it takes to play. Temperature checks. Incessant equipment wipe-downs. Social distancing as much as players can social distance. "We're not allowed to lift each other up (off the ground)," Paschal confided.
What if it doesn't work? What if the safety precautions are not enough and a whole group of players test positive or come down sick? What if college football can't navigate this important first step? What happens then?
Said Paschal, "We're preparing like we're playing a full season."
Masks on and fingers crossed.
Concerned about COVID-19?
Sign up now to get the most recent coronavirus headlines and other important local and national news sent to your email inbox daily.