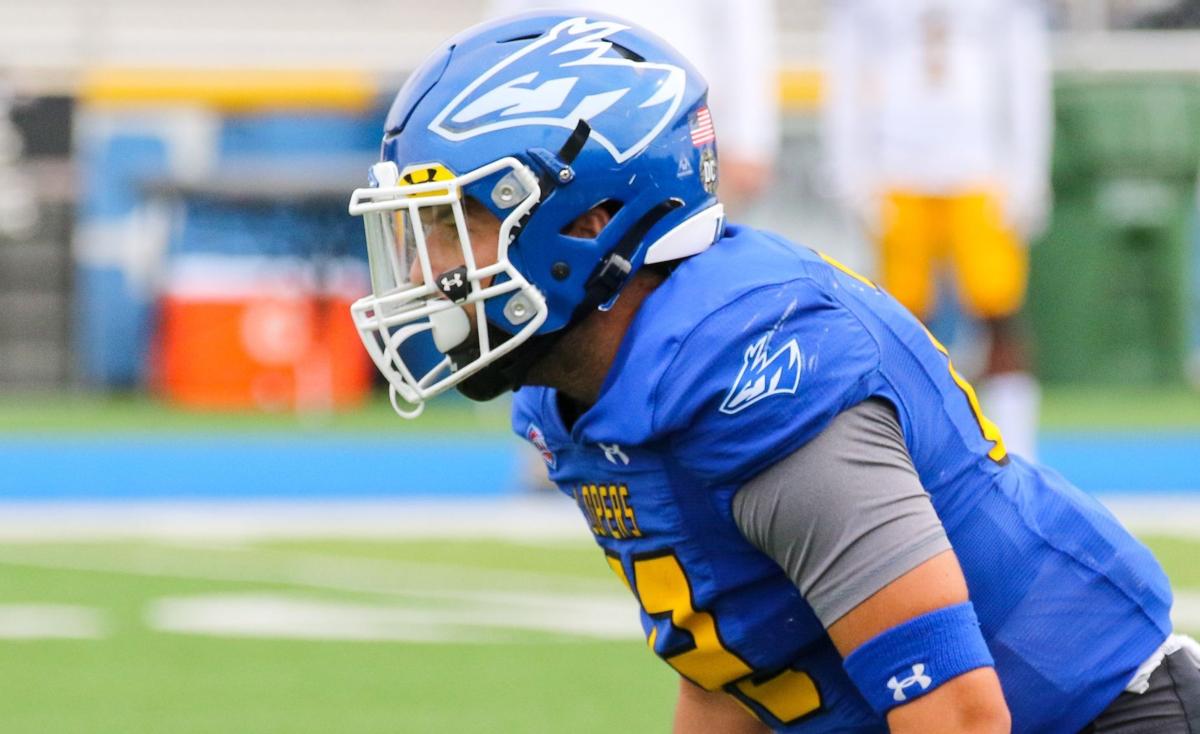 Jack McLeay will never let Blake Bubak live it down.
Stay in Kearney, the then-Loper football player told Bubak in the fall of 2015. Join the football team if baseball doesn't work out.
"I just didn't listen," Bubak says. "I thought there was greener grass on the other side of the hedge."
Greener grass at the time was an opportunity to walk on to play football at South Dakota State. An FCS school. But a semester later, Bubak found himself taking classes at UNL and putting sports completely aside. A semester later, the Columbus graduate was back where it all started.
Only this time, he was dead set on joining the football team. He told his story to coach Josh Lynn, who was just hired at the time to rebuild a struggling program. Another meeting followed, and then an invite to "mad drills."
After an unsettling start to his college career, Bubak found solid ground.
On Saturday, he'll make his 32nd career start at safety for the Lopers (9-2) when they travel to Gunnison, Colorado, to play Western Colorado (10-1) in the opening round of the Division II playoffs. Bubak's been a fixture at the back end of the UNK defense and in the Lopers' resurgence.
That's probably what made Sunday extra special when the team got to together for the postseason selection show to learn that the Lopers were in the playoffs for the first time in a decade.
"It was kind of a speechless moment," Bubak said. "There are a lot of guys that have put off their futures or put off their careers to stick around, help this team to be successful. I think seeing their reactions was pretty heartwarming."
Bubak was one of those super seniors to return for another season. The decision to come back was an easy one, Bubak said.
Things were not as clear as a freshman.
Bubak's collegiate career actually started on the ball diamond. He signed with Nebraska-Kearney to play baseball and arrived on campus in the fall of 2015 with his baseball glove in hand.
But something didn't feel right. Maybe his love for baseball wasn't completely there. Bubak began looking at options to play football after that fall semester.
He called South Dakota State, which had a walk-on spot available, and he was in Brookings, South Dakota, for the spring of 2016.
But that didn't feel right either, and Bubak enrolled in classes at UNL for the fall of 2016.
"At that point in time I was struggling trying to figure out what I wanted to do for school and how that was going to relate to my career path," he said. "I had some friends that live in Lincoln, so I figured I would just take a step back and figure out what I wanted to pursue from an academic standpoint.
"At first it was kind of nice being a student and having time to do homework and relax. But then I felt like I wasn't getting my full college experience while I was in Lincoln. I feel like there was more that I could have been doing."
Nebraska-Kearney had a new football coach, and Bubak wanted to see if there was a chance to join the team.
Lynn was still trying to get acclimated to the new job, so he knew little about Bubak. But he told the 5-foot-9, 195-pounder to show up to "mad drills," a winter-conditioning program that took place on the football field.
Bubak, who was a three-sport standout at Columbus, secured a roster spot, and after impressing on the scout team in the fall 2017 — he was ineligible to play at the time — he worked his way onto the two-deep. By the 2018 season, he was starting at safety and finished with 39 tackles and five pass breakups.
Much like the Lopers under Lynn, Bubak kept accelerating. He started every game as a junior, had two strong games last fall in the COVID-shortened season and was named captain for his final season of 2021.
Despite missing three games because of a knee injury, Bubak is fourth on the team in tackles with 43. He returned to action two weeks ago, and he and junior Darius Swanson, an all-conference first-teamer, give the Lopers a strong and experienced combination at the safety spots.
Maybe Jack McLeay was right. Maybe Bubak, who has 154 career tackles, should have followed his friend's advice.
But then again, the endgame to Bubak's career may not have been as rewarding. Maybe he wouldn't be playing in the DII playoffs had it gone a different way. For that, he's grateful for the twists and turns, and for the people he met along the way.
"As weird as it may sound to people that I transferred schools as many times as I did I think they were all learning-lesson milestones in my career," Bubak said. "Because I can look back now and say, 'Well, if I wouldn't have left somewhere in the first place then I may not have ended back up where I am today.'
"I could have made it easier on myself if I just stayed out in Kearney in 2015 instead of just leaving. (But) the things I learned along the way and my parents obviously helped me out. I just continued to trust the path and followed the path and it helped me get to where I'm at today. Now we're here."