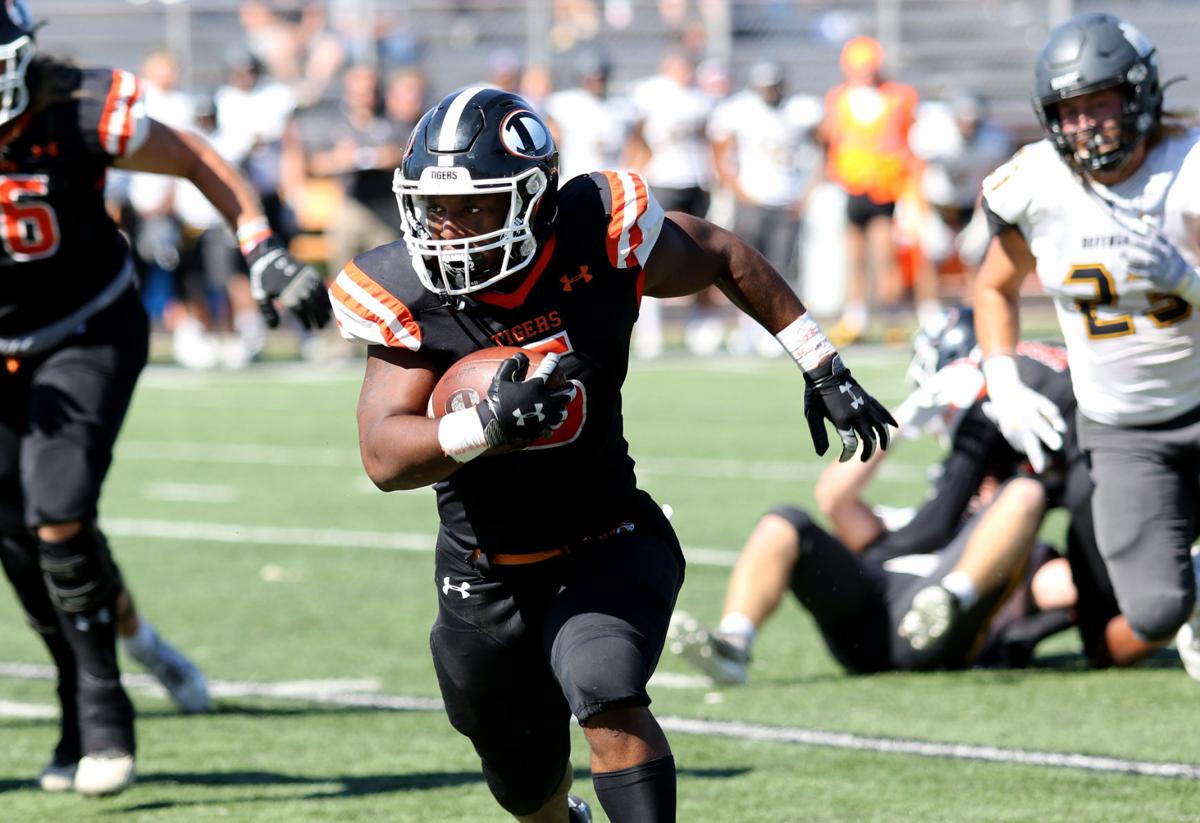 Before the snap, Frazzie Wynn's eyes went to the safeties. They were split in formation, likely expecting a pass play.
And when the middle linebacker shot to the right, Wynn saw a good friend emerge: daylight.
"I hit my right and the hole was beautifully big," the Doane running back said. "I mean, there were no safeties, no corners, no nothing."
Sixty-four yards later, Wynn was standing in the end zone and the Tigers rolled to a 44-0 victory against Hastings on Saturday in Crete. And Wynn says he may have added a little swag to the end of his run.
It was a swag-like Saturday for the Lincoln Southwest graduate, who rushed for a career-best 225 yards on 21 carries and scored four times. He added a pair of catches for 13 yards and was the first Tiger to rush for more than 200 yards in a game since 2016.
It was a breakout game for a running back seeking just that after a "roller coaster" start to the season.
"It was just super-amazing, like all the hard work I put in and it showed that Saturday with me working on making people (miss) and I did that a couple times," said Wynn, who was named Great Plains Athletic Conference offensive player of the week. "Me running away from people, stuff like that, it boosted my confidence."
Wynn has rushed for 612 yards on 107 attempts this season, and his 87.4 yards-per-game average ranks second in the GPAC and 24th nationally in the NAIA.
It's a much bigger workload for the 5-foot-7, 190-pound junior, who saw limited touches playing behind two seniors in Jacobi White and Jamaine Derogene last year.
"I only had 17 carries for about 100 yards," Wynn said. "It was very little, (and) during that time I was just being patient, because I knew my time was going to come."
That meant a different approach to the offseason, and making the most of his opportunities, like that one he ran into Saturday against Hastings when the field opened up. Now Wynn is getting the bulk of the carries while sharing time with freshman LJ Butler.
In high school, Wynn could rely on his speed to get around the edges. He's had to learn to run differently in college, getting more comfortable running north and south.
"Every yard counts, especially when you get to the next level," Wynn said. "Everything is faster so you just got to put your foot down and go up the field because going side to side will not help you out."
It's a reason why Wynn gravitates to NFL running backs like J.K. Dobbins (Ravens) and Dalvin Cook (Vikings) when looking for players to model his game after.
"Just those types of running backs who are really elusive and have that burst of speed out of the hole," the Doane junior said.
Wynn is hoping to be one of the top GPAC backs when the season is complete, and he wants to help his team finish with a winning record to create some momentum for 2022.
After starting 1-3 — the thee losses to No. 2 Northwestern, No. 3 Morningside and No. 22 Dordt in consecutive weeks — Doane (3-4) has won two of three games ahead of Saturday's 1 p.m. meeting with Mount Marty.
A 44-0 win against Hastings was Doane's best all-around performance of the season. The offense rolled up 474 total yards, including 375 on the ground.
"Us having that performance is really good because it shows we can really run the ball, which will open up our pass game, since teams will try to pack the box against us," Wynn said. "I think that will help us out in the long run."