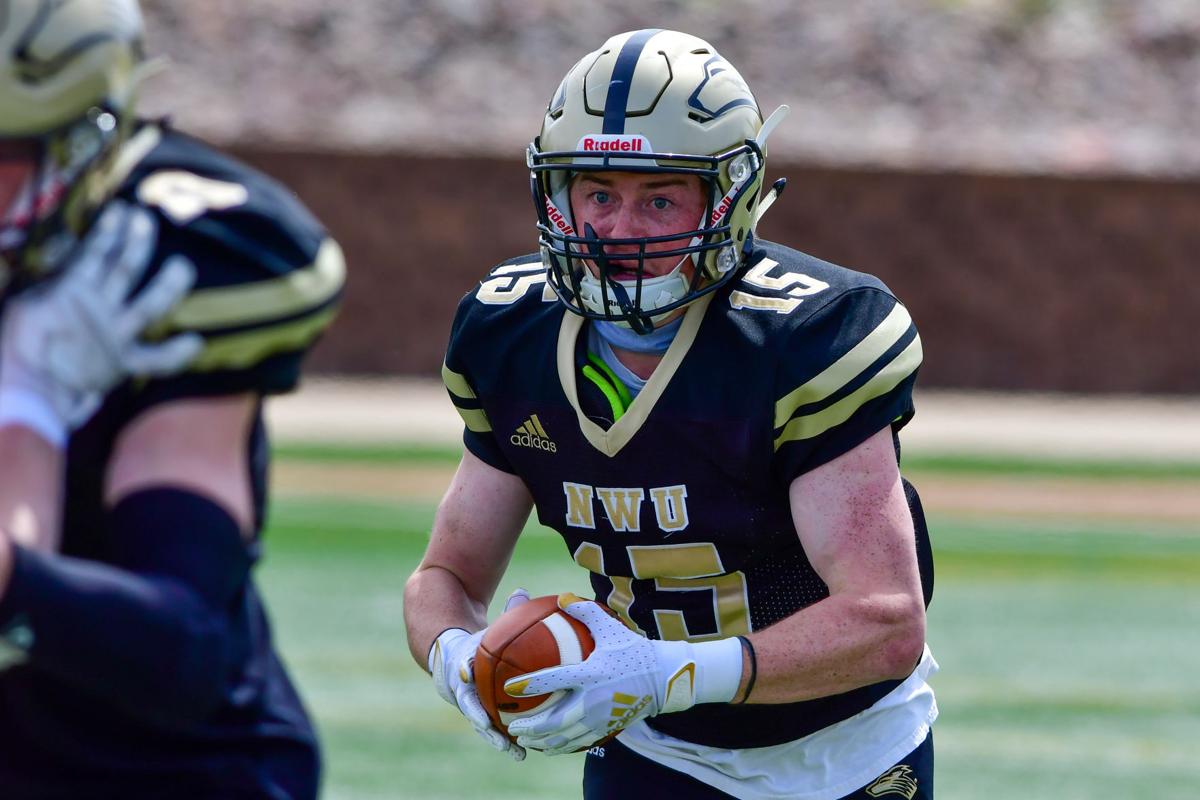 Kevin Tims' initial plan of action upon arriving at Nebraska Wesleyan was to play quarterback.
He was a successful high school signal-caller in Colorado, and was a backup for the Prairie Wolves as a freshman and sophomore.
But when it became evident that he would not see the field much — Jonathan Curti was on the verge of breaking school records and Carter Terry was waiting in the wings — all Tims wanted was a chance to play football.
So Tims traded three-step drops for routes and breaks and moved to wide receiver.
"We're all competitors and we all want to win," Tims said. "I saw it as I was just an athlete trying to play, so if there is a guy that's really talented in front of me and I want to be on the field, then I'll go find a position where we can gel together.
"Once you put your ego aside and you kind of sit back and have fun, you learn that other positions are just as fun or way more fun. I think it fits my skill set a little bit better."
It's working out quite well for Tims and the Prairie Wolves.
Ahead of Saturday's 1 p.m. home game against Dubuque, the 5-foot-9 slot receiver leads the American Rivers Conference in receiving yards (600), which ranks seventh in NCAA Division III. His six touchdowns rank second in the conference.
Tims hauled in nine passes for 127 yards in NWU's 28-21 win against Luther on Saturday, and is part of an offense that ranks second in the ARC in passing yards at 290.6 per contest.
Tims had nine catches for 204 yards and three scores against Loras.
The Colorado Springs native spent a lot of his junior season (2019) learning the ins and outs and nuances of the position. He'd ask questions of the younger and older players and watch YouTube videos in an effort to get down route running and footwork.
After all, going from quarterback to wideout can be quite a transition.
"You can run routes all day and not get the ball and not get a target," said Tims, who also returns kicks. "In terms of a quarterback, you're on every play, the ball is in your hands every single play.
"I think it's a very selfless position, so you can be running and blocking your tail off all game and might not even have a chance to have the ball in your hands, so that was kind of a transition of you never know when your next opportunity is going to come."
This season has been about maturing as a pass catcher and building chemistry with Terry and the receivers, something the players worked on during the offseason.
Eleven Prairie Wolves have caught at least one pass this year. Tims leads the way with 38 grabs, David O'Connell has 16 catches for 339 yards and four touchdowns, and Alexis Mathis has 14 catches for 190 yards. O'Connell, Mathis and wideout Isaac Dannehl, like Tims, are former quarterbacks.
Carter's ability to distribute the ball is leading to a lot of open opportunities for Tims.
There are some things Tims misses about playing quarterback, but he says playing receiver is a lot of fun.
NWU (3-2, 1-2 ARC) is looking to build off last week's come-from-behind win against Luther. Up next is Dubuque (3-1, 2-0), which beat Luther 28-2 two weeks ago.
"In this conference, in the ARC, there's no pushover, so every week's a fight," said Tims, who returned for a fifth season. "So you don't want your confidence too high. If you want to keep winning, you got to do things right in this conference."