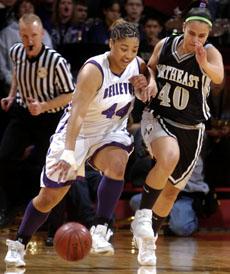 If it weren't for Lincoln Northeast, the Bellevue East girls basketball team would currently have a sizable winning streak.
Now the reverse is true as well.
Second-ranked Bellevue East led from nearly start to finish and snapped No. 1 Lincoln Northeast's 48-game winning streak with a 55-45 victory in the Class A state championship game Saturday at the Devaney Sports Center.
"We just didn't have it today. Bellevue East took it away from us. They have a wonderful basketball team,'' said Northeast coach Rich Olson, who guided the Rockets to an undefeated state championship last season in his first year at the school.
"We won a bunch of games and our time was up,'' added Olson, whose team finished 24-1. "Those plays we naturally made all season weren't there for us today. It just happens and when it does, it hurts. And today it happened on the biggest stage."
Bellevue East (28-2) would have a 48-game winning streak itself right now if it weren't for four losses the last two years to the Rockets. Northeast beat Bellevue East in the district and state championship games a year ago and was 2-0 against the Chieftains this season — claiming a 53-51 win the first weekend of the season and a 47-46 triumph in last week's district final.
The Chieftains, however, would not be denied this time. An 11-0 run late in the first quarter and early in the second gave Bellevue East a 16-6 lead it would never relinquish. In fact, the closest the Rockets could get after that was 21-17 with 2:20 left in the first half.
"We'd been right there with them the first two times we played, so we felt we could beat them,'' said Bellevue East coach Scott Jensen, who also guided the Chieftains to a title in 2002. This was their third straight finals appearance, losing to Lincoln East in 2004.
"Northeast intimidates a lot of people with their athleticism and defensive pressure. But we'd played them enough, we thought we could handle it and win if we played our game."
Their game Saturday was a swarming pressure defense and balanced scoring. The Chieftains forced 14 first-half turnovers in taking a 23-18 halftime lead. They limited Northeast to 18-of-47 shooting from the floor for the game (38 percent) and just 1-of-12 from beyond the three-point arc.
Northeast's 45 points were 20 below its season average. The Rockets' only double-figure scorer was 5-foot-9 junior Super-Stater Dominique Kelley, who had 23 points on 10-of-13 shooting from the field before fouling out in the fourth quarter.
"That's our main threat, our defense,'' said Bellevue East Super-State guard Vonnie Turner, who had just five points because of foul trouble but contributed three steals and three assists.
"We knew we'd have to work hard and play with intensity the entire game to have a chance to win. And that's what we did.''
Turner went to the bench with her fourth foul with 6:11 left in the third quarter and the Chieftains holding onto a 27-21 lead. But with the Nebraska recruit on the bench, Bellevue East expanded the lead to as many as 13 points, 40-27, late in the third quarter.
And it was a trio of 5-10 seniors who did the damage — Amanda Cook, Jasmine Mosley and Becky Marsh. Cook came off the bench to score five of her 10 points during that spurt — a three-pointer and a 13-foot jumper in a span of 42 seconds to extend the lead to 34-23.
The muscular Mosley carved out 13 points and seven rebounds, with nine of those points coming in the third quarter. Her three-point play after an offensive rebound and basket gave Bellevue East its 40-27 cushion with 1:55 left in the period.
"I was a little upset when Vonnie (Turner) got her fourth foul, but I knew with the chemistry we had with the seniors, we could get it done,'' Mosley said after winning the second gold medal of her high school career. She was the Class A discus champion last spring in track.
"We were determined to keep our enthusiasm going. We wanted to make a statement."
Marsh had a three-pointer in the third quarter on her way to a team-high 14 points. She hit 5 of 8 free throws in the final period to keep Bellevue East in control after Northeast got as close as five points, 43-38, with 4:54 left after a three-pointer by Jamie Essink.
Bellevue East hit 8 of 15 shots in the second half after connecting on  just 8 of 27 from the floor in the first 16 minutes.
"We were due to shoot a little better against them than we did the first two times,'' said Jensen, whose team shot 28 percent in the first two meetings against the Rockets. "Once we hit a few shots and got things going defensively, our kids weren't going to let this one get away."