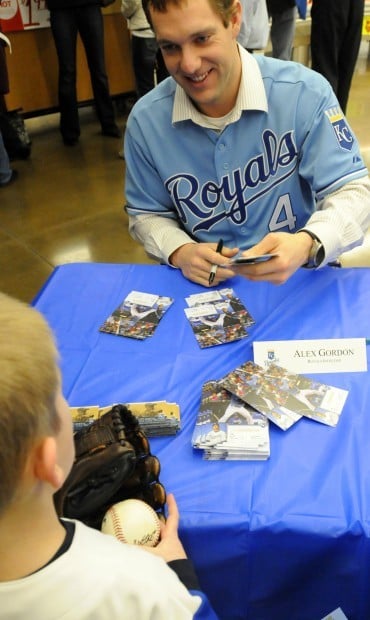 Big things were expected from Alex Gordon when the Kansas City Royals started the 2009 season.
Right away, the Lincoln Southeast graduate and former Husker star delivered, hitting a home run off Mark Buehrle in his first at-bat in the season-opening win against the Chicago White Sox. But by April 16, Gordon was on the disabled list with an injury that once threatened careers.
He had surgery to repair a torn hip labrum and returned to the Royals shortly after the All-Star break in July. It's the same injury that All-Stars Chase Utley, Alex Rodriguez and Mike Lowell have come back from to post big years.
But Gordon's numbers started to slide and the Royals in August demoted him to Triple-A Omaha. He returned to Kansas City in September and finished the year with a .232 batting average, six homers and 22 RBIs.
It didn't matter to folks in his hometown that Gordon was coming off a disappointing season.
Even on a dreary, foggy night, more than 200 fans came to the Hy-Vee store at 84th and Holdrege streets for the Royals Caravan's annual Lincoln stop to see Willie Bloomquist, Royals legend Willie Wilson and TV play-by-play announcer Ryan Lefebvre.
But make no mistake, the star attraction was Gordon. The second-overall pick of the 2005 baseball draft spent more than an hour posing for pictures and signing everything from the usual balls, cards and shirts to the unusual, like a fleece Royals headband.
After he was finished, Gordon took a few minutes to discuss the upcoming season and a few other topics:
How's the hip coming along?
"It's good. I'm no longer rehabbing. I've been training with some of the guys in Kansas City. It's 100 percent and I'm ready to go."
Is that the first real serious injury you've ever had?
"Due to baseball, yeah ... besides the broken nose and the face."
Emotionally, how do you deal with that first injury that keeps you out of the lineup for a long time?
"It was tough to go through, but I think I learned a lot from it. I think it made me more determined this year to go out and do what I need to do."
I read at one point last year that you were working on your swing, retooling it a little.
"I don't think I'm ever going to have a perfect swing, so I'm always going to be retooling it or doing something to get my numbers higher and be competitive. We're working hard right now. We've got a lot of guys down in Kansas City working together and that makes it all a lot easier."
I know it's a slower process building a smaller-market team, so how's the team coming together?
"I just think we've got to believe. Everybody talks about how the Yankees and the Red Sox have more talent and they're supposed to win. We're a young team and we've got a lot of talent. There are going to be some guys step up this year, and if guys like Zach (Greinke, the American League Cy Young Award winner) and Billy (Butler, designated hitter) do what they did last year, I think we'll have a chance."
Do you draw any inspiration from seeing Brian Duensing making the playoffs with a small-market team like Minnesota?
"I was excited for him. Just getting through after spending so much time in the minors, he finally got his shot. He did good. I was excited and happy for him."
Brian and Joba Chamberlain made the playoffs last year. So, if you were in the playoffs which would you rather face?
You have free articles remaining.
"Well, if you go by stats, I'd probably rather face Joba because I've gotten a couple of hits off him."
"Yeah. Duensing, it was funny last year, once he came in everybody knew we were roommates in college and he ended up striking me out both times. I think he has the upper hand on me right now."
You wore out the Twins in the Metrodome (seven homers in 20 games). Are you looking forward to the new ballpark (Target Field) in Minnesota?
"I love the Metrodome. I don't even like playing in domes, but for some reason I hit good there and played well there. It's definitely going to be very chilly in Minnesota."
Speaking of ballparks going away, this is the last year for Rosenblatt Stadium. Are there any special memories you carry without about the Blatt?
(Gordon shakes his head and smiles) "Not really. We went out fast (three games) there in the (2005 College) World Series. It was fun there, and I'm going to miss it. I think it's really cool what they're doing with the the downtown area, building that park."
You guys are rocking the powder blue jerseys. Is that a popular uniform with the guys on the team?
"Yeah, we love it. I wish we could wear it more since we only wear them at home on Sundays. I think they might be brining back the powder blue hats, too."
Anyone pushing to bring back the powder-blue pants?
"I think that's pushing it. Maybe one game a year."
Are you an "American Idol" fan?
OK, do you prefer Paula Abdul or Ellen DeGeneres?
"Is Ellen the new one? I didn't like Paula, she didn't make sense at times. She was interesting to listen to and then kind of make fun of her, but I like the new cast."
Whose side are you on in the NBC fight, Jay or Conan?
"Conan, we watch him every night. We're kind of bummed that he might get kicked off the air. He'd better not go."
Bigger thrill: Getting back in the lineup this year or having your grandfather (longtime coach Charlie Gordon) make the Southeast Hall of Fame?
"The Hall of Fame, for sure. I drove back a couple of days ago and was able to be there for it (the ceremony). It's the first class in the school's history, so that's really cool."
How do they not put the first major-leaguer in the school's history into the hall of fame? Isn't there an automatic exemption?
"I think you've got to be out of school for a while. (laughing) Hopefully, in a couple of years, they'll consider me."