The morning of June 26 began in typical fashion for sports talk radio host Tom Stephens.
He delivered his usual Friday coffee treat to KNTK station manager Jessica Fern and began preparing for his 11 a.m. to 2 p.m. show — but by the time the program came on air, he was in cardiac arrest.
Tom doesn't remember the chain of events and scores of people contributing to saving his life that day. But many of those involved have shared how everything aligned to make it possible.
"It all fell perfectly in place for Tom; the people and resources were where they needed to be, when he needed them," says John Bonta, MD, of Nebraska Emergency Medicine.
When she went to thank Tom for the coffee, Jessica noticed he looked pale, and he admitted to not feeling well.
"I remember going home and thinking, maybe I'm having a heart attack, but I didn't believe it as I had no symptoms other than an upset stomach," he says. "My brother Dan was there, so I asked him to read a passage from a spiritual book and while doing that, he saw I wasn't breathing."
Teamwork begins
And then the chain of life-saving events began: Dan started CPR, and his son, Ryan, called 911.
Lincoln Fire and Rescue (LFR) paramedics arrived within minutes, administered defibrillation and placed Tom on an automated chest compression device, the Physio-Control LUCAS 2, to keep his heart pumping until they could get to the Emergency Department on the Bryan East Campus.
Cautioning Tom's family and friends about his ability to survive the incident, Dr. Bonta and his team were able to revive Tom and run an EKG that confirmed Tom was having a heart attack.
He was immediately transferred to the catheterization lab, where Bryan Heart cardiologist Matthew Johnson, MD, implanted a temporary pacemaker and inserted a stent to open Tom's coronary artery where the plaque had ruptured and a blood clot had formed.
Best of care
Because Tom had been given CPR for such a long time, Dr. Johnson put in a cooling catheter to help prevent swelling and subsequent brain damage and sent Tom to the intensive care unit (ICU). After 24 hours, Tom was gradually weaned off the catheter through a warming process over the next 24 hours.
"Tom had received CPR for 50 minutes, so the potential for brain damage was strong," Dr. Johnson explains. These worries were lessened, however, when Tom awoke earlier than expected and attempted to write a note to his fiancé, Heidi Cuca, and his sister, Carol Bell — asking when he could go home.
"I feel very blessed to be alive and back to normal," Tom says. "The doctors told me a person's chance of surviving cardiac arrest while at home is only 8 percent."
You have free articles remaining.
"The sequence of events that occurred is very impressive from an emergency medicine perspective," Dr. Bonta notes, "and I have a photo taken with Tom on my desk to serve as a reminder that good outcomes can indeed be achieved in the most extreme situations."
Dr. Johnson adds, "In addition to having a well-planned and highly effective emergency response system, the LUCAS 2 was instrumental in saving Tom's life."
The device provided continuous chest compressions, which manual CPR would not have been able to accomplish during Tom's transfer from home to the ambulance and into the hospital.
Tom was treated with the only LUCAS 2 available in Lincoln at the time of his cardiac arrest. The device, acquired through a trial initiated by Scott Wiebe of LFR, had only been in service about six months. "Lincoln truly is on the cutting edge of responding to cardiac arrest, thanks to a visionary community of cardiac providers," says Scott.
There are now three LUCAS Chest Compression Systems in Lincoln, and that will double this year as part of a distribution of more than 400 that are being provided across Nebraska through a grant from the Leona M. and Harry B. Helmsley Charitable Trust.
Heroes step up
Tom considers his brother a true hero for keeping him alive while emergency responders were in route. And he is eternally grateful for the LFR paramedics and for the doctors and nurses at Bryan.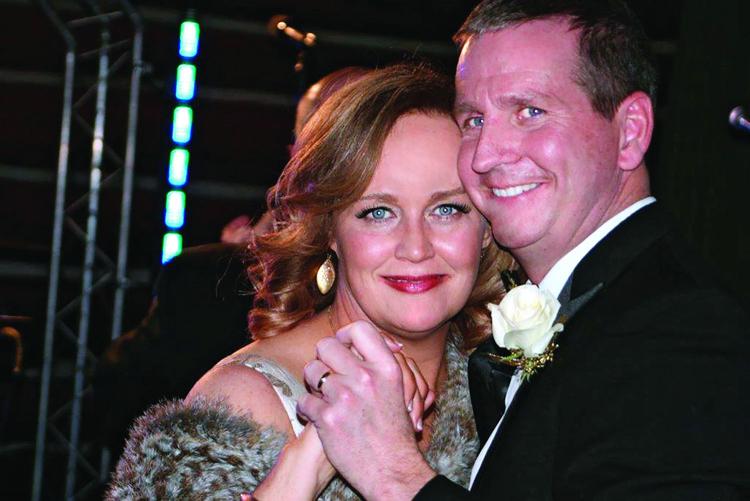 "They are obviously experts in their field, and on top of that, they are so caring and such good people," Tom says. Heidi agrees, pointing out, "The staff at Bryan was wonderful; they talked me through what was happening and helped me understand what to expect."
In addition to those providing medical care, many others provided support by calling radio station KNTK "The Ticket," sending notes and visiting Tom at Bryan.
"I'm overwhelmed by the outpouring of love for me, and I deeply appreciate the many people who prayed for my recovery," he says.
While Tom was in the hospital, Heidi never left his side during the summertime emergency — and she doesn't plan to in the future, either, as she and Tom were married on New Year's Eve.
"We have so much for which to be thankful, including an amazing medical community that helped make it possible for us to be together," she concludes.