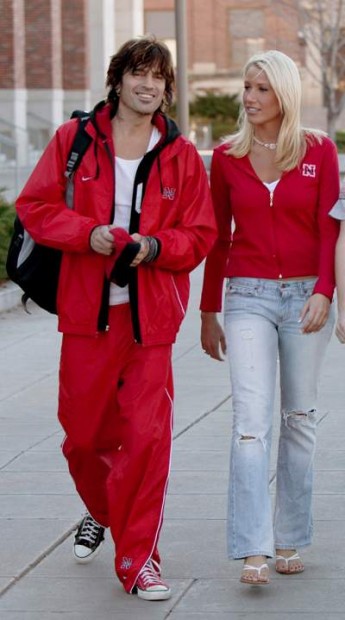 Rocker Tommy Lee left Lincoln in his wake a while ago. But Tuesday, the Motley Crue drummer's reality show — "Tommy Lee Goes to College"— will air its first two episodes at 8 p.m. on NBC. Tommy spent several weeks at the University of Nebraska-Lincoln last year filming the series. The Journal Star chatted with 21-year-old Natalie Riedmann, known best on the show as Tommy's "hot tutor."
The Omaha native graduated from UNL in May with a major in psychology-humanities in pre-medicine. She was on the dean's list every semester at UNL and will begin attending medical school at the University of Nebraska Medical Center this fall.
So, have you grown accustomed to your new title as the "hot tutor?"
"No, it's still kind of embarrassing I think."
NBC has been running promos showing you looking like, well, a hot tutor. Do you already have guys around town asking you to help them with their studies?
"No, not at all. I don't even think I've been recognized yet."
In your first scene on the show, you get to make a slow-motion entrance with your hair blowing for sex appeal. Is that the best entrance you've ever made?
"Probably. Definitely the most fun. I've never had a wind machine and an angelic choir singing during an entrance."
They pay me to do extensive research on stuff like this, and through that research I've found that your favorite part of the whole Tommy Lee experience was when he taught you how to play the drums. You're probably at least as good as Ringo Starr by now, right?
"Oh yeah, definitely. I might go on tour with the band."
"OK, I'm not very good, actually. I thought it was real easy when Tommy was always playing the drums, messing around. When I tried to do it, I found out it was pretty hard."
How'd those study sessions go with Tommy? Maybe I'm totally off base, but it seems like he might have a short attention span?
"He does. That was the only thing that was bad. He had a hard time focusing. When he focuses, he's a pretty smart guy."
I understand, among your many accomplishments, that you were a neuroscience research assistant in the UNL Behavioral Neuropharmacology Research Laboratory. Which do your friends like hearing stories about more: Your experiences as a neuroscience research assistant in the UNL Behavioral Neuropharmacology Research Laboratory or hanging with Tommy?
You have free articles remaining.
"My stories about the show are probably more entertaining. But I have some funny stories about being a research assistant as well. It depends what you're going for."
You still keep in contact with Tommy since he left?
"Yeah, I talk to him in one shape or form every week."
Does he always want to ask nagging questions, like, 'What's the atomic mass of tungsten?'
"No, surprisingly he never wants to talk to me about scholastic areas."
Serious question: How'd you get involved in the show in the first place?
"I never even auditioned for it. A casting agent actually stopped me when I was walking (in front of the Student Union) with my boyfriend. He asked me if I was interested and I told him I had a chemistry lab that night and didn't know if I had time. That's how it started. I had no idea it was for NBC, or it was about Tommy Lee."
More important question: Did you get to party with Tommy Lee?
"A little bit. But I was supposed to be more of the good influence on the show. I didn't go with him to the frat parties and stuff like that."
Did you like Motley Crue before you met Tommy?
"No. To be honest, I didn't even know who Motley Crue was. I had never heard of their songs. But then, after I met him, I went to their concert. I like them now.
Some people around here were all in a tizzy about Nebraska being perceived as Hickville in this show. How do you think Nebraskans will like it?
"I think really well. I really like it. Nebraska looks beautiful in it, I think. The buildings look beautiful. The campus looks beautiful. I think people will really like it."
Totally hypothetical question: You'd rather go out with a rock 'n' roll drummer or a Lincoln Journal Star reporter who drives a Toyota Corolla?
"(Laughing). That's funny. (More laughing). I don't know how to answer that cause I have a boyfriend. (More laughing). But I really am into Corollas, so I'd choose the reporter."