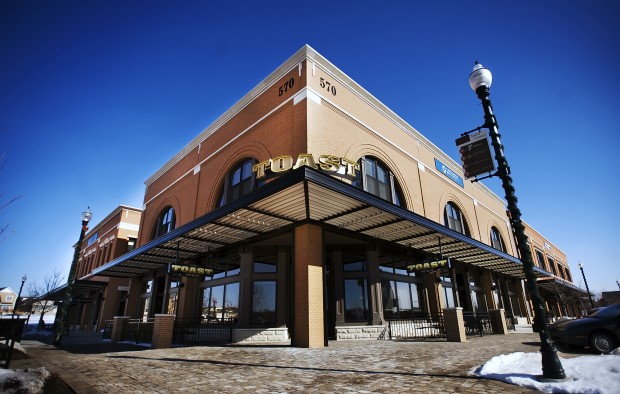 What do you see through your windshield at 48th and O?
About the same thing you see at, say, 27th and Superior, 40th and Old Cheney or 70th and Pioneers.
A Walgreens, of course. Maybe a Super Saver. Maybe a Hy-Vee.
But how much of Lincoln do you really see? Do you see a city you'd share with out-of-town guests?
"You wouldn't think of taking someone to 48th and O and getting out of your car," said Steven Henrichsen of the city-county Planning Department.
"It's not a place you'd take someone special in your life and show off."
But you might stop at Eighth and P streets, what Henrichsen calls the heart of the Haymarket. From there, you could walk to coffee, or to a restaurant, or to Iron Horse Park.
And soon -- in a couple of years -- you'd be near the new arena and its shops and hotels.
Or you might stop at 12th and Q streets, near the Lied Center for Performing Arts, the "Torn Notebook" sculpture and the front door to the University of Nebraska-Lincoln and Memorial Stadium.
There are plenty of busy corners in Lincoln. Nearly 70,000 cars and trucks go by 27th Street and Cornhusker Highway in 24 hours. Nearly 60,000 at 48th and O streets. More than 50,000 at 27th and Superior.
These are important corners, too. From one parking lot to the next, you can get an advance on your paycheck, fill your prescription, load up on groceries and golf shoes and pancakes and get your nails done and buy staples.
But they're not the corners city planners think about when asked to think about important corners.
Instead, they consider community experience, said Nicole Fleck-Tooze, the Planning Department's long-range planning manager.
Meaning: "What you experience with other people, and the time you spend when you get out of your car and experience it in person."
Some corners make that easier, with room to park and walk, benches to sit in the shade or sun, buffers from traffic, places to visit and shop.
Some are natural magnets -- the Capitol's closeness to Centennial Mall and K Street, for example, draws tourists, historians and protesters.
Some are traditional centers of attention -- from 62nd Street and Havelock Avenue, you're in walking distance to Misty's and the Isles and the neighborhood's other storefronts. And 48th and Prescott streets has long been the center of College View's business district.
When the city renovated that intersection last year, it boosted its pedestrian appeal with more sidewalk space at crosswalks and decorative streetlamps.
The city tries to engineer this experience. It encourages walker-friendly design in long-range planning and when considering a specific project, Fleck-Tooze said. Storefronts and homes that face the street. Garages that don't dominate a home's facade.
It's called placemaking, Henrichsen said.
"There certainly has been lots of study about what pedestrians like or don't like."
They don't want traffic right along the sidewalk. They do want places to go, not just attractive buildings.
They want overhangs and canopies.
Some important corners only now are emerging.
North 21st and O streets will be "the corner of the future," Henrichsen said, because of the Antelope Valley project's transformation of the area.
Northwest Sixth Street and Fallbrook Boulevard -- "Town Center" for the Fallbrook development -- has potential to be northwest Lincoln's gathering place, he said.
"We want the town center to be a point of capture; when people come there, they can park and they can get out and do numerous things," said Phil Wenta, director of real estate for Nebco, which owns the carefully planned 700-acre development.
They wanted it quaint and vibrant at the same time -- so they managed the smallest details. And the biggest.
Like where the sun is during the summer and the winter, and how to best position the business and retail buildings.
They managed the views from the windows of those buildings.
They managed the types of businesses and services that could move into those buildings -- a restaurant and coffee shop, a salon, a dentist, a day care center.
Outside, they made the sidewalks wide and separate from traffic. They considered where to put the benches: not too close to the street, but not so far back they get in the way of shoppers.
They thought about the lighting -- bright enough to be safe but warm enough to give the area a glow.
It was all about creating a certain vibe.
"It creates an aura of friendliness and safety," Wenta said. "It's a place where everyone is comfortable walking around the streets."