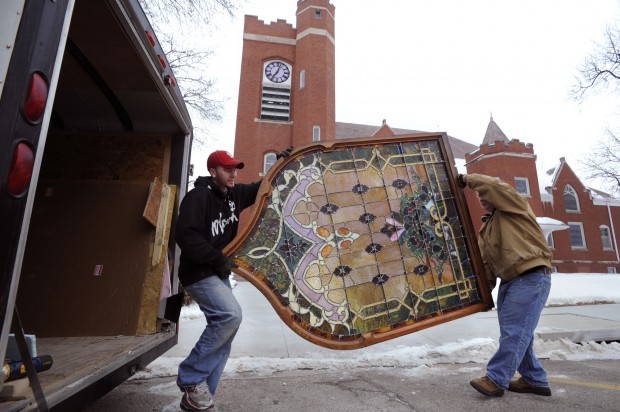 When First Baptist Church of Shenandoah, Iowa, decided to give new life to a 105-year-old stained glass window in its sanctuary, it turned to a Lincoln company to do the job.
Architectural Glassarts, 4025 S. 48th St., is a family business owned by Rodney Scott and his son, Andrew.
Over 36 years, Rodney Scott said, "we have worked on over 600 churches" in Nebraska and neighboring states, plus thousands of residential installations."
Rodney Scott studied art and design at the University of Nebraska in the early 1970s and has been in the stained glass business since 1975, starting Architectural Glassarts in 2005.
At Architectural Glassarts, in addition to stained glass installations, the Scotts produce custom glass works and restore and repair specialty glass for homes and businesses, as well as churches. They also restore statues and build handcarved communion railings.
"We meet regularly with various church committees on design, fabrication and installation of the final project," Rodney Scott said.
Andrew Scott started working with glass as a child. "I have a picture of him helping me at the age of 4," his dad said. Andrew now works with customers at the studio and oversees all daily operations. He also teaches classes at the studio on producing stained glass windows.
Churches comprise about 80 percent of the company's work.
The main window in the sanctuary of Shenandoah's First Baptist Church is about 15 by 15 feet, divided into nine framed segments. Over the course of five months, the Scotts traced the pattern of each piece within the nine segments, repaired cracks, cleaned each piece, then reconstructed the windows using new lead, reinforcements and wood frames.
Architectural Glassarts also has restored authentic Tiffany stained-glass windows in the chapel of Waterford at All Saints retirement community in Sioux Falls, S.D., and has done custom works in style of Frank Lloyd Wright.