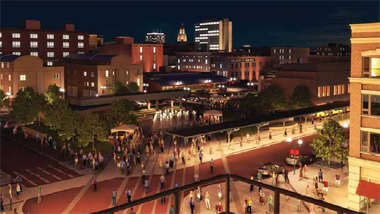 There's probably no better way to sell a project in Lincoln, Nebraska, than to promise the economic equivalent of more Cornhusker home football games -- and not just one or two, but 65.
With voters' approval May 11, a dusty, century-old rail yard west of the Haymarket would be transformed into roads and bridges leading to a 16,000-seat city arena and private shops, offices, condos and a hotel.
Armed with a study that says the project would have a $260 million annual economic impact on Lincoln, arena supporters have translated that into Big Red language: 65 more home games.
The report predicts 7,800 jobs would be created during construction and 1,200 jobs once it's built. It also forecasts more tax dollars for the city and state.
As the campaign intensifies, supporters have trumpeted those figures in meetings, interviews, open houses, fliers and ads. Nebraska Athletic Director Tom Osborne has taken to the airwaves saying the arena would create jobs and strengthen the economy.
New arenas and stadiums might be great for civic pride and improve the quality of life in a city, but economists say that in the long run, such projects alone do little to create jobs or jolt the economy. They question consultants' studies that promise thousands of new jobs and huge economic impacts.
Sports economist Phil Miller of Minnesota State University-Mankato called such studies little more than public relations documents.
"These consulting companies know that they're producing public relations documents," said Miller, one of three authorities in the field who analyzed the economic impact report for the Journal Star.
These economists and university researchers have studied public improvements in cities across the country and the economic studies tied to those projects. They have been quoted in publications such as the Boston Globe and Forbes magazine. They said Lincoln's economic impact report is typical of studies like those that chambers of commerce or cities commission to underscore the value of such proposals.
One of them, Texas A&M University Professor John Crompton, has conducted more than 100 such studies himself and researched the methodology extensively.
He said community officials often commission the studies in response to pressure to be accountable for spending tax dollars.
Like Crompton, the economists interviewed for this story say the benefits foretold in such studies are often oversold.
Their problems with such projections is that most of the money spent in and around arenas is not new money coming into a city; it's money that would have been spent anyway.
In other words, people going out for drinks and a John Mayer concert would likely spend those dollars on entertainment elsewhere -- a movie, bowling, shopping -- if the new arena weren't there and Mayer didn't come to town. The exception would be the money spent locally by people who would leave Lincoln for concerts less frequently.
And they say Lincoln's study only examined the possible economic activity generated by a new arena without regard to the cost.
Michael O'Sullivan, a sports facility consultant in the Washington, D.C., area, wrote the study for Leib Advisors LLC, a Wisconsin firm that was hired by Lincoln for $55,000. He said he's done more than a dozen economic studies for everything from the downtown Louisville, Ky., arena under construction to PETCO Field in San Diego.
He said he has revisited a couple of the projects to see whether ticket pricing and the calendar of events tracked with his estimates, and "not surprisingly, they have."
"My credibility is at stake," O'Sullivan said. "My work has to stand up to reasonable tests. I need to be able to stand behind my work if I want to keep doing this."
But he is aware of the skepticism among economists about the value of studies such as his.
"It's almost fashionable in academic circles to take that stance and to be kind of a contrarian," he said. "That's not without some foundation. There have been a lot of studies in the past, not so much anymore, where they really are used as cheerleading equipment. And some of them have gotten outlandish in terms of multipliers used, benefits claimed."
O'Sullivan agreed the study is a public relations document in the sense it is intended to help the community decide whether to proceed with the project.
"Why else would you do it?" he said. "Call it whatever you want to call it. The only reason to do it is because there's some sort of proposal, typically to the public, where the question is asked, 'Why should we do this?' ... It is a PR document. (But) it isn't just spin."
O'Sullivan said that unlike some consultants, he doesn't amplify his numbers with unreasonably high multipliers -- to show the number of times a dollar turns over in the local economy. For example, the planned private development is projected to create 600 jobs by the fourth year of operation, and O'Sullivan multiplies that by about 1.7 to show the ripple effect, and the figure gets amplified to 1,027 jobs.
While some consultants use multipliers as high as seven, O'Sullivan said he never uses a multiplier of more than two, even though some clients would prefer he did.
He said the economic impacts flow directly from the calendar of events and arena operating budget and are "readily identifiable and traceable."
As for economists' contention that the benefits rarely outweigh costs, he said, "Point well taken" and acknowledged -- as he did during an October news conference when his report was unveiled -- that his study only examined the benefits of a new arena, not the cost.
He said then it was up to the community to weigh the costs and benefits next.
Private development accounts for most of impact
The vast majority of the economic impact and jobs O'Sullivan predicts are not from the arena itself, but from the private development planned across the street.
Two years ago, the city selected WRK of Lincoln and Woodbury Corp. of Salt Lake City to develop the area near the arena. The developers say they will invest about $100 million to develop offices, shops, restaurants and a hotel -- although they have not yet come to a redevelopment agreement with the city.
According to O'Sullivan's report, $216 million of the projected $260 million economic impact -- 83 percent -- would be from the WRK development.
And of the 1,200 jobs he says would be created, 1,027, or 86 percent, would be from the private development.
Peel away the private development, and the arena is expected to produce the equivalent of 60 full-time jobs - although O'Sullivan didn't take into account the 11 full-time employees and 190 part-timers who work at the Pershing Center and could work in the new arena.
During a recent meeting with downtown residents, the pro-arena campaign manager Jennifer Brinkman acknowledged most of the jobs would be created by the private businesses, not the arena.
"We know the arena isn't going to create many jobs," she said.
Crompton, the researcher from Texas A&M, says private development should not be included in the arena's projected impact because it's speculative and may not develop as planned.
But O'Sullivan said, "Does anyone really believe that if the city acquires the land, develops infrastructure and creates downtown parcels that private development may never happen? That, I think, would be misleading, given what has happened around the Verizon Center in D.C. or the new arena still under construction in Louisville or AutoZone Park in downtown Memphis, to name just a few examples."
The city's arena coordinator, Dan Marvin, said he thinks it's reasonable to include the impact of private development in the numbers.
Crompton has conducted more than 100 economic impact studies and knows they can be manipulated to produce a desired outcome.
The new $1 billion Dallas Cowboys stadium is a good case study.
Although the project itself is hardly similar to Lincoln's arena plan, four studies of the Dallas project were commissioned by sponsors with different motivations, and they predicted impacts ranging from an annual loss of $291 million to a gain of $346 million.
Heywood Sanders, professor of urban studies in the College of Public Policy at the University of Texas at San Antonio, is a widely quoted critic of the nationwide rush to build arenas and convention centers. He said it's "all but impossible" for consultants to recommend cities not proceed with projects.
"If pressed, most of these consultants can provide a case or two they've recommended against," Sanders said. About as far as they'll go is "suggest cities will not perform terribly well."
An older feasibility study done for Lincoln made such a suggestion. A 2004 study by Conventions, Sports & Leisure International of Minneapolis acknowledged the 50-year-old Pershing Center was drawing fewer events than industry averages, but it said the Lincoln-Omaha region might have more arena seats than necessary.
Lincoln is on the same touring market as Qwest Center Omaha, and CS&L predicts that even a large Lincoln arena would struggle to attract concerts and events -- particularly headliner acts.
CS&L's projections were positive but much more modest than O'Sullivan's, because CS&L focused on new spending by out-of-towners -- what many economists consider true economic impact. The firm predicted a new arena would generate $2.6 million per year in new spending by visitors.
Despite some warnings, CS&L said a new arena was supportable simply from a quality of life perspective, but more cost-benefit analysis was necessary to help the community make a decision.
Another study at the University of Nebraska-Lincoln also came to sharply different conclusions.
Eric Thompson, director of the Bureau of Business Research at UNL, did a preliminary economic impact study on a similar plan in 2006 that concluded the arena's impact would range from negative $5.5 million to positive $15.3 million per year, depending on the level of local government funding and arena attendance.
Like CS&L, Thompson acknowledged the main impact of an arena comes from money spent by out-of-towners. The exception is those who would go to fewer concerts in Omaha or Kansas City if Lincoln built a better arena than Pershing -- that represents retained spending.
Thompson also factored in the negative effect the arena would have on competing businesses (such as theaters) and the effect of charging new taxes to pay for the project, since dollars that come out of taxpayers' pockets to pay for the project cannot be spent elsewhere.
At the time of his study, it was not yet clear how the city would finance the arena. Now the plan is for taxpayers to subsidize about half of construction costs through new taxes on bars, restaurants, hotels and car rentals ranging from 2 to 4 percent.
The economic impact during construction was more certain -- Thompson said there would be a "large positive impact" of $416 million during the construction period. He did not use a multiplier. O'Sullivan projected a $426 million impact during construction and used a multiplier of 1.9 to amplify that to $805 million.
But the UNL report was not a cost-benefit analysis either. Thompson said it can be difficult to weigh the costs and benefits of such a project because some benefits are intangible and harder to quantify (for example, how much is Lincoln's quality of life improved if a new arena replaces Pershing?).
Asked recently whether it makes sense for Lincoln to build an arena, Thompson said, "I think with any major public effort, you need to think about what kind of quality of life gains are going to be generated, what sort of economic impacts there might be and how much you value those and compare those with the costs."
He compared it to building a park -- it costs money, but it improves the quality of life for people who use it.
Stadiums rise, sidewalks crumble
Sanders, the San Antonio professor, wrote a 2005 Brookings Institution report that rocked the convention center industry, which he said was overbuilt and yet a sort of arms race among cities persisted.
Shortly before his report came out, a Minnesota consultant's report indicated a new convention center might not do well in Lincoln. At the time, a convention center was part of the Lincoln proposal, but that part was soon dropped from the Haymarket arena plan.
Sanders got into the field of studying convention centers, arenas and stadiums in the early 1980s, when he set out to figure out why so many cities couldn't afford to fix their bridges and sewers and streets.
He found many of the cities with the worst infrastructure spent money on big civic projects such as convention centers. Why? He said business leaders are interested in leveraging downtown development, power brokers are interested in restructuring land values and elected officials are interested in pleasing the business community and leaving a legacy.
University of Chicago economist Allen Sanderson has said mayors could create just as much economic activity by dumping $100,000 on a city from a helicopter.
"These things may affect where people drink beer," he told the Journal Star, "but they don't affect how much beer they drink."
Then why do civic leaders elsewhere continue to promote such projects as economic engines? Sanderson said the projects mostly benefit what he called "well-connected" people, such as politicians, the guys doing the bond deals, the unions pouring concrete.
"Sometimes public officials like to cut ribbons and stand in front of buildings and have their pictures taken," he said.
Crompton said O'Sullivan's study measures "economic activity," not "economic impact," and there's a big difference between the two. Economic impact is new money coming into a community, he said, while economic activity is money reverberating through a community.
"From a policy perspective, economic activity is of little value," he said. "What you really want to know is economic impact."
The economists gave O'Sullivan credit for noting in his report that events already held at the Devaney Sports Center and the Pershing Center would not be new. Taking that into account, O'Sullivan estimated overall attendance at both venues would go up 465,000 per year.
"It will generate activity, support private development," O'Sullivan said. "Not all the impact will be net new, but anytime you have economic activity, it's not all net new."
And the cost of the project -- paid with new taxes or property tax breaks -must be taken into account, Crompton said.
City officials say a new arena will generate $3 million in new local sales and property tax revenue -- although $1.9 million of that is property taxes that will be diverted to the private part of the development through tax increment financing, in which the city issues bonds against expected tax revenue generated by the project and uses the money for public improvements such as street improvements or utilities.
The city also plans a new citywide tax on bar, restaurant, hotel and car rental taxes to make what starts out as $10.5 million payments on the construction debt and rises as the city begins paying the principal debt in 2021. These types of taxes are commonly used to finance such projects because visitors help pay the taxes; the city is estimating out-of-towners will pay about 34 percent of the taxes.
"You are taxing those people -- your residents have that much less money to spend in your town," Crompton said. "Which means there's a negative impact in the spending categories in your town, and you must have multipliers for negative impacts, too."
Sanderson said in order to break even, arenas need major tenants that draw big crowds and must be used about half the year - roughly 175 days. Lincoln is projecting 137 events per year by the arena's fourth year.
That means, Sanderson said, "The concerts and circuses are really a tail that has to wag a much bigger dog in your case. You don't have an NBA team and NHL team that sells out 16,000 seats."
Pershing general manager Tom Lorenz said very few arenas are full that many days; even Qwest doesn't book that many days.
"I think it depends on the size of the events," he said.
O'Sullivan agreed economic impact numbers are driven by the projected calendar of events, which was provided to him by Lorenz, who works for SMG, the private company that manages Pershing on behalf of the city.
"SMG is a reputable firm. He certainly wants to manage this new building, but it's sort of like putting a budget together - you don't want to put one together that you have no chance of meeting," O'Sullivan said.
Sanderson said it's not that he and other sports economists are against sporting venues; most got into the field because they love sports. They just don't think stadiums and arenas are a panacea for economic ills. If people vote to replace an old arena with a new one, they can do so, he said, "As long as people vote knowing full well they're going to lose money."
O'Sullivan said if you look at an arena proposal purely based on financials, it's true the costs don't usually outweigh the benefits, but he said new arenas are about other things, too, such as community pride.
He said Lincolnites need to weigh the costs and benefits themselves.
"People in the community have to make a judgment about a cost and benefit," O'Sullivan said. "Do benefits justify that amount? I think I would say yes."
And he's not just saying that to please the client.
"They already paid my bill," O'Sullivan said.
Be the first to know
Get local news delivered to your inbox!