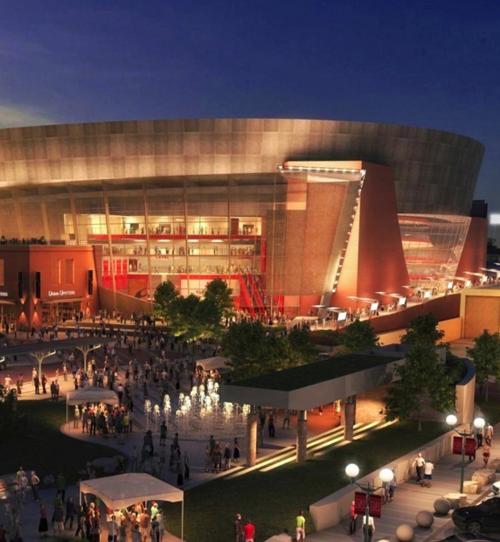 Mortenson Construction of Minnesota, the national company that just finished the arena in downtown Louisville, Ky., will be in charge of building the West Haymarket Arena.
Mayor Chris Beutler selected the national firm, which is teamed up with Lincoln builder Hampton Enterprises, to manage construction of the arena, estimated to cost around $168 million.
Mortenson, ranked as the third largest sports builder in the country, has constructed more than 100 major sports projects totaling about $3.6 billion, according to company information.
The most recent are the $238 million KFC Yum! Center for the University of Louisville basketball teams and the Kinnick Stadium for the University of Iowa.
All four of the companies vying for the arena project were highly qualified, Beutler said. "It was a very difficult decision."
The top two, as ranked by an 11-member selection committee, were the Mortenson-Hampton team and Turner Construction of New York, teamed with Sampson Construction Co. of Lincoln.
Deciding between the two was hard for both the committee and the mayor, Beutler said.
Both have built a large number of arenas, he said.
Beutler visited at least one arena built by each of the top two contenders and talked with others who had worked with both firms.
"Everyone was happy with their builder," he said.
The Mortenson-Hampton team will have the job of construction manager at-risk for the arena.
Under this concept the construction company will guarantee a top price for construction and if the costs are higher, the company pays those costs.
The construction manager at-risk could earn fees of 1 to 3 percent of the project's costs, excluding design and engineering.
The county and city are using this arrangement for the jail construction.
The four firms competing for the arena construction were either a national firm based in Nebraska or a national firm that had teamed up with a smaller Nebraska company.
For this job the city is "really counting on the expertise of the national group," Beutler said.
Beutler will provide details about his decision and the scoring used by the committee Wednesday afternoon in a meeting with the three-member Joint Public Agency that is overseeing the arena project.
Beutler said he read the material provided by the groups and interviewed all four.
The other two companies in the running were Omaha-based Kiewit and Hunt Construction of Arizona paired with Weitz Construction, which has a Lincoln office.
Beutler, by law, makes the final selection of the construction manager at-risk, but the JPA will vote to approve the contract.