| | |
| --- | --- |
| Sunday | |
| Monday | |
| Tuesday | |
| Wednesday | |
| Thursday | |
| Friday | |
| Saturday | |
About Barry's Bar And Grill
At Barry's Bar and Grill, our mission is to provide a friendly environment where our customers relax, watch games on our state-of-the-art AV system, enjoy a great meal, a cold beer -- and debate whether Johnny Rodgers or Mike Rozier was the greatest Husker of all time (Heisman Trophy wins aside, we'll offer up Rich Glover, Tommie Frazier and Tom "Trainwreck" Novak for the discussion). We offer four unique venues that are sure to meet the desires of all our customers.

Want Barry's all to yourself? We also offer private parties and events! Read below to learn more.



Accepts:

American Express

Cash

Discover

MasterCard

Visa
Any place that has been around as long as Barry's has to have stories of legend and lore. Barry's is no different.
The following are some facts that we can neither confirm nor deny:
BARRY'S HAS BEEN LOCATED AT 235 9TH ST SINCE 1959...
NOT QUITE TRUE
The original Barry's was torn down in 1969 to make way for a service station, but the Barry's reopened the bar at its current location.
THE INFAMOUS "Z" TABLE IS NO LONGER AT BARRY'S...
FALSE
The "Z" table, so named because a waitress once mistook the big red "N" in the middle of the white-tiled round table for the letter "Z", is still at Barry's.
BARRY'S IS NAMED FOR OKLAHOMA COACH BARRY SWITZER...
FALSE
According to Lou Mary Webb: Legendary Oklahoma coach Barry Switzer stopped the team bus to drop in and say hello. "He always said we named the bar for him."
PROTEST SONGS A TRADITION ON THANKSGIVING DAY...
NOT QUITE TRUE
Ken Hambleton had become known for playing Arlo Guthrie's "Alice's Restaurant" on Thanksgiving Day — all 18-plus minutes of it. Lou Mary remembers a German contingent who were in Lincoln installing the new press at the Journal Star asking her if it was a tradition to listen to protest songs on Thanksgiving Day.
NEBRASKA COACHES DINING AT BARRY'S...
TRUE
Nebraska assistant football coaches Charlie McBride, Milt Tenopir and the late Dan Young were regulars at Barry's, football coach Frank Solich enjoyed many bowls of chili there, and volleyball coach Terry Pettit liked to stop in the night before matches. A favorite story is that of Pettit imparting advice to a youth volleyball coach, who was using quarters on a table to diagram a play. Pettit asked the coach what his team's record was, getting a "4-12″ for a response. Pettit told the coach to get some new quarters.
STANDING OVATIONS FOR A NON-FOOTBALL COACH...
TRUE
Nobody was more popular at Barry's than Danny Nee. The men's basketball coach from 1986-2000 often held court, entertaining fans for hours with stories. He often entered the bar to standing ovations after Husker victories.
COACH BO PELINI HAS A SOFT SIDE...
TRUE
A fan approached the Husker football coach at Barry's the day before a spring game, telling Pelini his father was ill and wouldn't be able to attend the game. Pelini had the man get his father on the phone and then proceeded to wish him well.
COACH RICK NEUHEISEL HAS A SOFT SIDE...
TRUE
Thank-you note from former Colorado football coach Rick Neuheisel, who dined there on Thanksgiving Day before a Nebraska-Colorado game. "You are the model for sports fans around the beautiful town of Lincoln," Neuheisel wrote. He signed it, "from your never-been rival."
BARRY'S WAS THE MODEL FOR THE MOVIE, "ROAD HOUSE"...
FALSE
However, the late Patrick Swayze was in Lincoln shooting the 1995 movie "To Wong Foo, Thanks for Everything! Julie Newmar." While at Barry's one evening, Ken Hambleton had to take a beer away from Patrick Swayze at closing time. Ken joked, "All I pictured in my mind was 'Road House,' and that Patrick Swayze was going to rip my throat out."
BEACH BLANKET BINGO AT BARRY'S
TRUE (BUT WITHOUT FRANKIE AND ANNNETTE)
According to Lou Mary Webb, "On one cold winter weekend, we filled the Outback area with sand and hosted a beach party. That is the kinda thing you only do once. I am not sure we ever removed all the sand."
IRISH EYES ARE SMILING...
TRUE
Started by the original Barry's owners, Barry's became a popular gathering place on St. Patrick's Day with green beer, corned beef and cabbage. The tradition carried over to the Lou Mary and Mike. Barry,'s eventually became a destination for drinking holidays such as Fat Tuesday and Cinco de Mayo.
YOU CAN BECOME A TV STAR AT BARRY'S...
POTENTIALLY TRUE
MTV crews held casting tryouts Wednesday for the 2002 seasons of "The Real World" and "Road Rules" in Barry's, November 2001.
So, true or false rumors, celebrity or not, come experience Barry's – The Husker Bar and take part in what might become a future tale of legend...

At Barry's, you have a variety of different venues and services to choose from to fit your next party or event. Whether you need food, drinks or just some space to kick it, Kelli will get you all set up and oversee the action involved to make your event standout from the crowd in a venue with tradition.

10BELOW OUTBACK NIGHTCLUB
Barry's 10Below Outback Nightclub offers a large indoor facility that can service up to 150 people for a lunch, dinner, party or just about any event you can think of.

10BELOW ICE BAR
Our 10Below Ice Bar offers a more intimate setting, with seating of up to 50 people.

ROOFTOP DECK BAR
Barry's newly opened Rooftop Deck Bar, with northeast vistas overlooking Memorial Stadium, can hold approximately 150 people.

People will remember what a great time they had at Barry's Bar and Grill. We have what you need, and always go the extra mile to fill your special requests. Please email Kelli Rost with some information, as outlined below, and she will get back to you as soon as possible to work out all of the details.

• First & Last Name
• Email Address
• Best Contact Phone Number
• Organization (if any) That You Are With
• Event Description (e.g. Birthday Party, Company Party, Awards Event, etc)
• Date & Time That You Are Wishing To Book
• Venue That You Are Wishing To Book
• Approximate Number of Guests

CONTACT:
Kelli Rost – Barry's Hospitality, Marketing & Special Events Manager
kelli.rost@yahoo.com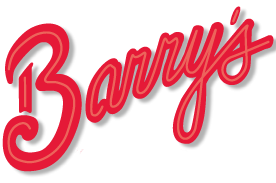 Is this your business?
Promote your business through our innovative Marketplace system! It's free to sign up!