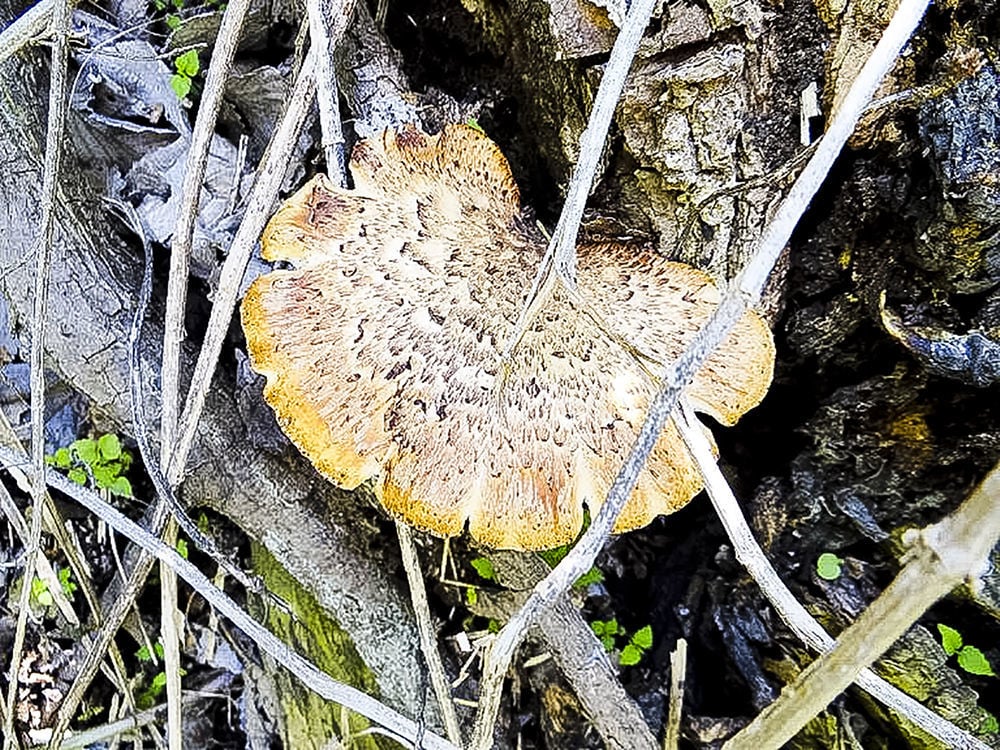 There is a widespread edible fungi that you need to know about. Along with finding and picking morel mushrooms, there is the dryad's saddle to harvest in your favorite woodlands this spring.
The dryad's saddle (Polyporus squamosus), also called pheasant back's mushroom or hawks wing, is easy to spot beginning in April and continuing into May. Found east of the Rockies and potentially throughout Nebraska, it is a common basidiomycete bracket fungus having a scaly yellowish-brown upper surface. It grows singly or in layers on living or dead deciduous wood, especially elms.
This mushroom is attached primarily to dead hardwood trees, logs or stumps at one point with a thick stem. Generally, the fruit body is 3 to 12 inches across and up to 4 inches thick. The body can be yellow to brown and has scales on its upper side. On the underside, pores can be seen that are characteristic of the genus Cerioporus.
The dryad's saddle is easy to identify. Because the dryad's saddle grows on dead or decaying fallen trees, it is easy to locate.
You have free articles remaining.
Some spring morel mushroom hunters I know have come home with dryad's saddle as a consolation prize. Actually, dryad's saddles are much easier to find than morels because they stick out as shelves typically from the lower portions of dead tree trunks. They play an important role in woodland ecosystems by decomposing wood, but occasionally act as a parasite on living trees.
The dryad's saddle is a good wild edible, most notably when the mushroom is young and tender. If it is too large, it becomes leathery, chewy and somewhat woody to the taste. It should have a deep brown color and markings. Avoid specimens that look white or cream-colored, which are normally older.
If the pores on the underside of the cap are easily scraped off in the field by gently using a pocketknife or fingernail, it is a keeper for the cooker. If the pores stay in place and appear to be stuck to the cap, use it in a soup broth or possibly a stew. Avid foragers recommend collecting before the mushroom gets more than 3 to 4 inches in circumference.
The dryad's saddle has a fascinating smell and taste combination of fresh cucumber and watermelon rind. After gathering, foragers should gently rinse the caps under cold running water. Wipe the pores of the underside of the mushrooms with a damp towel. Drain and pat dry the remainder.
For cooking purposes, cut off the tender edges of the dryad's saddle, slice them into small pieces and pan-fry or sauté them in butter and minced garlic. Dryad's saddles also can be baked in a 375-degree oven for up to 45 minutes with just some olive oil drizzled over them and a bit of salt and pepper. They will be crisp and delicious!
Keep in mind that fresh mushrooms will keep for up to a week in your fridge. Dried mushrooms will keep up to a year in an airtight container kept in a cool, dark place.