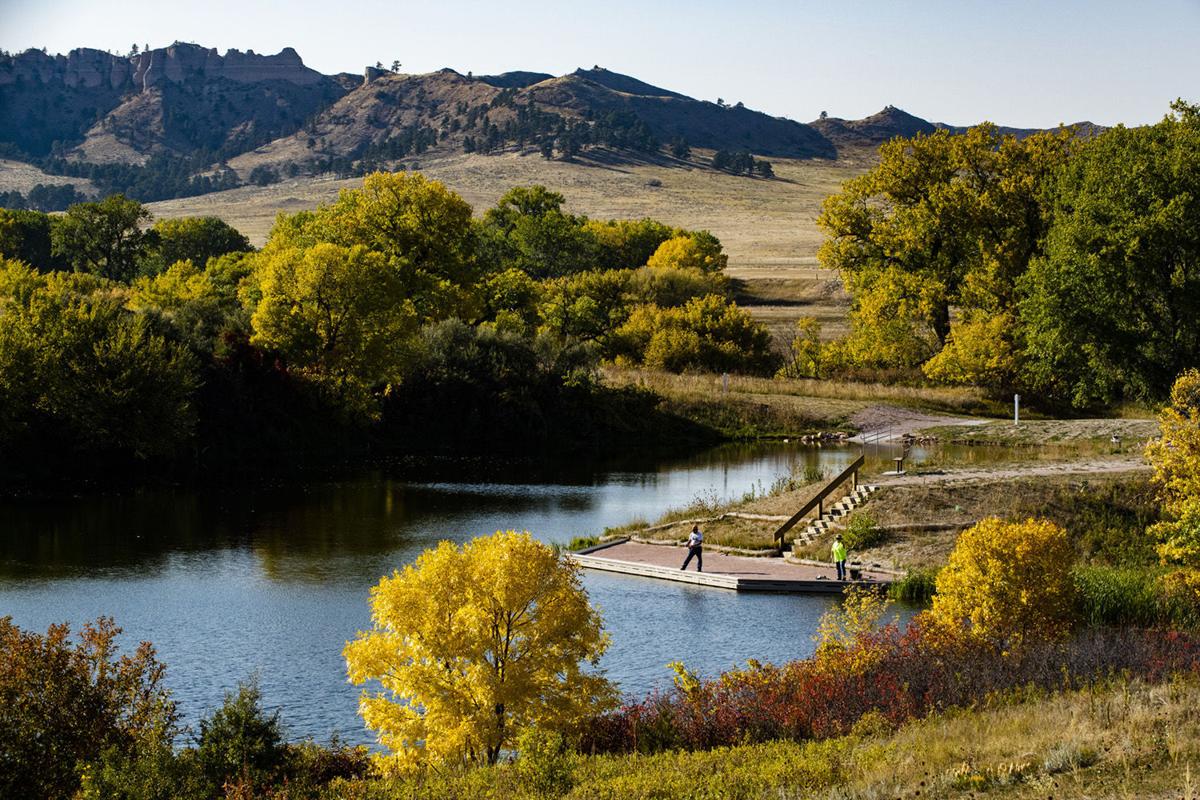 Tall buttes rising over pine forests and sweeping grasslands. Herds of bison, pronghorn, bighorn sheep and other megafauna. Historical architecture. Theatrical performances, weekly rodeos, two museums, cookouts and an indoor swimming pool. More than 120 miles of trails suited for horse hooves and hiking shoes.
With so much to see and do at Fort Robinson State Park, it is understandable that whatever is below the surface may get overshadowed.
Those inclined to carry a rod and reel, though, have long known it is wise to divert attention from the park's terrestrial sights to see what swims in the 10 fishing ponds and cold-water streams in or near this 22,000-acre Pine Ridge playground in the northwestern corner of the state.
Al Hanson, fisheries supervisor for Nebraska Game and Parks Commission's northwestern district, bestows Fort Robinson a lofty ranking among the eight state parks. He refers to it as "Nebraska's fishing state park."
"Some of our other state parks have excellent fishing opportunities, but none offer anglers what Fort Robinson does," he said.
Fort Robinson anglers should leave their gas-powered watercraft at home. This is a place for those who prefer to fish from foot, belly boat or kayak. An array of aquatic species are on tap to provide a tug of the line.
Game and Parks has made a great thing even better by investing in major enhancements to about half of the ponds, with the first phase of a $2.8 million renovation project completed in spring 2020.
The Grabel Ponds, Cherry Creek Ponds and Ice House Ponds received the renovations, and more are planned at other locations.
The changes include fishing piers and ramps for launching kayaks and canoes. Workers deepened a number of the ponds, replaced water control structures, created fish habitat features and developed access points for anglers.
The improvements were funded from the sale of aquatic habitat stamps and matched by federal Sport Fish Restoration Program dollars generated from taxes on fishing equipment and grants from many sources, including the Nebraska Environmental Trust.
The renovations allowed Game and Parks to restock waters with a goal to develop populations best suited for habitat and usage. Anglers often can find both cold- and warm-water species by taking a short walk.
All four species of the state's Trout Slam — brook, rainbow, cutthroat and brown — can be caught in the park or nearby, as well as the brown-brook hybrid known as tiger trout. Largemouth bass, smallmouth bass, rock bass, bluegills, channel catfish, crappies and yellow perch are in select ponds.