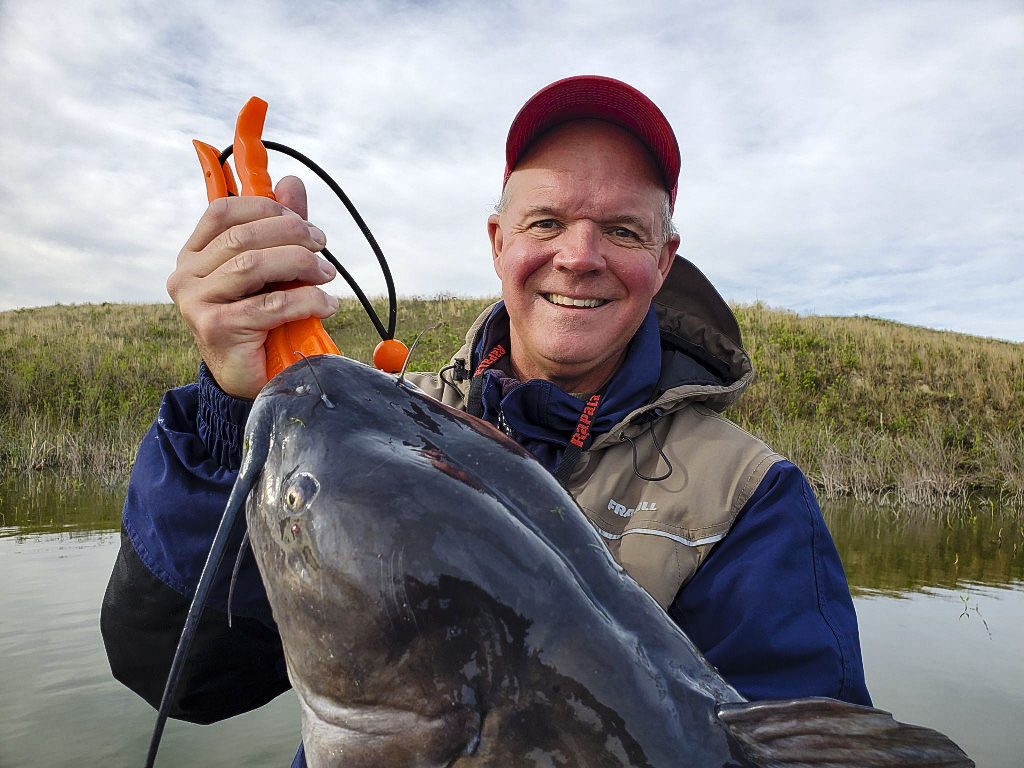 The channel catfish, Nebraska's state fish, sometimes gets misunderstood, particularly by those who fish for bass and walleye.
Channel cats have a reputation as bottom feeders that just lazily swim around sucking up stinky dead stuff from the bottom. And that is not entirely true.
I asked Chris Pokorny of Elkhorn, who's among Nebraska's most avid channel catfish anglers, why he enjoys fishing for channel cats.
"They require minimal gear, basic baits and less skill to catch compared to other species of game fish," Pokorny said. "They grow to big proportions, have strong fighting capabilities and are delicious on the dinner table."
Pokorny encourages people to fish for channel cats, most notably this time of year. "We're in an excellent period right now to catch pre-spawn channel catfish before they start spawning in July," he said.
He offers these tips to help improve your odds at landing channel catfish.
Where to look: "When we are fishing for channel cats, we are looking for shallow flats next to sharp, deep drop-offs," Pokorny says. "The channel cats are nearly always there." And, he says, you only need to cast 10 feet or less from the bank because their main prey, bluegill, will be close to the bank. On a lake, let the bait settle on the bottom or use a slip bobber to suspend the bait over aquatic vegetation.
Bait: Pokorny says if you are after eating-sized channel catfish then nightcrawlers, shrimp, liver or stink bait all work great. If you are targeting master angler-sized fish, cut bait and live bait are definitely the ways to go.
Forget the fancy gear: "My favorite rods to use for channel catfish are the same rods I use for walleye, northern pike and largemouth bass. The bend of these two-piece, 7-foot rods help the circle hooks load up well," Pokorny says. He puts a spinning reel with an efficiently working drag system containing braided line on the rods.
Slip sinker rig: Slide a slip sinker, such as an egg sinker or no-roll sinker, onto your main line and tie on a barrel swivel. Then attach an 8- to 10-inch leader and finally a hook. Circle hooks are best. Hook size depends on the size of fish you expect to catch. Sizes in the 1/0 to 5/0 range should cover most situations, with 5/0 to 8/0 preferred for bigger fish.
Circle hooks: These are great to use with live or cut bait. There is really no need to "set the hook" as they are designed to hook the fish themselves. "Slowly pull back on the rod when it starts to double over as the catfish takes the bait," Pokorny says. "When employed properly, circle hooks reduce the chance of the fish swallowing the bait as they are usually caught in the corner of the mouth."
The drag: Pokorny said it is important to ensure the reel's drag is set correctly. "All I do is make sure I can pull the line freely from the reel without the risk of snapping it," he said. "It just needs to have some give to it." He added to never reel while a catfish is pulling the drag. "All you are doing is twisting the line. Use the backbone of the rod to tire the fish and pump the rod while reeling on the drop to bring the fish to you."
Rod holder, rod tip and reeling: Cast your presentation and put the rod in a rod holder. Don't grab the rod until the rod tip is touching the water, Pokorny said. "Let the rod do its job and set the circle hook for you as the fish swims away. Then, the first thing you do is reel, reel, reel before you pull the rod out of the rod holder to ensure the hook is set."