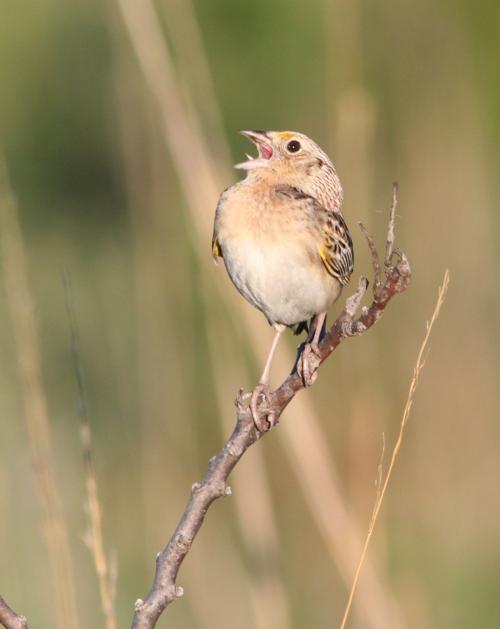 "Drink your tea!" "Cheeseburger!" "Quick, three beers!"
If you happened to hear these phrases shouted aloud in public, you might wonder where you were. A festival or local fair? Perhaps a neighborhood farmers market or pub?
Not quite. You can hear these phrases whistled, chirped or sung across the grasslands and woodlands of Nebraska at this time of year by birds. The three aforementioned phrases are sung by the Eastern towhee, black-capped chickadee, and olive-sided flycatcher, respectively.
Birds, our feathered avian friends famous for the dawn chorus and amazing migration flights, are arriving by the thousands to the Upper Plains throughout the spring. Some will be staying, nesting and raising their young. Others stop for only days or even hours. Their bright colors of green, yellow and red flash only briefly through the state while on their way to more northern climes, stopping long enough to rest or feed and refuel to finish their journey to the Dakotas or Canada. These brief visits, coupled with the small size and secretive behaviors of many of the birds, make it difficult for bird lovers to ever see most species. And even if the bird is a local, nonmigratory species like the bluejay or downy woodpecker, it is never certain you'll see one while they are busy flitting from tree to tree or shrub to shrub. This is where the skill of identifying birds by sound can add both enjoyment and additional confirmation to the bird's identity.
Millions of people (including myself) love to watch and count birds. We are dazzled by their mastery of flight. We are thrilled by their colors of lazuli, jade or crimson, not to mention the iridescent feathers that shimmer and seemingly change from black to green to blue. But it is when a bird throws its head back and lets loose their avian aria that our souls are stirred by the melody produced by their tiny throats.
Listening to bird songs is not new. But identifying birds solely by their songs, calls, and chips is a bit more recent. Some avid birders rarely use their binoculars in spring, focusing instead on utilizing their ears to identify which birds are in their backyards and local green spaces. In fact, many birds' songs are more distinctive than their coloration.
Take, for example, the group of birds in the genus Empidonax, 11 or so species of small, drab flycatchers in olive-grey plumage that are almost indistinguishable from each other, except when they sing.
The willow flycatcher says, "Fitz-HUGH!" It's nearly identical cousins, the alder and least flycatchers, scream, "Ree-BEE-oh" and "CHI-bick," respectively. By sight, confusion, but once heard — mystery solved.
Currently, all of Nebraska, including Spring Creek Prairie Audubon Center where I work, is exuberant with bird song. Males are fighting for territory and mates, females are calling to young, and neighbors are checking in on neighbors every morning — much like the popular human party lines of old. From our woods of Wilderness Park, listen for the chatter of red-eyed and warbling vireos. Breaking from the thickets of Shoemaker marsh, the tinkling calls of marsh and sedge wrens can be heard below the raucous songs of brown thrashers. And from fields of undulating tallgrass, listen for species of concern like dickcissel, bobolink, and grasshopper sparrows, the latter named not for eating grasshoppers but for having a buzzy song that sounds like one.
For the beginner, don't get dismayed if you are not sure which bird is singing which song. Here are some tips for you.
First, learn to listen. Try stopping and closing your eyes for one minute. You will be amazed how many different birds (and other creatures) you may hear. Second, find a bird buddy. This can mean a friend that may know the songs or a website or app that can help identify birds by sound, like Audubon Birds, iBird Pro or AllAboutBirds.org.
Third, don't get discouraged. If you hear an American goldfinch calling as it flies over and do not think it sounds like it is saying "Potato chip," that is OK. Describe what it sounds like to you, and you'll remember it more effectively and enjoy it more fully.
And finally (and most importantly), just do it. Get outdoors and listen. Take in all that spring and summer in Nebraska has to offer. Visit a local park and enjoy the singing birds, bugs or frogs. Trust me; the songs will make you smile.
Jason St. Sauver is the community education director at Spring Creek Prairie Audubon Center just south of Denton.
Be the first to know
Get local news delivered to your inbox!