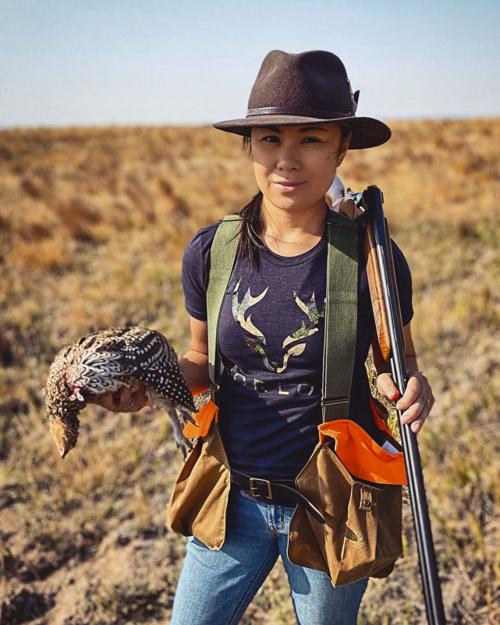 The hunting world can be small, and it seems even smaller on the internet. Through sharing photos, advice and recipes on Instagram and Facebook, we celebrate and commiserate in each other's successes and failures every season.
Sometimes these online connections lead to hunting opportunities and new adventures. A few years ago, my husband, Rick, and I had one such opportunity.
In early fall 2018, Ross Juelfs, a hunting guide from the Panhandle, filled his limit on grouse. He posted a picture on Instagram, and I made a casual comment about grouse being on my bucket list. Ross and I had never met, but we've been Facebook "friends" almost nine years.
Ross saw my comment and, without hesitation, invited Rick and me to hunt with him the following season. To trade, I said I'd cook for him. We had a deal.
A year later, Rick and I met with Ross and his friend, Megan Beach. We had dinner in Scottsbluff to go over the weekend plan.
On Saturday morning, Ross drove us south from Gering to a Conservation Reserve Program field.
Ross bagged the first bird that weekend. His 14-year-old English springer spaniel, Beaufort, made the retrieve. We worked toward the far fence line and saw several more birds flush out of gun's reach.
When we reached the end of that field, we swung around to head back out toward the pickup. Nearing the end, a bird flushed ahead of me.
I heard it before I saw it. Quickly, I shouldered my over-under, squeezed the trigger — and missed. Remembering what I had learned from a handful of shooting lessons, I pulled the gun tighter against my cheek, gave myself time to zero in on my target and made a second attempt. To my amazement, I hit the bird squarely in the back. My companions whooped in excitement. I jumped for joy. This was my first sharp-tailed grouse.
"That was a long shot!" Ross said, smiling and giving me a high-five. "I'm so excited for you!"
We found the bird, and Rick took a picture. He was just as happy for me as I was for myself. We continued to the next field, where Rick shot his first sharpie, too. Ross got his second bird in the bag.
The remainder of the day proved to be as productive, although more birds flushed wild. Ross and Rick shot their limits, and I got one more sharpie. Unfortunately for Megan, she was never in the right place at the right time. An accomplished hunter, Megan was just happy to be out and meet new hunters.
As for Rick and me, we were stoked about our day. That night, I prepared a dinner of French sorrel soup, summer heirloom tomato salad, goose confit with Cumberland sauce, sautéed seasonal mushrooms and wild elderberry panna cotta for dessert. We stayed up late talking.
The next day, we hunted on private rangeland for prairie chickens. I couldn't tell you how big the property was, but it sprawled for miles in all directions; I could see Lake McConaughy sparkling in the distance. However, we saw few birds, and the ones we did view did not hold well.
Toward the end of the morning, a prairie chicken caught me by surprise. It exploded into flight. I panicked. Had I given myself more time to shoulder my gun for a proper mount, I might have picked up my first greater prairie chicken on that trip, too. That was the one opportunity I had at a chicken that day, and I blew it. A single bird left the field that morning, shot by Ross, who gifted it to me.
As vexed as I was over missing a bird, a greasy burger and beer at Lake McConaughy melted away all irritation. It was also where we parted ways with our new friends. We promised Ross we'd be back again, and that following year, Rick and I traveled west to hunt grouse twice. That included a second time with Ross.
In hunting, there's an uncommon trust that binds us together. Whether you hunt with a stranger on the other side of your home state, or on the other side of the world, gun safety, sportsmanship, and respect for the game you chase are the foundations of every successful hunt.
The stories you make together and tell beyond the field keep the tradition alive.