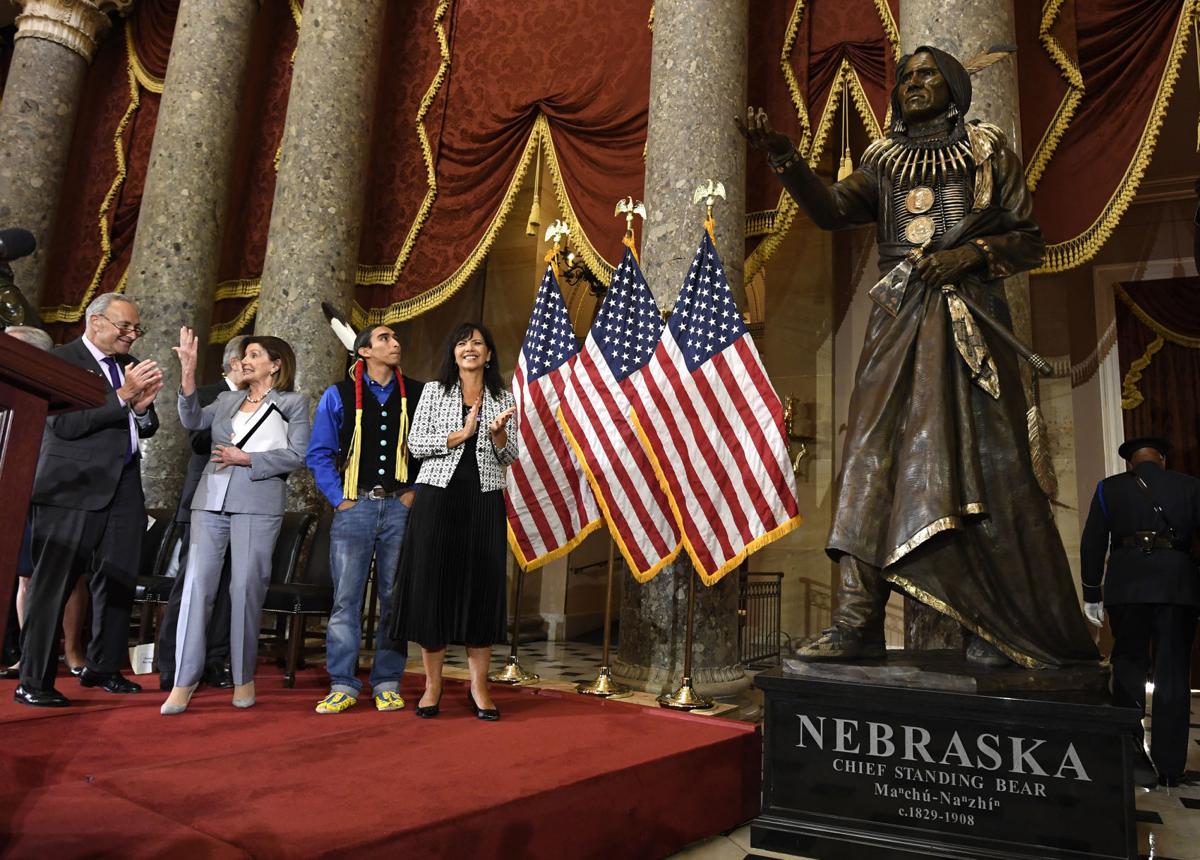 No person has ever made more of an impact standing for "equality before the law," Nebraska's state motto, than Chief Standing Bear.
Now, the Ponca leader will serve as a proper representative for Nebraska at the U.S. Capitol long into the future. The bronze statue unveiled at a momentous ceremony Wednesday, before the Speaker of the House and several national and state elected leaders, makes him the newest luminary among the greats honored in the seat of American government.
For two years, a monument of Standing Bear has looked over Lincoln's Centennial Mall. Another marks his grave and keeps watch over the tribe's lands west of the town of Niobrara.
Henceforth, he will also be a fitting emissary in Washington for Nebraska, especially its Native people. Displaying a father's boundless love for his children and the selfless courage of a leader, Standing Bear incidentally became a inspiring civil rights pioneer.
When his efforts to hold onto ancestral land were rebuffed and the Ponca were marched to present-day Oklahoma, Standing Bear led the way. And when harsh conditions killed many of the people, including his only son, Standing Bear ensured the boy's dying wish – to be buried at his home – was carried out.
It was in an Omaha courtroom in 1879 that he gave enduring testimony in his defense – believed to have been the first time a Native's rights were subject for a trial – calling for justice for his people, that still touches people's hearts to this day.
"That hand is not the color of yours, but if I pierce it, I shall feel pain," he said. "If you pierce your hand you also feel pain. The blood that will flow from mine will be of the same color as yours. I am a man. The same god made us both."
Judge Elmer Dundy ruled in Standing Bear's favor, declaring that "An Indian is a person within the meaning of the law."
Because of the act of love for his son, Standing Bear won the first legal rights for Native people across the country. Freed from custody, he returned to the Niobrara River valley to fulfill a promise he'd made two years earlier. Following his death in 1908, he, too, was buried there with his son and his people.
Despite the impact Standing Bear had, his journey is too little known outside of Native peoples and Nebraskans. We hope this prominent place on his return to our nation's capital changes that.
Shortly before the journey that made him a civil rights icon, Standing Bear visited Washington to plead on behalf of his people. He took a message to President Rutherford B. Hayes: After several broken treaties, the Ponca merely wanted to remain in its homelands in northeast Nebraska.
Though Standing Bear's request was ignored, as soldiers ordered the Ponca to move south, the chief has now returned to our nation's capital.
There, from his new, deserved place of honor among our nation's dignitaries in Statuary Hall, the story of Standing Bear's bravery and quest for justice will be heard for generations.
Catch the latest in Opinion
Get opinion pieces, letters and editorials sent directly to your inbox weekly!