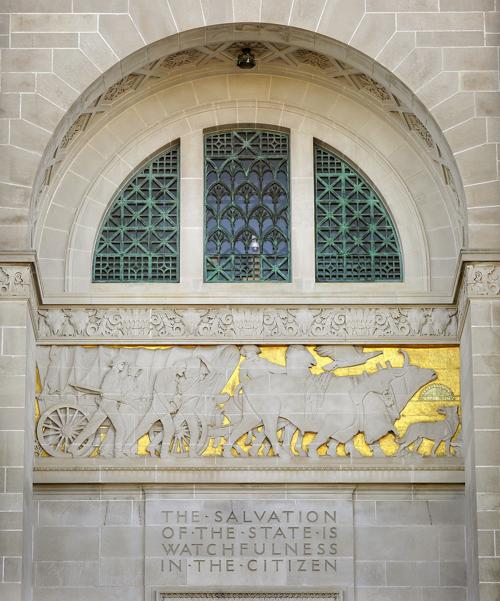 With plenty of legislation being carried over from 2019 and hundreds of new bills awaiting introduction, trying to pick a singular focus during the short, 60-day legislative session is like drinking from a fire hose.
Senators know they must prioritize. Accordingly, Journal Star editorial board urges the Legislature to address these key topics that must be ironed out before the Legislature adjourns in April:
* Property taxes and school funding: The elephant in the George W. Norris Legislative Chamber hasn't budged in the last few years. Inadequate state funding for K-12 school districts has forced the burden of funding public education – guaranteed by the state constitution – onto local property taxes, borne disproportionately by farmers. To clear an inevitable filibuster, lawmakers must find the elusive grand bargain to ensure the Lincoln and Omaha areas aren't slammed with tax increases.
* Tax incentives: In an ideal world, every state would stand on its own merits when it comes to attracting new business development. Unfortunately, that world is a pipe dream. To be competitive with other states, Nebraska must be smart in crafting a new package of incentives that doesn't give away the proverbial farm with little to show.
You have free articles remaining.
* Flood repairs: The costliest natural disaster in Nebraska history has exceeded $1 billion in damages. But the cleanup didn't end when the calendar turned to 2020. Gov. Pete Ricketts has identified recovery as one of his top priorities for this year's session, and we couldn't agree more.
* Redistricting reform: After a decade of attempts following controversial boundaries approved in 2011, it's now or never to make redistricting less of a partisan process. With the 2020 census requiring new districts to be drawn next year, Nebraska must approve one of the options introduced last year and join the growing number of states that have reduced political influences in how its elected officials are apportioned.
* Corrections fixes: Nebraska is set to declare a prison overcrowding emergency July 1, 2020, under a 2002 state law – and it will have to release more than 1,000 inmates merely to come in compliance with the law by falling to 140% of its 10 facilities' designed capacity. Yes, a new labor contract with Corrections officers is a plus, but that's far from the only improvements lawmakers must bring forth during this short session.
* Transparency: In recent years, the trend has seemingly been to chip away at Nebraska's public records laws by adding exemptions for this or that. Open, transparent government is the best way for Nebraskans to hold their public servants and elected officials accountable. After all, the inscription above the north door to the Nebraska State Capitol reads: "The salvation of the state is watchfulness in the citizen."
* Medical cannabis: If the Legislature doesn't act on authorizing a limited medical cannabis program, a much broader version will likely go before voters in November by way of a ballot initiative. Senators are down to their final strike if they'd like to have their say in what that entails, and they must bear in mind the differences between recreational and medicinal while doing so.
The list may seem daunting. Indeed, it's a lot of ground to cover in not a lot of time. But these are the tough matters our 49 senators knew they'd encounter when they first sought office. Our hope is that they can shelve squabbling and provide the solutions this state needs.