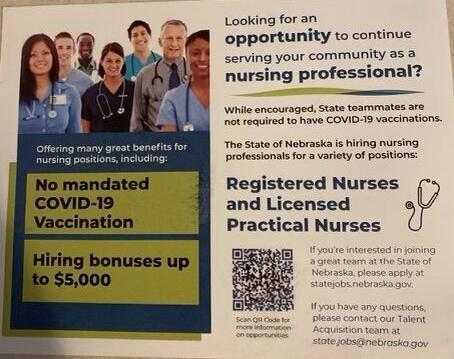 Perhaps the most important duty performed by nurses in Nebraska state institutions is taking care of the state's most vulnerable residents.
That alone makes the state's recent mailer to health care professionals touting the state's lack of a COVID-19 vaccine mandate for nurses – done in a cheerful tone, to boot – all the more appalling and unconscionable.
Has the pandemic exacerbated Nebraska's existing nursing shortage? Absolutely.
Should the lack of a vaccination requirement be considered a recruiting tool? Not in the least.
Yes, the advertisement notes that vaccinations are encouraged. But that sentence is in a font about half the size of the benefits listed – first among them is "no mandated COVID-19 vaccination," printed atop even the $5,000 signing bonus.
The fact that this battle over vaccinations continues to rage – now spreading to facilities like state veterans' homes and the Beatrice State Development Center – is indicative of too many people's unwillingness to do their part in supporting the collective fabric of our society, even when action could help save lives and livelihoods.
As is the case with COVID-19 and other viral infections, vaccines aren't silver bullets with 100% efficacy. But they greatly reduce the risk of hospitalization and death – two things of which we've endured far too many in the last year and a half.
The virus has killed at least 2,500 Nebraskans to date, with many of the deaths coming from the group settings similar to those in which the sought-after registered and licensed practical nurses care for the state's highest-need residents.
(Of course, Nebraskans no longer know exact numbers of deaths and infections, because Gov. Pete Ricketts has decided the state no longer needs to operate a statewide dashboard for the public good, following the expiration of his pandemic-related emergency declaration two months ago.)
In many ways, this situation represents a microcosm of private businesses and entities stepping in to fill the gaping hole where government has failed during the ongoing pandemic.
It's worth noting that the job advertisements were posted shortly before the state's largest health care systems announced they were instituting a vaccine mandate – a common practice that's been upheld time and again in the American legal system – designed to protect patients and staff alike.
Many nurses at those facilities, including a pair at Bryan Health in Lincoln, have gone on the record expressing frustration at the recent uptick in hospitalizations, making their work more dangerous and draining. COVID wards at the hospital are filled up almost exclusively with unvaccinated patients, even more maddening when anyone older than 12 could get a vaccine within minutes.