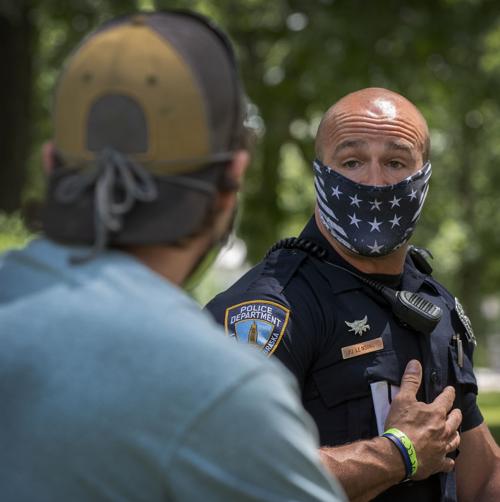 Lincoln will be getting 11 additional police officers next year now that Mayor Leirion Gaylor Baird has accepted a federal grant to fund five of those positions.
Local Black Lives Matter supporters had called for Gaylor Baird to reject the $625,000 grant. But last week, she said she would accept the federal funds to bolster Lincoln's police force. Another six officers who will be paid for by the salary of the city's former public safety director, a vacant position that will not be filled.
Even with the ongoing concerns over policing in Lincoln that hit a flashpoint with the death of George Floyd in Minneapolis, accepting the grant, thereby increasing the number of police officers, was simply the right thing to do.
Lincoln has one of the smallest per-capita police departments in the country, and the new officers are needed to parallel the city's continuing growth, both in population and geography. And, importantly, the new officers will allow the city to address growing issues of gun violence -- the point of the grant application.
Once the recruits, who will be hired in January complete police academy and field training requirements, which take more than a year, the new officers will allow the department to dedicate veteran officers to gun crime investigations
That, according to Chief Jeff Bliemeister, will also include reviewing handgun purchase permits to keep guns away from people barred from possessing, preventing illegal gun sales, ramping up ballistic investigations to solve crimes, boosting threat assessment and collaboration with businesses and community groups to increase gun safety education.
But the new officers also must come into a department that is operating with renewed attention to the treatment of minority communities, a process that, for them, starts with intensive implicit violence training.
Reforms, such as the banning of chokeholds, need to be implemented and police accountability -- as envisioned by the Hold Cops Accountable initiative -- needs to be taken seriously and made public
They should also be joining a department that is primarily doing law enforcement work rather than mental health interventions and other similar activities police are now called to do.
To that end, Gaylor Baird is proposing spending $150,000 in the upcoming city budget to pay for crisis support, social services and make more mental health resources available in the city.
That is a good first step forward toward addressing some policing concerns. But more needs to be done -- and Black Lives Matter supporters should continue to press for reforms and police community cooperation.
Similarly, hiring the 11 new officers can also be a positive for Lincoln, if they're providing additional community safety in a reformed, community sensitive department.
Catch the latest in Opinion
Get opinion pieces, letters and editorials sent directly to your inbox weekly!