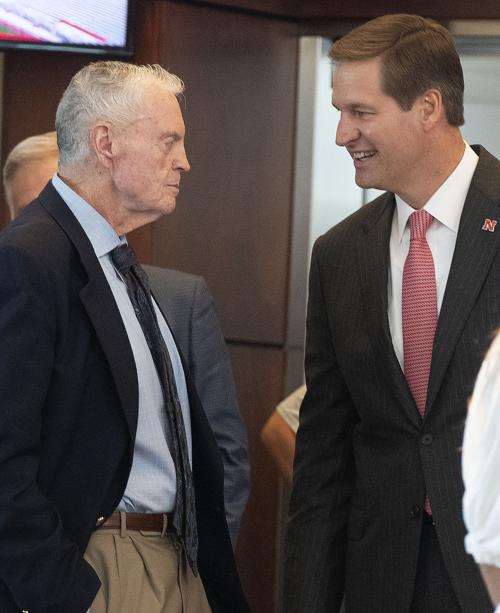 On Monday morning, a new era of Husker athletics began. The arrival of Athletic Director Trev Alberts offers equal portions of heritage and hope, which is just what the Husker faithful want -- and need.
There hasn't been a lot of stability in the athletic director's office. The two most recent occupants -- Shawn Eichorst and Bill Moos -- accomplished important things, but their abrupt departures and mixed results left the impression of an athletic program feeling its way and still trying to finds its place in the Big Ten.
Eichorst helped establish additional academic benefits and programs for student athletes. Moos brought in high-profile coaches, got construction of a new athletic facility started and navigated the COVID crisis.
Now, the reins are in the hand of Alberts, an All-America linebacker and Butkus Award winner who played for the Huskers from 1990 to 1993. But if a stellar college career were all he brought to the table, it wouldn't be enough for the challenges the program faces.
But Alberts compiled a strong record of bold moves and creative thinking during his 12 years as athletic director down the road at the University of Nebraska at Omaha. He proved unafraid of making waves and hard decisions. He disbanded UNO's football and wrestling programs and moved the school to Division I, built a national-contender hockey team and upgraded facilities. Not every move was popular, but all were strategic.
The images of him on the field during his playing days are decidedly old school, but his understanding of the evolving world of college athletics is very new school. 
"Let's be honest: This is a very uncomfortable time for administrators in college athletics," Alberts has said. "The key is we're going to be comfortable being uncomfortable, because at the end of the day this is about student-athletes. We're going to support their opportunity to monetize their name, image and likeness."
The days are over -- if they ever really existed -- when an AD hired winning coaches and watched the money and championships roll in. College athletics is a business -- a big business -- and its tentacles reach into personnel, promotion, media, licensing, fund-raising and alumni relations and business partnerships. 
Now, with Name, Image and Likeness rulings in play -- and whatever comes next from the courts or the NCAA -- the game just got even harder. 
Alberts' obvious affection for his alma mater and willingness to make the tough calls he faced in Omaha will serve him well as he serves the athletes and the fans of the Huskers.