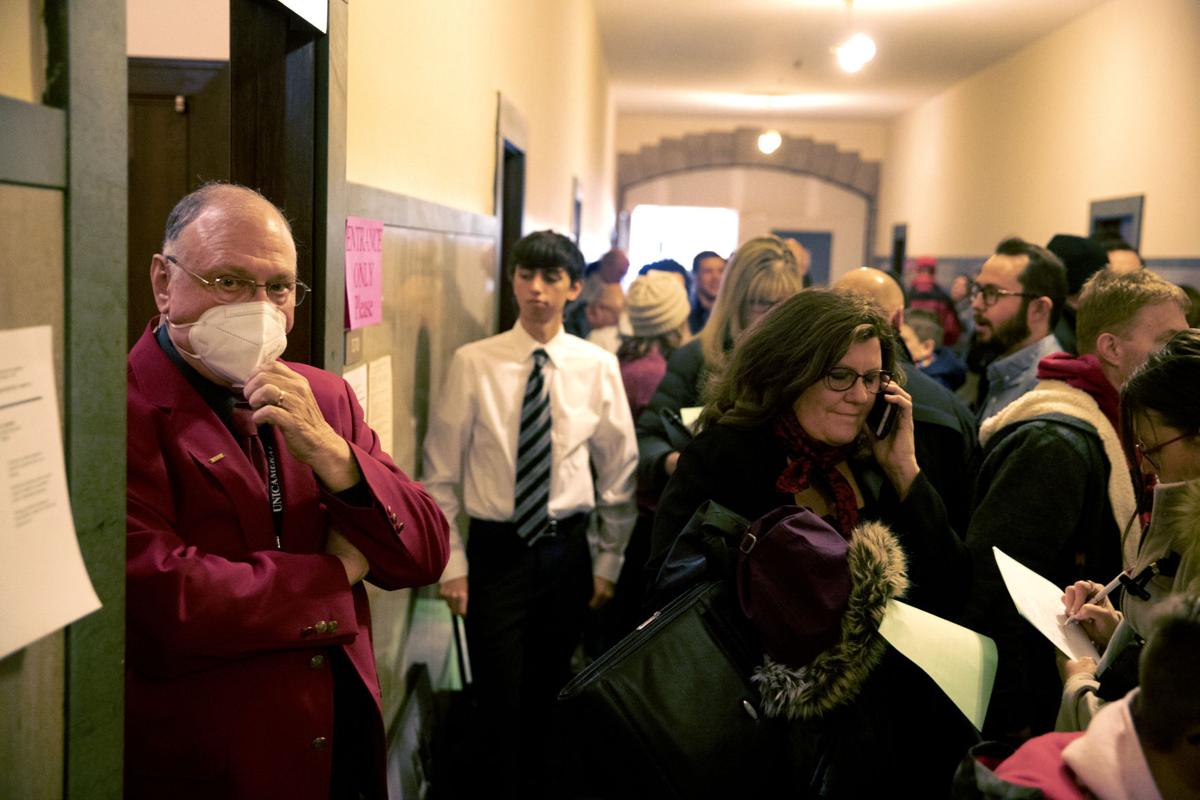 More than 100 maskless Nebraskans crowded into a Capitol hallway last week, ignoring public health guidelines as they waited to testify in favor of a bill before the Legislature's Health and Human Services Committee.
In doing so, they provided visual evidence of precisely what is wrong with LB643, which would give individuals, parents and businesses the choice to decline a government-mandated vaccine without penalty during a state of emergency or any time after. No such emergency has been declared.
Sen. Ben Hansen of Blair, who introduced the bill because of the COVID-19 pandemic, then tried to argue that it is "in no way against vaccines or the COVID-19 vaccines" but is designed to give citizens a "platform to stand on" in opposing any future vaccine mandate -- "this is more than saying the state does not have a right to inject anything into our bodies."
In truth, the bill does say just that. It is simply a measure that will allow those who oppose vaccinations to eschew the shots, officially rejecting the most powerful public health measure, just as the testifiers rejected safety measures last week, potentially turning the hearing into a superspreader event.
Those testifiers delivered an expected litany of personal stories about the negative impact of vaccines, outcries for "freedom of choice," debunked assertions that vaccines cause autism and conspiracy theories about vaccines being used to control the population.
The latter claim would have been laughable had it been made in any other year. But it is painfully ignorant during the pandemic when people are waiting for the shots and those who have received them are calling the vaccines "miracles" that will bring COVID-19, not people, under control.
More troubling, as Gothenburg Sen. Matt Williams pointed out during the hearing, the bill could be read to allow Nebraskans to decline a vaccine at any time for any reason. The public health danger that could create has never been more apparent.
The anti-vaccination movement dates back to the earliest vaccines in 1800, and has been amplified in the last two decades by celebrities, the internet and social media.
That effort against vaccines as Dr. Michelle Walsh, president of the Nebraska Medical Association testified, has led to declining immunization rates and increasing instances of measles, mumps and whooping cough, diseases that had largely been stamped out by vaccines.
And Walsh rightfully cautioned that the bill would likely undermine existing requirements that all children who attend school in Nebraska, public or private, must be immunized against polio, chickenpox, measles, mumps and rubella.
"We have serious concerns that LB643 would be contradictory to these existing policies and allow parents to opt out with no sincere reasons," Walsh told the committee. "This would, in effect, raise the rates of future types of preventable disease outbreaks, which have been under control for decades."