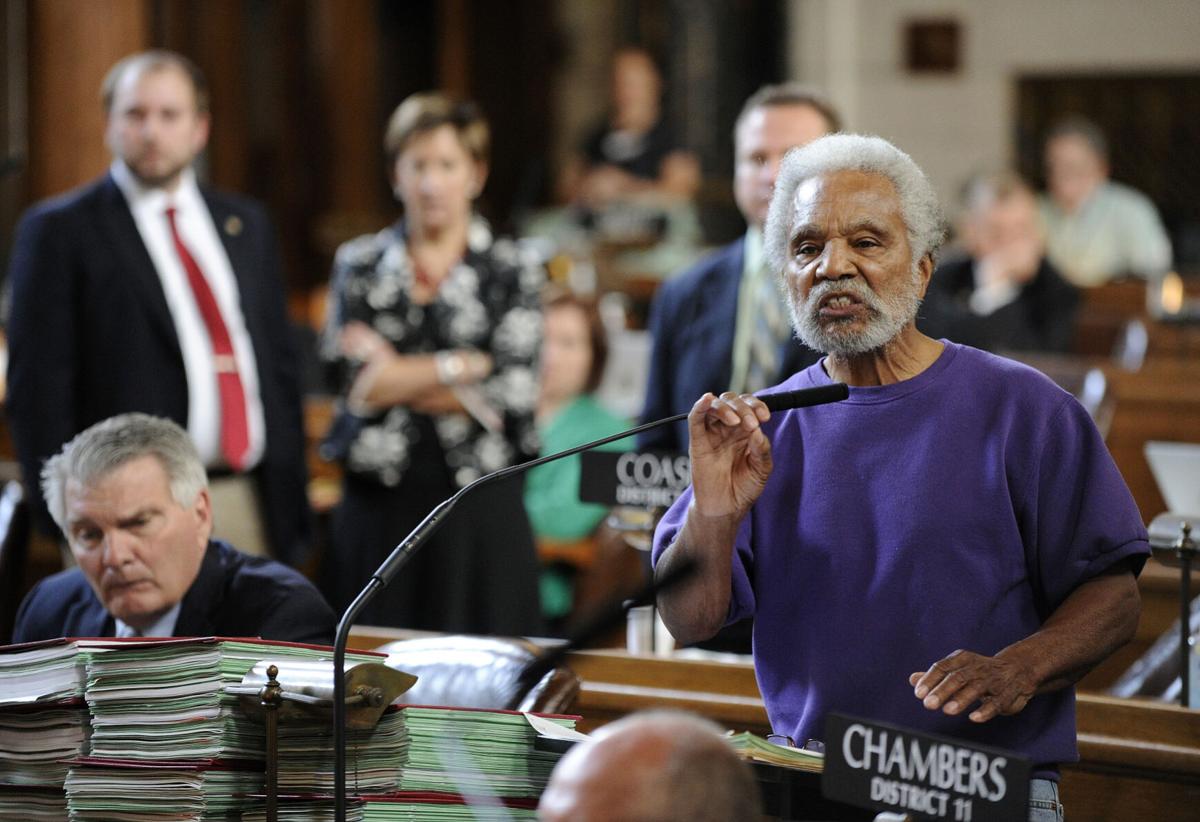 A good share of Nebraskans have no clue who their state senator might be. But almost everyone knows Ernie.
That would be Ernie Chambers, the longest serving and, arguably, most influential senator in Nebraska history.
Controversial and given to lobbing verbal bombs at those he opposes, from the Catholic Church to abusive law enforcement to other politicians, Chambers has, since his 1970 election to represent Omaha's 11th District, been a tireless champion for the poor, people of color, those in prisons and jails, the LGBTQ community and others, rural and urban, who don't have a voice in government.
That, Lincoln Sen. Patty Pansing Brooks said, makes Chambers a legend "whose voice rose and pierced our hearts at the times we failed to live up to the best ideals of humanity" and, in Omaha Sen. Steve Lathrop's less lofty description, a $12,000 state-funded lobbyist for them.
Chambers' greatest triumph came in 2015, when the Legislature voted 32-15 to abolish the death penalty, then overrode Gov. Pete Ricketts' veto of the measure that Chambers had repeatedly introduced for decades. Sadly, the repeal was overturned by voters in 2016.
He was also the first to envision paying student-athletes. His 1988 bill to provide a stipend to Nebraska football players was vetoed by Gov. Kay Orr. In the 1990s, he took an AIDS test to stand up for the LGBTQ community and diminish the stigma. And, in the 2000s, he shepherded the breakup of Omaha Public Schools, arguing the district had failed minority and poor children.
But his legislative interests extended across the state, from saving prairie dogs and mountain lions to respecting private property rights.
Chambers has drawn national attention for decades, called "the angriest black man in America" by one publication, cited for his national trend-setting in a 1980 resolution that withdrew $25 million in state funds from investments in companies that had interests in South Africa. And, this year, he was praised for his successful fight to preserve Nebraska's splitting of its electoral votes by congressional district.
But, given that he has worked in a minority in the conservative, Republican-dominated Legislature, Chambers' impact has been more in stopping "bad bills," often by himself through his use of the filibuster or simply wearing down his colleages. "I'm only one person, but one person and the rules can do a lot," he once said -- and did.
Perhaps the best measures of Chambers' effectiveness came in 2000 when voters approved term limits for senators to, in the view of many, "get rid of Ernie."
That worked in 2008. But after sitting out four years, Chambers returned to the chamber in 2012 for eight more years.
On Jan. 6, Chambers will become the first senator to be term limited twice. But he may not be done yet. The 83-year-old told the Journal Star that he might consider coming back "if I believe that I could do something of value for the community that would send me down here."