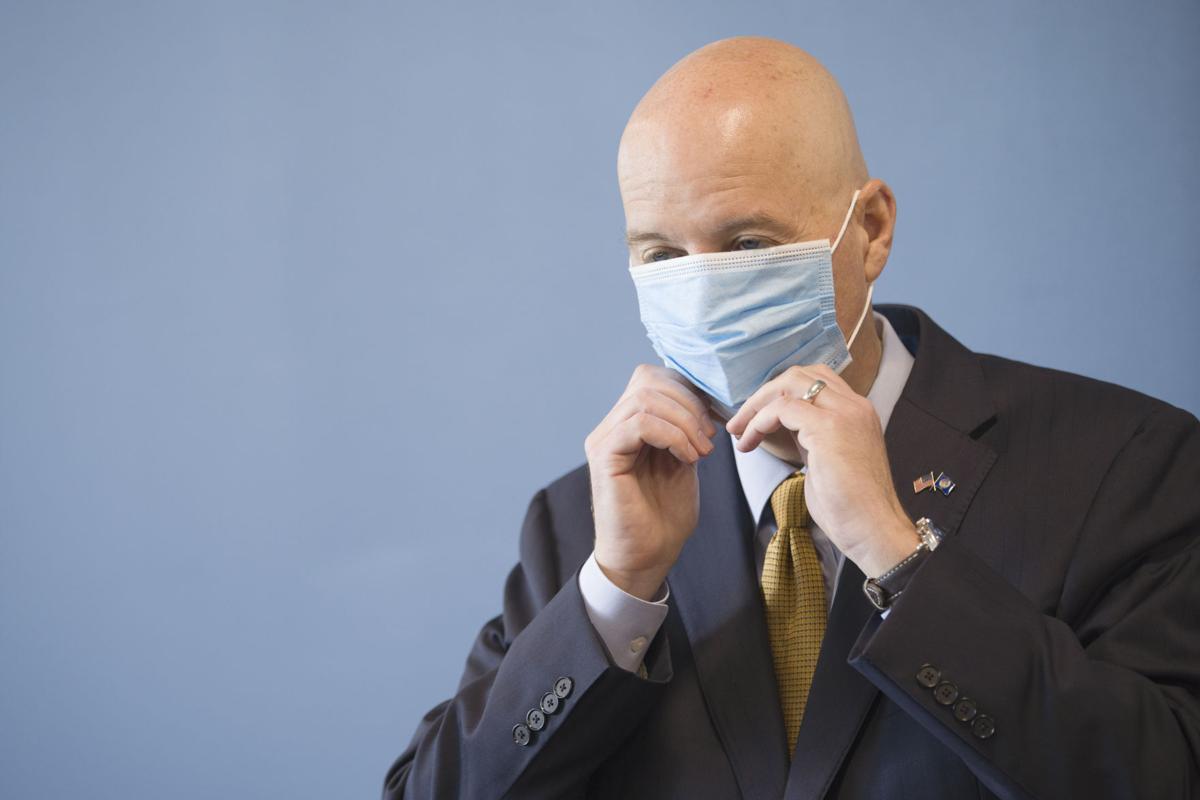 A day before the Huskers' first home football game of 2020 and 13 days from Thanksgiving, the state of Nebraska is going through its roughest COVID-19 outbreak since the pandemic began.
In a three-day stretch last week, Nebraska shattered its new-case record each day and combined for 6,633 cases in that span. Meanwhile, state hospitalizations have tripled in a little more than a month.
The onus of mitigating the spread again falls on the people of Nebraska. Since March, we've leaned on pleas for personal responsibility in lieu of state mandates.
But is that enough? Is it time for Gov. Pete Ricketts to put in place stronger restrictions? On Monday, he announced renewed restrictions aimed at stopping the spread of the coronavirus, but he continues to reject calls and suggestions that he institute a statewide mask mandate and will not at this time consider a shelter-in-place order, even as he quarantines following contact with a direct exposure.
The timing of the outbreaks is bad -- especially with the holiday season on the horizon.
We're about two weeks away from Thanksgiving, a day when – under normal conditions – families gather for daylong celebrations. While it's not our place to tell you to scrap this year's festivities, we strongly urge curtailing the gatherings –- and to practice the same kinds of personal responsibilities in your own homes as you would in a public place.
In addition, the Huskers play their first game in Lincoln on Saturday morning when Penn State comes to town. Even though fans won't be allowed to attend, we expect the game to attract gatherings at local eating and drinking establishments and in houses.
Lincoln-Lancaster County Health Director Pat Lopez said contract tracers found that in small groups often among relatives or close friends, people from different households often neglect to wear masks. The prolonged contact, she said, led to coronavirus spread.
Ricketts updated the directed health measure on Monday to now include mandates calling for a 6-foot separation in bars, restaurants, churches, gyms and other settings. Those were previously only recommendations.
However, his directed health measures stop well short of requiring masks – something that has been the norm in Lincoln for months.
"I think a mask mandate would create resistance from people," he said Monday.
There is a segment of the state that would bristle at the mere mention of a mask mandate, but the numbers might indicate it's time for more drastic measures to mitigate the virus and control the stress on our health care systems.
Temporarily giving up civil liberties should never be considered without extreme caution, care and thoughtfulness, but as the number of cases continues to rise, one thing is becoming apparent.
Personal responsibility may not be enough.
Concerned about COVID-19?
Sign up now to get the most recent coronavirus headlines and other important local and national news sent to your email inbox daily.