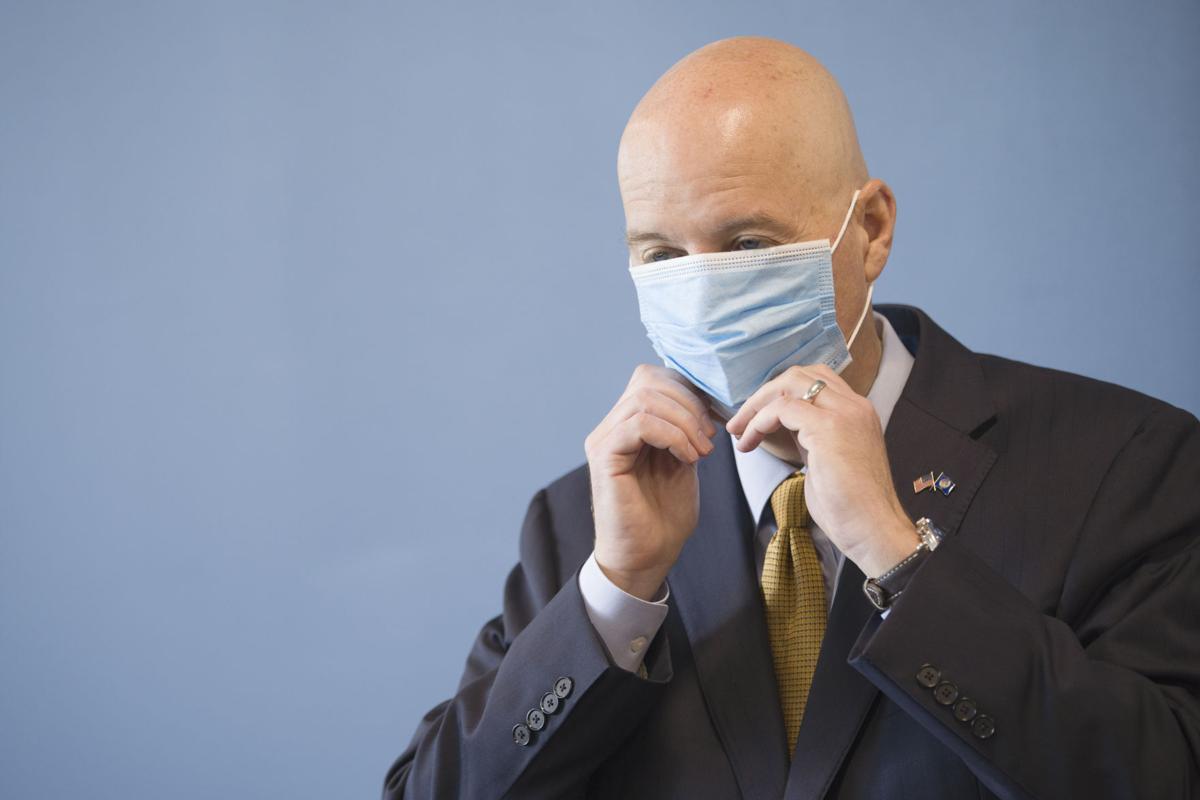 From the start of the coronavirus pandemic, Nebraska Gov. Pete Ricketts' approach has centered on the idea of preserving hospital capacity.
But the state has been above the previous record number of COVID-19 hospitalizations (232, from May 27) every day since Oct. 2. That ominous mark reached an all-time high of 380 on Monday, further stoking worries about an insufficient number of hospital beds and workers to staff them.
Last week, Ricketts unveiled a $40 million plan to recruit more traveling nurses to temporarily staff COVID-19 units as hospitalizations continued to climb. After all, Nebraska has long battled a shortfall of skilled nurses, a trend exacerbated by the pandemic.
Rather than reactively – and expensively – addressing the situation after Nebraskans contract COVID-19, Ricketts should take proactive measures to accompany his proper call to reinstitute some restrictions on public gatherings. Namely, the governor is overdue to implement a mask mandate like Lincoln and Omaha have, at least in areas where cases exceed certain thresholds.
He's long said Nebraskans should voluntarily wear masks to stop the spread of the virus. And he's right.
The problem is, too few are listening – and the state's COVID-19 rates are now among the highest per-capita figures in the country. Nebraskans now live in one of those hot spots about which we've heard so much since March. The economy can't be protected without protecting people. 
As Lincoln-Lancaster County Health Department Director Pat Lopez said Monday, "We won't have to worry about hospital beds if we do what we can to keep people from having to go to the hospital."
That's where a temporary requirement for face coverings indoors comes in handy. It's designed to proactively prevent people from contracting COVID-19 in the first place – which, in turn, protects the hospital resources Ricketts has vowed to preserve during the pandemic.
With more than a third of hospital and intensive care unit beds available in Nebraska, the situation may not yet seem dire.
But several rural counties have seen cases double in a matter of days or weeks. Couple those with hundreds of cases per day in Nebraska's largest cities, and some hospitals' ability to treat patients is being strained. 
Voluntary usage is no longer keeping the virus at bay as it previously did. Rather than government tyranny – see China, North Korea or Turkey for actual examples – an expanded mask mandate represents sound policy to fight the coronavirus with all tools at our disposal. It's a matter of health, not politics.
Returning to previous Directed Health Measures such as limiting the size of parties at restaurants, as Ricketts put back into place effective Wednesday, marks a good step toward slowing transmission. However, there's more the governor can do.
Concerned about COVID-19?
Sign up now to get the most recent coronavirus headlines and other important local and national news sent to your email inbox daily.