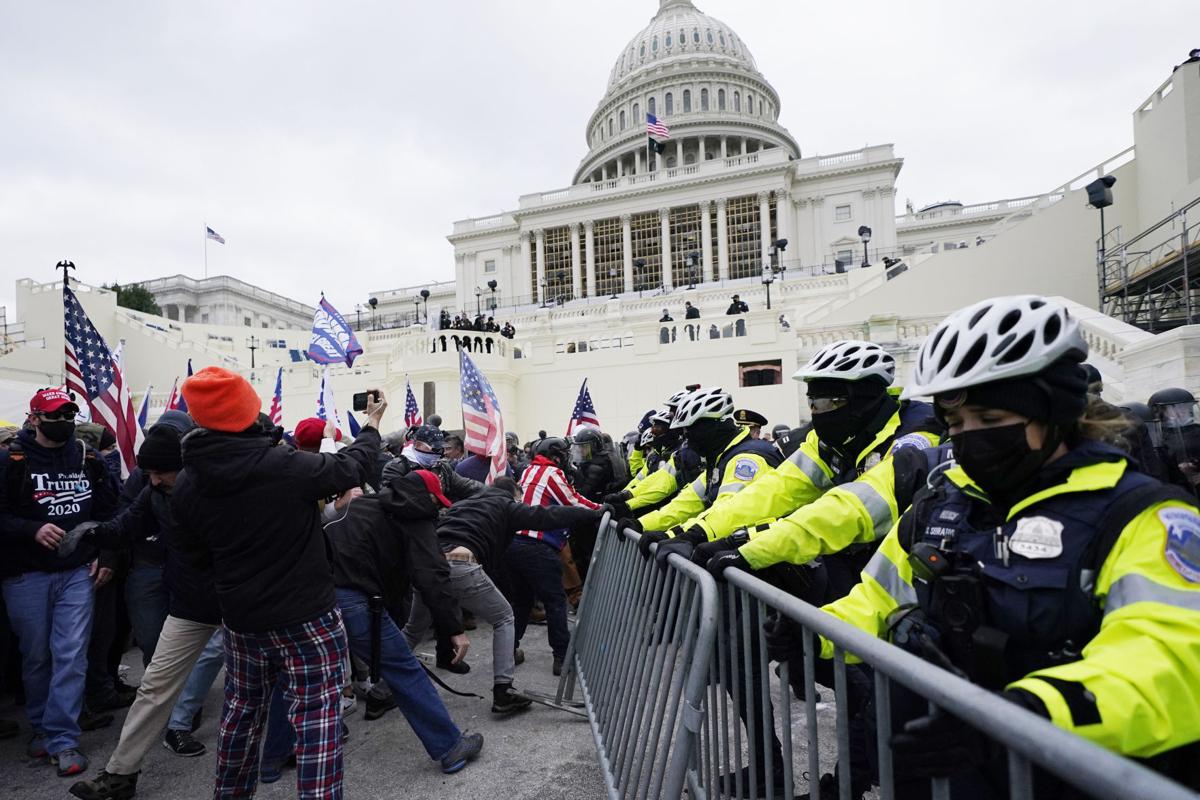 Jan. 6. 2021, will forever stand as one of the darkest days in American history — the day on which an insurrectionist mob stormed the Capitol at the behest of a president desperately trying to cling to power months after losing his bid for reelection.
Ransacking offices, cavorting in the House and Senate chambers, some waving Confederate flags, the insurrectionists, many clad in red Make America Great Again hats, did the opposite, striking a saddening blow against the country, democracy and its symbolic center — all in service of President Donald Trump.
"Today, the United States Capitol — the world's greatest symbol of self-government — was ransacked while the leader of the free world cowered behind his keyboard — tweeting against his Vice President for fulfilling the duties of his oath to the Constitution," Sen. Ben Sasse said in a Wednesday night statement.
"Lies have consequences. The violence was the inevitable and ugly outcome of the President's addiction to stoking division."
The Trump-triggered assault was strategic as well, timed to halt congressional certification of the states' Electoral College votes, a ceremonial process that would affirm the election of Joe Biden and Kamala Harris as president and vice president.
It did so for several hours, forcing lawmakers to safely shelter until the building could be reclaimed by Capitol Police and the back-up law enforcement that was sent too late to stop the storming of the building.
The failure of Capitol security to be adequately prepared, even for such an unprecedented assault, must be investigated.
Trump had drummed up his supporters for weeks, inviting them to Washington and telling them to go wild, so those in charge of keeping the Capitol safe had to know something was coming Wednesday. But there appeared to be inadequate staffing and effort to prevent the storming of the Capitol and remove the insurrectionists.
The treatment of the insurrectionists, few of whom were arrested Wednesday, deserves scrutiny. While a woman was shot and killed by Capitol Police during the melee, few of the people captured on video were met by the force that was routinely inflicted on Black Lives Matter protesters this summer. 
And law enforcement, federal and District of Columbia, must use all available investigatory elements — video, social media posts and tips from the public — to identify those who stormed the Capitol to arrest and prosecute them to the fullest extent of the law.
The federal charge of insurrection carries a 10-year maximum sentence and should be levied against all those found to have been involved.
The insurrection failed to hold the Capitol or stop the certification of the electoral votes early Thursday morning that, in affirming Biden's win, guaranteed Trump will leave office on Jan. 20.
The turmoil, however, did not stop six Republican senators and scores of Republican representatives from supporting objections to the electoral votes of Arizona and Pennsylvania, casting votes to disenfranchise millions in those states and destroy the linchpin of American democracy.
Sasse and Sen. Deb Fischer opposed the objections, as did Reps. Jeff Fortenberry and Don Bacon.
But Rep. Adrian Smith, the fifth member of Nebraska's all-Republican congressional delegation, joined with the seditious objections. In voting twice against democracy, Smith has disqualified himself from holding elected office in the government he tried to dismantle.
Trump was rightfully temporarily banned from Twitter for posts inciting violence and fomenting the Capitol assault after he released a video Wednesday that, while telling the insurrectionists to "go home," praised them, saying "we love you, you're very special."
Facebook Thursday indefinitely banned Trump from its platforms because allowing him to post was deemed too risky. That came hours after the president issued a statement pledging an "orderly transition on Jan. 20th.
After four years and thousands of lies, it is nearly impossible to now believe Trump will follow through on that statement, especially since he continues to make his spurious claim of an election victory.
Trump's behavior and Wednesday's events have led to calls for Trump's impeachment and removal by the Congress and/or for Vice President Mike Pence and the Cabinet to invoke the 25th amendment and remove him from office.
Neither of those is likely to happen in the two weeks before Trump leaves office. We can hope that he will stop his doomed crusade to overturn the election and behave as did all his predecessors since John Adams peacefully transferred power to Thomas Jefferson in 1801.
But we, Trump administration officials, Congress and law enforcement must remain vigilant, ready, if necessary, to rein in a rogue president and those he's incited so we can preserve our democratic republic.