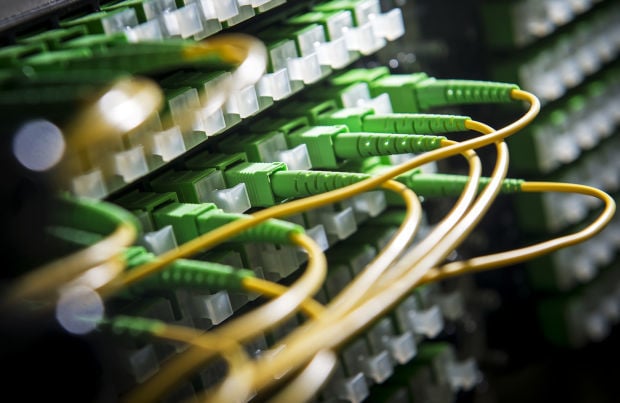 In March, the spread of the coronavirus sent much of life online. School, from kindergarten to college, moved to "remote learning," with students watching their teachers on the computers at home.
Thousands began working from home, communicating via email and messaging systems like Slack and meeting virtually via Zoom. Telehealth became the primary way method of communication between patients and doctors
And, with movie theaters and music venues closed, entertainment became the province of streaming services.
But some Nebraskans, particularly in rural areas, were ill-equipped for that online world. In some areas, the service is simply too slow to be effective. Other communities, where no broadband service is available are stuck with satellite internet, which can be very expensive, or no service at all.
That Nebraska has large areas of broadband desert is not news. But, in the words of Sen. Tom Brandt of Plymouth, "COVID really exposed a lot of weaknesses in the system, and I think everybody just wants to speed it up."
Everybody would be the Nebraska Legislature, which, after years of talking about broadband issues as an economic development issue, appears to be ready to act -- and must follow through -- on proposals that would provide tools and funding need to bring broadband to unserved areas of the state.
One of those tools is found in Brandt's LB600. That smartly designed bill would permit municipalities to use revenue bonds to build out broadband infrastructure, thereby allowing the service to be expanded without raising property or sales taxes to pay for it.
That bonding authority could then be tied into Omaha Sen. Justin Wayne's LB565, which would allow municipalities to provide retail or wholesale broadband services, a necessity for communities, especially smaller towns, where development of a commercial broadband system may not make economic sense for the private sector.
The Nebraska Broadband Bridge Act (LB388), introduced on behalf of Gov. Pete Ricketts, would address another broadband issue, providing $40 million over the next two years for internet providers to make "last-mile" hookups to some 30,000 households.
Passage of one other simple measure is critical for effective service. Sen. Bruce Bostelman of Brainard proposed setting the standard of what the state considers broadband internet to download and upload speeds of 100 Mbps -- a necessity to guarantee that broadband systems are fast enough to do what is being asked of them.
Perhaps those four bills could be combined with others -- including improved availability maps, as proposed by Sen. Wendy DeBoer of Bennington in LB498 -- into a comprehensive broadband access measure that addresses all the issues at once and speeds the passage of the tools and funding.
For when COVD-19 fades away and "normal" returns, the pandemic-driven online moves won't disappear. Many of those changes -- from the option of remote school and working at home to telehealth and streaming services -- are here to stay.
And the Legislature should ensure that broadband is available for all Nebraskans to use for school, work, health and entertainment -- regardless of where they live.