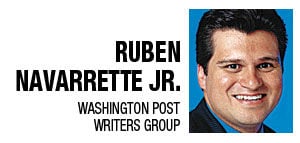 You know the rest. It's what so many Americans are thinking these days when they watch the evening news. It's the same question they asked when earlier caravans of Central American migrants made their way north over the last several years.
Yes. We've been here before, and we're going to be here again. And no president, or his border policies, will change that. Conservative Republicans -- many of whom are profoundly ignorant about immigration -- insist that this latest batch of migrants came because President Joe Biden "enticed" them with what was supposedly a kinder and gentler approach to the stranger who shows up at our front door.
Color me skeptical about Biden. We need to forget what he has said and watch what he does. A lot of his border policies don't seem so kind or so gentle. Instead, they seem political.
Meanwhile, right-wingers are at a loss to explain why earlier waves of migrants came in 2014 when former President Obama proved incompetent in dealing with the border, or in 2019 when former President Donald Trump sent the message that only immigrants from Norway were welcome.
Now back to the question at hand, in its entirety: "What kind of parent would let their child join a caravan of migrants embarked on a treacherous trek of more than 1,000 miles to the United States?"
The answer is complicated. And if sanctimonious Americans can get past their instinct to feel superior to anyone south of the U.S.-Mexico border, we might find our way to a decent answer.
It's probably a parent -- often a mother -- who is deeply religious and believes that God will protect and watch over the child. CBS News' Mireya Villarreal has been doing first-rate reporting on the current migrant border crisis -- both on the border, and within the caravan as it passes through Mexico. She interviewed one 10-year-old boy from Honduras who was taking the trip alone. He wasn't scared, he told the reporter, because "God was looking after him."
It's likely a parent who feels she has only bad choices. If not the caravan, then she can wait and see if the violent criminal gangs that run El Salvador, Guatemala and Honduras make good on their threats to sexually assault her daughter and recruit her son as a pre-adolescent soldier in their army. They're not asking. Refuse, and they'll burn down your house with the whole family in it without a second thought.
It's almost certainly a parent who -- while likely to have a hole in her heart for the rest of her days over losing her child -- loves that child more than she fears the loss. She wants a better life for her child than the one she is suffering through, and so she's willing to take a chance on a caravan and a crucifix.
History is full of stories about desperate people around the world who felt imprisoned and yet somehow found the strength to roll the dice in the hopes of setting their children free.
In the 1930's, before the outbreak of World War II but with the writing already on the wall for what was to become of Jews at the hands of the Nazis, rescue efforts called "kindertransports" were organized. Tens of thousands of Jewish children were moved out of Germany and into France, Belgium, the Netherlands and the United Kingdom. Most of these children's parents were killed by the Nazis.
As a fortunate son whose family has been in the country since before Texas was a state, hear me. We Americans have the right to protect our country, secure our border and decide who gets asylum. But, since so many of us hit the lottery by being born U.S. citizens, we could use some humility and gratitude. We do not have the right to judge people who would love to have what we have but, because of where they were born, have to do something we never had to do: earn it.
Ruben Navarrette writes for the Washington Post.