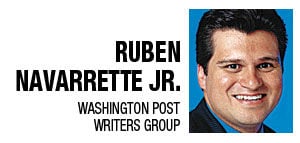 When Americans get in each other's faces over how we should treat the stranger, as we tend to do, it often seems as if our country is about to have a breakdown.
But the thousands of Haitians who took Lady Liberty up on her engraved invitation and traveled for months from South America for a stab at a new life in this land of second chances could offer us a breakthrough.
In a divided country where people retreat to safe spaces and "unfriend" those with different views, liberals and conservatives should be able to agree on this much: The Biden administration needs to reverse course and welcome back the Haitian migrants that it hastily expelled.
For liberals, this is a chance to ditch platitudes and moral superiority and back up their "wokeness" with concrete action. Instead of virtue signaling and thinking themselves better people, they can help others live better lives.
For conservatives, this is an opportunity to see up-close how patriots are made, by welcoming migrants and refugees and giving them a redemption for which they will be eternally grateful to the United States.
This is the argument that our elected officials should make. Granted, that might be difficult to do when they're hiding under their desks.
That reminds me. We might as well paint the White House yellow. It's full of cowards. Joe Biden the Moderate is terrified of being perceived as backing an "open border."
What an absurd charge when we have border patrol agents on horseback swinging reins, cussing up a storm and terrorizing women holding babies.
Biden took a page from former President Donald Trump's book -- "Nativism for Dummies" -- and used Title 42, a clause of the 1944 Public Health Services Law that the Trump administration conveniently reinterpreted in March 2020. Trump's new policy used the need to prevent the spread of COVID-19 as a pretext for implementing the restrictive immigration policies that he favored. Biden -- who promised to undo his predecessor's immigration policies but wound up extending many of them -- opportunistically seized upon Title 42 to fast-track the deportation of more than 4,000 Haitians in less than 10 days without nuisances like legal representation, due process or court hearings.
In Del Rio, Texas, authorities wiped away a massive encampment in a transparent attempt to change the subject. One day, there were as many as 15,000 people -- most of them Haitian -- sleeping in tents under a bridge. The next day, they were gone with no trace that they had ever been there.
That didn't solve anything. Isn't that just the American way though? We always apply simple solutions to complicated problems. Just like we always underestimate the resilience of immigrants and refugees. It's likely that most of the people who were camped under the bridge fled to Mexico where they are likely, as we speak, waiting patiently for their chance to return to Texas.
Meanwhile, a tone-deaf administration defiantly vowed that it would continue to expel Haitians -- as well as other immigrants and refugees -- on public health grounds despite hitting a legal snag.
Recently, a federal judge ruled that the use of Title 42 to deny migrants asylum was improper and gave the government two weeks to scrap it. The Biden administration is appealing.
How do you like that? It seems like just yesterday that, with Trump in the White House, Democrats considered the judiciary the most important branch of government and cheered federal judges who saved democracy.
The White House also doesn't seem to care much about pressure from Democratic lawmakers to scrap Title 42 and stop expelling Haitians -- at least until they get their day in court and make their case for asylum.
Some of those folks in Congress and in the media who are now defending the Haitians have even declared that U.S. immigration policy is racist.
You don't say. Latinos could have told you that decades ago. In fact, come to think of it, we did. No one listened. The deafness extended to Democrats.
The administration doesn't even seem all that worried that it may soon have to hold a job fair to fill vacancies -- as good people run away from bad policies. Last week, the special envoy to Haiti, Daniel Foote, resigned in protest over the "inhumane" large-scale expulsions of Haitian migrants.