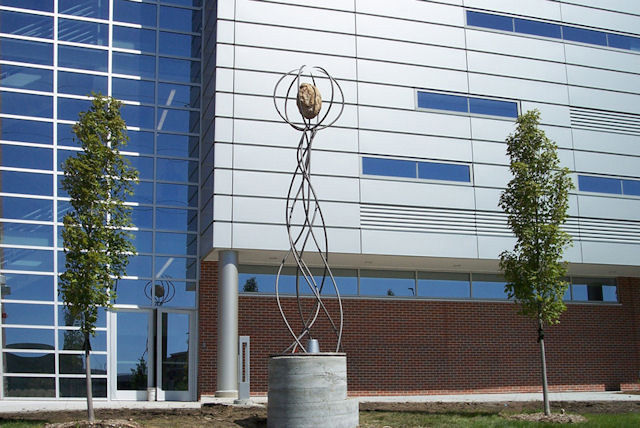 As the world shifts from an old energy model to a new paradigm, Nebraska should take the lead. It is time (actually, it's long overdue) for all governments in Nebraska to take energy efficiency and clean energy seriously.
Any new public building or any remodeling of a public building should be required to save taxpayers' money by being made energy efficient and be powered by at least 50% renewable energy initially. Then, every five years, the renewable requirement should be increased significantly.
Elected officials ought to be good stewards of our tax dollars. Energy efficiency and clean energy protect the environment and the health of the public. Private donors, as well, should focus their efforts on making public buildings sustainable.
The University of Nebraska recently announced $480 million of construction, renovation and improvements, the majority of which will be paid with donor money. Many years ago, an NU regent said something to the effect of: If the university keeps accepting the gifts of more buildings, we will go broke.
He did not literally mean this, but the point was well taken. All donated buildings have to be heated and cooled. That's why the university and other public entities need to husband donations by reducing the operating expenses by building efficiently instead of building wastefully.
You have free articles remaining.
Donors who fund solar power on buildings give a gift that keeps on giving (by reducing electricity bills) and this benefits taxpayers.
LB704 (providing for a request for proposals for renewable energy for state-owned buildings and a study regarding state vehicles), sponsored by Sen. John McCollister, was introduced in January 2019, but the Government, Military and Veterans' Affairs Committee chaired by Sen. Tom Brewer has not sent LB704 to the full legislature. LB704, or something similar to it, should get a yes vote from every senator who claims to be fiscally conservative and/or environmentally friendly.
How might a local government fund such a remodeling project? Our public power districts are not subject to property taxes and instead make payments in lieu of taxes. Those payments could be used to jump-start energy efficiency and renewable energy projects. Such investments in efficiency will help the counties save money. If this is done, our publicly owned utilities could avoid the expense of building new power plants.
Fortunately, some progress is being made. For example, many schools in Nebraska use geothermal energy. The remodeled Douglas County-West Campus does, as well. The Lincoln Police Department Center Team Station and UNL Animal Science Complex have solar energy. Nebraskans for Solar's solar schools project, funded by a Nebraska Environmental Trust grant, is helping K-12 students learn about solar energy.
Additionally, UNO's Mammel Hall earned the Gold LEED (Leadership in Energy and Environmental Design) rating for its commitment to sustainability. All new public buildings in Nebraska ought to obtain a LEED rating or Green Globes certification (a similar sustainability certification).
Some Nebraska public schools are experimenting with wind energy, and Northeast Community College is training wind energy technicians. The growth of energy efficiency and clean energy will create new, local, well-paying jobs.
Nebraska should no longer have to depend on coal and natural gas from outside the state. We can be self-sufficient by tapping our tremendous wind potential as well as our solar prospects, all while creating local jobs and a stable economy. Nebraska taxpayers should demand that their public servants make a concerted effort to provide for a clean, healthy and less expensive energy future.
David Corbin is chair of the Nebraska Sierra Club and emeritus professor, health education/public health at UNO.