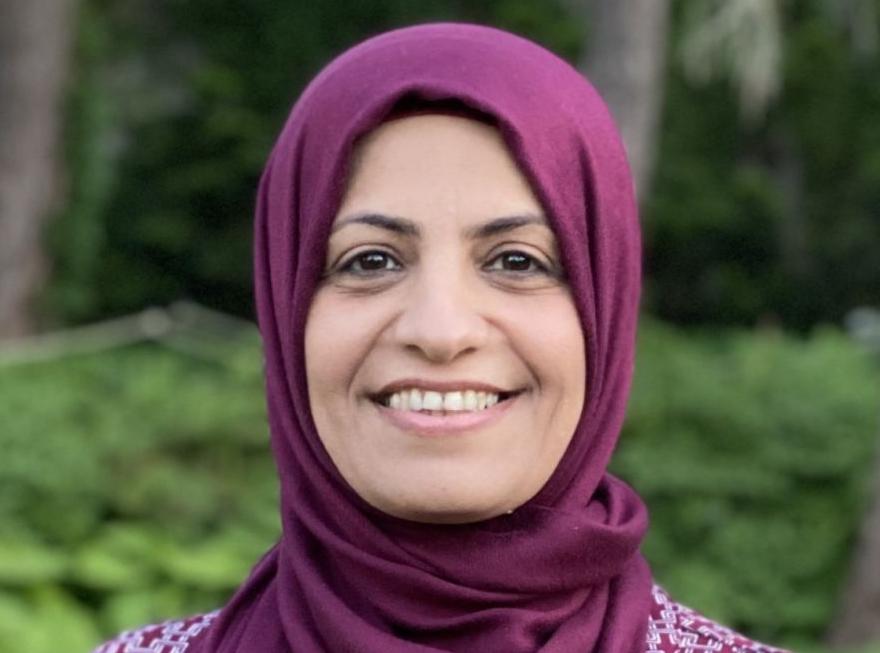 During the summer of 2001, my husband and I traveled daily to our job on the mail-sorting assembly line at Experian, about 35 miles from our home in Lincoln. From 2:30 p.m. to 10:30 p.m. we watched the machines, monitoring envelops for mistakes and weeding out damaged mail.
As a refugee from Iraq and new to America, I was grateful for the job. But since I had a university degree, teaching experience and already spoke English, I'd hoped to do more with my skill set. I'd spent years studying and cramming for exams in Iraq. But the agency that helped me find the job at Experian didn't have any positions available for educated immigrants.
Before coming to America, I was a young woman with big dreams. An education major at the University of Basrah, I hoped to become a professor. But I was also living under the regime of Saddam Hussein. In 1990, United Nations-imposed sanctions pushed the country into poverty.
After that, the dictatorship only became more repressive. To receive my bachelor's, I was required to sign a pledge of support for Saddam. When I refused, it put my whole family in danger. We fled to a refugee camp in Jordan, where I met my husband, a former Iraqi math teacher. After two and a half years of waiting, we learned that we were heading to Lincoln.
We didn't realize it then, but underemployment is a common problem for many educated new arrivals -- nearly 2 million highly skilled immigrants in the United States are working in low-skilled jobs or are unemployed, according to New American Economy.
We're not only wasting these individuals' valuable skills, but our economy suffers. Nationally, immigrant underemployment results in $39.4 billion dollars in lost earnings and $10.2 billion less in tax payments every year.
It's incredibly hard to leave everything behind -- family, friends, culture and language. Not being able to work in your field compounds that sense of displacement. The problem has only grown in the 20 years since I came to this country.
The percentage of new immigrants holding at least a bachelor's degree is at a record high, up to 48% in 2019 from 27% in 1990, according to the nonprofit Upwardly Global. But limited professional networks, navigating the job search in a second language, and licensing hurdles create barriers, particularly in high-demand industries such as tech and medicine.
During the worst of the pandemic, many well-qualified, foreign-trained physicians were unable to practice while hospitals scrambled to find doctors. According to a March 2020 survey of 325 immigrant and refugee job-seekers with healthcare backgrounds, 93% said they'd be willing to serve on the COVID-19 frontlines but couldn't because of certification barriers.
States like ours need these professionals. We lost approximately 1,277 people with at least a bachelor's degree every year between 2009 and 2013. And our population is rapidly aging out of the workforce.
Often newcomers just need a little guidance to find the right job. By providing job search assistance, ESL classes and more flexible licensing arrangements, the U.S. can greatly increase the number of immigrants able to work in their professional fields. This is especially important given the 65,000 Afghan refugees the United States began to welcome this summer. Many of them trained with the American military or have degrees that will benefit local job markets. But more likely, they'll end up in low-wage survival jobs. Why would we want to waste their talents?
Eventually, through resourcefulness and luck, I found work that used my skills and education. After volunteering to translate for my friends at their doctor appointments, I was hired as a medical interpreter. I returned to school, essentially having to start over, as my bachelor's was not equivalent to a U.S. degree. It took several years but in 2017, I graduated from University of Nebraska at Omaha with a master's in ESL teaching.
Today, I work as an interpreter at the local company LanguageLinc, teaching ESL online through Southeast Community College, and I'm a doctoral student of education at Doane University, all while raising four boys, ages 5 to 17. To give back to my community, I advise immigrant women who have similar stories to mine. I want them to feel confident in their educational journeys and have the support I never did.
By allowing newcomers to thrive in America, we all benefit. Our communities need skilled workers right now, and every immigrant I know wants to help. But they must be allowed to put their talents to work.
Maysoon Shaheen is an interpreter at LanguageLinc in Lincoln and a doctoral student of education at Doane University. She is a mom to four boys.