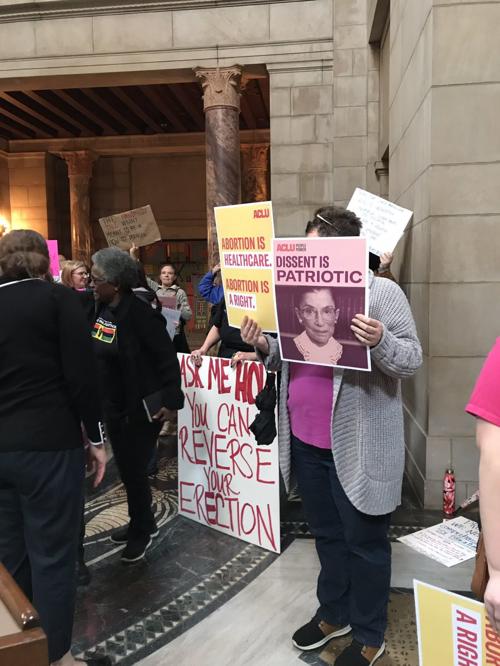 As we enter a very important year for the future of reproductive rights and abortion access, it's imperative that we also recognize how political extremism puts women and their families at risk. Here in Nebraska, Gov. Pete Ricketts has been working tirelessly to deny Nebraskans access to abortion care and take away control over their personal medical decisions.
Just last year, Gov. Ricketts declared Nebraska a "pro-life state" and signed legislation requiring physicians to inform patients that they could reverse their abortions after taking an abortion pill -- a dangerous claim not backed by science that anti-abortionists have been pushing for years.
The state's efforts don't stop there. Legislators have even gone so far as to introduce a bill that would ban some abortions altogether, imposing their own beliefs on other people's decisions about their own health care and destinies.
As a mother and nurse for more than 40 years, my commitment to ensuring that a woman's right to abortion is protected by the Constitution is both personal and professional.
I raised two sons in Nebraska as a single mom. Abortion wasn't the right decision for me and my family, but it's clear to me that a person cannot have true civil rights without full control over when and if they have children. Politicians have no business imposing their own personal views on our lives.
Still, elected officials in the state have been able to successfully impose these beliefs. In fact, 41% of Nebraska women live in a county with no access to an abortion clinic.
You have free articles remaining.
As a healthcare professional and former member of the Nebraska State Board of Nursing, I understand the negative health consequences of forcing women to carry a pregnancy to term against their will by denying them the option of abortion.
Too often, women are forced to stay pregnant because they don't have access to abortion care, are stigmatized or shamed about their decisions or cannot afford the procedure. We also know that carrying an unwanted pregnancy to term can lead to mental trauma and financial insecurity. In fact, most women who decide to have abortions cite economic reasons for making that choice.
Two-thirds of women who have abortions are already mothers -- they are uniquely qualified to understand what it means to have children. Rather than second guess women about basic decisions that impact their health, economic futures and ability to provide for their existing children, we should trust women to make the right choices for themselves and their families. Research shows most women who decide to have abortions do not regret the decision.
Any elected official who claims to care about women, children and families must understand that abortion is health care -- it is a fundamental part of civil rights for anyone who can get pregnant. Reproductive health affects half our population.
Instead of working to make abortion care even more inaccessible like Gov. Ricketts is, our elected leaders should keep politics out of our health care and ensure everyone has the power to make decisions about their own bodies and their own futures.
Without real abortion access, true equity in our country is impossible. Abortion care is fundamental to our equality and freedom. It is fundamental to our health and humanity. We won't stand for our state to turn back the clock on reproductive freedom.
Gov. Ricketts, Nebraskans deserve better than extremism and interference.
Susan Foster has lived in Lincoln since 1970. She retired last year but had worked as a licensed practical nurse since 1978.
Catch the latest in Opinion
Get opinion pieces, letters and editorials sent directly to your inbox weekly!