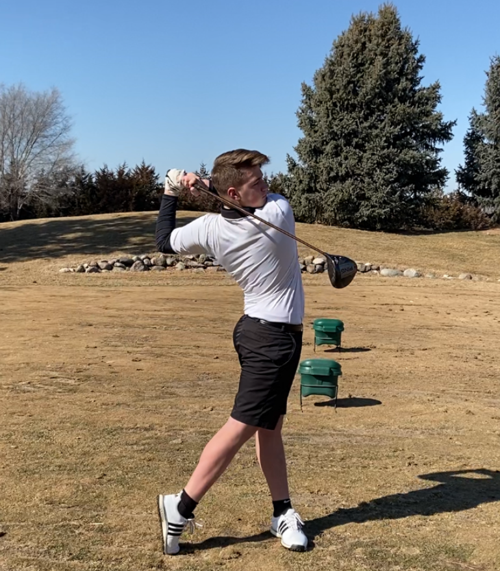 The smell of the leather glove. The crack of the bat.
Well, change that for Caden Peppmuller.
Now, it's the smell of the leather glove, but the thwack of the driver and the swish of the nine-iron.
Peppmuller traded in his baseball career of many years for spring golf last year, and he worked his way to the No. 1 player at Lincoln Northeast before the prep season had to be canceled by the Nebraska School Activities Association due to the coronavirus pandemic.
"My family was behind my choice as long as I went at it 100 percent," Peppmuller said.
Now a junior, Peppmuller started his first season last year as the No. 2 golfer for Northeast and quickly worked his way to the top spot.
"Caden has everything he needs," said Northeast coach Alex Svehla. "He's got the long game – like 280 to 300 off the tee. And his irons, well, we'd all love to have his distance.
"He knows that the short game is where he could make up strokes to improve from an 85 average last season to under 80."
Peppmuller worked in the off-season and through the winter at Wilderness Ridge to sharpen his short game.
"We also worked on weight transfer and getting my hands right on the downswing," Peppmuller said of his time with Wilderness Ridge pro Chris Thomson. "We worked and talked a lot about strategy, too."
The most important lesson Peppmuller picked up from playing against the other No. 1 players in Class A last year was consistency.
"The best golfers have a routine before every shot, and they stick to it," he said. "I think that's very important. It's not like when I'm playing with my brother (Matt) or just playing for fun. You have to keep an even keel no matter what the situation. You see the really good players do that all the time."
A year ago, Peppmuller just missed qualifying for the state tournament. That was a goal this year.
"I love being a leader," added Peppmuller, who was the most experienced player on the Northeast squad this year.
"I might have learned something I could pass along, or even better, just set an example by being steady and working hard at my game," he said.
Svehla is sure Peppmuller could have filled the role as team leader this season.
"He was pretty quiet last year, but this year I think he was ready to help this team as he helps himself," Svehla said. "He knows that a double bogey on the first hole isn't going to be erased by an eagle on the second hole. He can hope to get a par or avoid a double bogey later in the round. That's the quiet confidence he has in himself. It would help our younger players to see a leader do that."