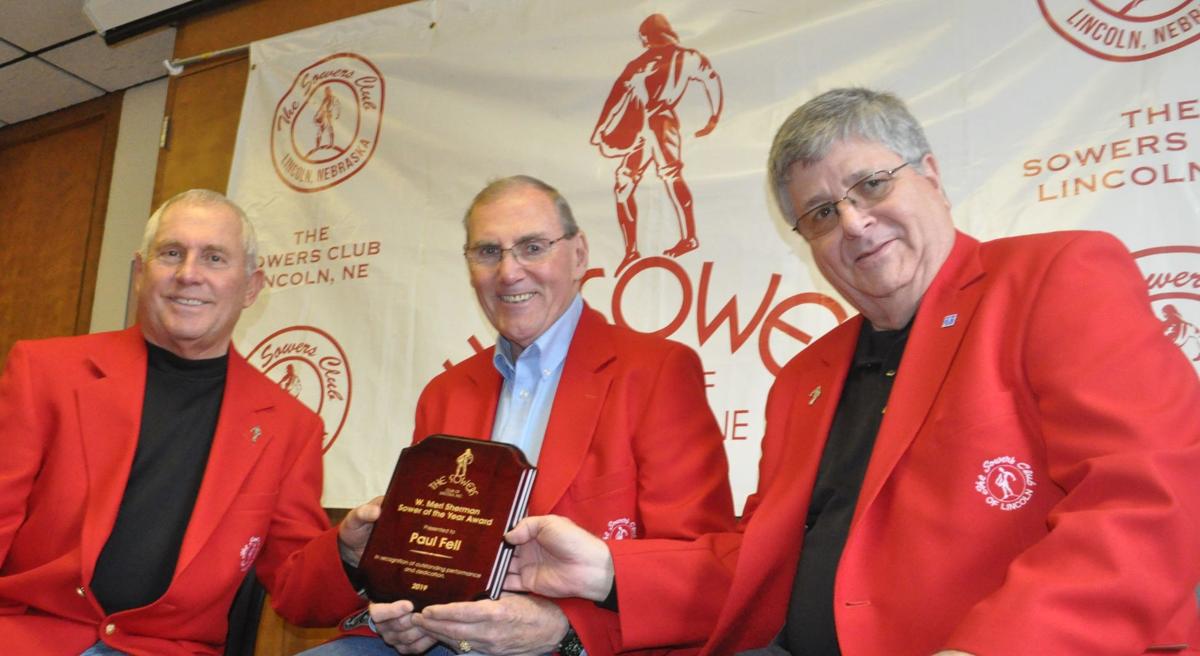 The Sowers Club of Lincoln and the Sowers Foundation neared the $3.5 million mark in assistance to other non-profit groups by disbursing $60,000 to 30 recipients in 2019.
Included in that total is $122,000 in scholarships to continuing education and high school seniors.
Grant recipients were recognized at the club's annual Disbursement Recognition Event in mid-December at Hillcrest Country Club.
In conjunction with the celebration, club members and guests helped raise $1,623 for holiday meals delivered Dec. 24 to low-income elderly residents. The $541 contributed by members and guests at the event was matched both by the Sowers Club and the Sowers Foundation.
One of the evening's highlights was the announcement of editorial cartoonist Paul Fell, a 16-year club member, as the recipient of the Sower of the Year Award.
The following Sowers Club members were recognized for their efforts in 2019:
MEDIA, BYLAWS & NOMINATING COMMITTEES
Dennis Buckley, Mike Calvert, Alan Campbell, Doug Fiene, Mike Fiene, Bill Hoppe, Larry Lococo and Jim Ritzman.
PICKLE CARD SALESMEN
Dan Soltys (chairman), Merle Derry, Lloyd Minzel and Roger Vanek.
ELECTRONIC SKILL GAMES COMMITTEE
Joe Buda and Jim Ritzman.
CLUB BOARD OF DIRECTORS
Mike Brunkow, president; Larry Lococo, vice president; Joe Millard, treasurer; John Campbell, secretary; Alan Campbell, past-president; Pete Doty, Doug Fiene, Mike Love, Jim Ritzman and Mike Rooney.
Recognized for their service on the club board from 2017-2019 were David Beall and Paul Hughes. Alan Campbell was also recognized for his service as club president for the past year.
DISBURSEMENT COMMITTEE
Dennis Buckley, Pete Doty, Bill Hoppe, Gary Lohse and John Trayer. Committee members review grant applications and select recipients that best fit the Sowers' criteria and mission statement. With the help of the Disbursement Committee, the Sowers Club of Lincoln donated nearly $60,000 in 2019 to area non-profit organizations.
Seven agencies that received Sowers grants in 2019 were represented at the Disbursement Recognition Event: Aging Partners, Autism Family Network, Big Brothers Big Sisters, Center for Legal Immigration, LUX Center for the Arts, Nebraska Sports Council and The Arc of Lincoln.
The other Sowers grant recipients in 2019 were:
Bryan Foundation, Camp Summergold, Center for People in Need, Child Advocacy Center, Fourth Grade Foresters, Junior Achievement of Lincoln, Lighthouse, Lincoln Housing Authority, Lincoln Public Schools Foundation, Madonna Foundation, Salvation Army Small Fry Basketball, Seniors Foundation and the following high schools:
Lincoln Christian, Lincoln East, Lincoln High, Lincoln Lutheran Middle/High School, Lincoln North Star, Lincoln Northeast, Lincoln Southeast, Malcolm Junior/Senior High School, Norris High School, Parkview Christian, Lincoln Pius X, Raymond Central and Waverly.
SOWERS FOUNDATION
Sowers Foundation Board President Dick Stephenson recognized the six members of his board: Michael Fiene, vice president; Roger Zajicek, treasurer; Robby Robinson, secretary; Bob Flynn, Bill Hoppe and John Trayer.
Stephenson noted that $122,000 in Sowers scholarships has been awarded since the fund was created in 2002. The scholarships are designed to help students who attend any college or university in or around Lincoln. Stephenson said 11 $1,000 scholarships were awarded to high school seniors and continuing education students in 2019.
Members of the Scholarship Committee were Robby Robinson (chair), Dave Bornholdt, Paul Fell, Roger Zajicek and Larry Zillig.
Scholarship recipients this year were: Kenzie Barnes, Cole Belitz, Justin Hennessy, Kelli Horstman, Sera Johnson, Ryan Mack, Jimmy Nguyen, Chad Niemeier, Ally Thavenet and Tanner Wietfeld.
FUND-RAISING CHAIRS
The Sowers Club sponsored six fund-raising opportunities this year: (chairmen in parentheses), Car Show (Stan Dinges), Golf Tournament (Mike Brunkow), Lincoln Public Schools Concessions (Tracy Refior), Poinsettia sales (Lloyd Minzel), Poker Run (Doug Fiene) and Popcorn sales (Paul Hughes).
Chairmen recognized for coordinating the organizational events were Lee Arellano, Joe Buda, Alan Campbell, Brad Christian and Stan Dinges. Rod Schwindt was recognized for organizing the Disbursement Recognition Event.
Be the first to know
Get local news delivered to your inbox!