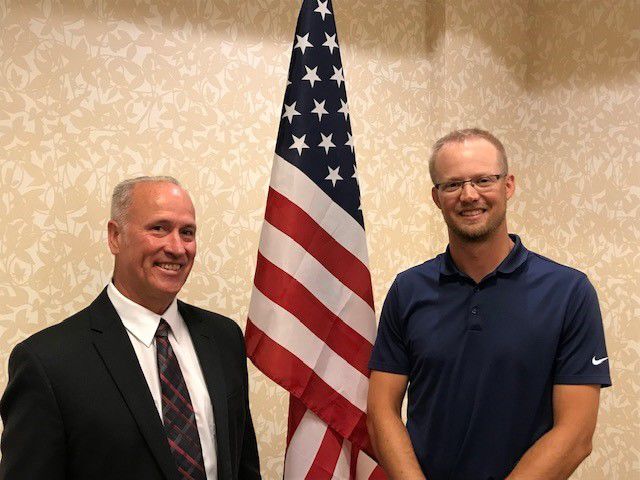 By this past Monday, it had been 17 days since the bombshell announcement had landed of Bill Moos' stepping down from the Nebraska athletic director's position. People around the state were getting more and more curious, speculative and antsy.
In addressing Executive Club members on Monday at their weekly luncheon at the Hilton Garden Inn in the Haymarket district, The Ticket radio host Jake Sorensen jumped right into the topic of the times with a group that has been deeply immersed in it.
"Interesting times right now in Nebraska athletics. As you guys know, the past couple of weeks you have heard from Bill Moos, who's no longer here. You've heard from Trev Alberts, who's certainly a name mentioned in the search for a new AD" on the 93.7 FM radio waves. "It's crazy that right now we are less than a month away from the football season starting, and fall football practices will get started in early August this year."
Moos was guest speaker for the Executive Club back on June 14, and Alberts spoke to the group the following week on June 21, all before Moos' announcement of retirement.
A couple of days after Sorensen's Executive Club visit, it was announced that Alberts would become the 14th athletic director in school history on Wednesday, and the fourth over the past decade. Alberts spoke at a hastily drawn together news conference that morning, sharing the stage with NU President Ted Carter and UNL Chancellor Ronnie Green at Memorial Stadium, where Alberts had shined in the early '90s as an All-American linebacker for the Huskers.
At the press conference, Carter and Green explained that they had arrived at the decision to hire Alberts the night before after getting input from a large and diverse search committee, which had been formed over the past couple of weeks to cull through the director candidates.
The topic quickly returned on Monday to football, where Sorensen said there is a lot of stress to succeed.
"It's 'go time.' We're talking about a football team that, as we all know, really needs to do something. 2016 is the last time this team made a bowl game," said Sorensen, a Beatrice native. "There's a lot riding on this season, and with a new athletic director coming in at some point soon, I don't know when that will be, this week or next. But, that's going to put a lot of pressure on Coach Scott Frost. You don't want to stretch this thing out too long."
Then Sorensen led into the candidacy for the applicants to take over the new AD job opening. He put Alberts at the top of the list, and NU Volleyball Coach John Cook as a leading candidate, with a caveat.
"I think it would be tough for Nebraskans to embrace the idea of losing the one coach that has been the most consistent," Sorensen said about Cook, who has led the Husker volleyball team to four national championships. "It's hard to let go of that."
And speaking of other Nebraska sports, Sorensen did not want to lose sight of other bright spots arriving in Lincoln.
"We had some big news yesterday, and that was the return of Coach Rob Childress to Nebraska baseball," Sorensen said about the former mentor rejoining NU Baseball Head Coach Will Bolt on his staff. "He spent 16 years as the head coach at Texas A&M, and I understand he still has a house just east of Lincoln, and he returns to a team that certainly is on the rise. It's exciting. I believe his position will be the director of player development. And tonight, we should see the drafting of Spencer Schwellenbach in this year's major league draft."
Schwellenbach, a starting shortstop and closing pitcher with the 34-14 Husker baseball team, was selected in the second round Monday by the Atlanta Braves.
Then Sorensen pivoted toward one of his favorite Nebraska sports to cover, the Husker basketball team.
"There was a big addition to the Husker basketball team that was announced this past Friday with Alonzo Verge coming to Nebraska. He's a new guard out of Arizona State," Sorensen said about the recent college portal transfer. "He averaged 14.5 points per game over the past two seasons and was voted the 2020 Pac 12 Sixth Man of the Year. He should be contending for the starting point position at Nebraska this season."
Sorensen voiced excitement and enthusiasm toward the upcoming hoop season, and expressed optimism for the backcourt with incoming freshman Bryce McGowens joining his brother Trey McGowens and Verge at the guard positions. They also have senior Kobe Webster returning, along with some additional new faces in the backcourt in Coach Fred Hoiberg's roster for 2021.