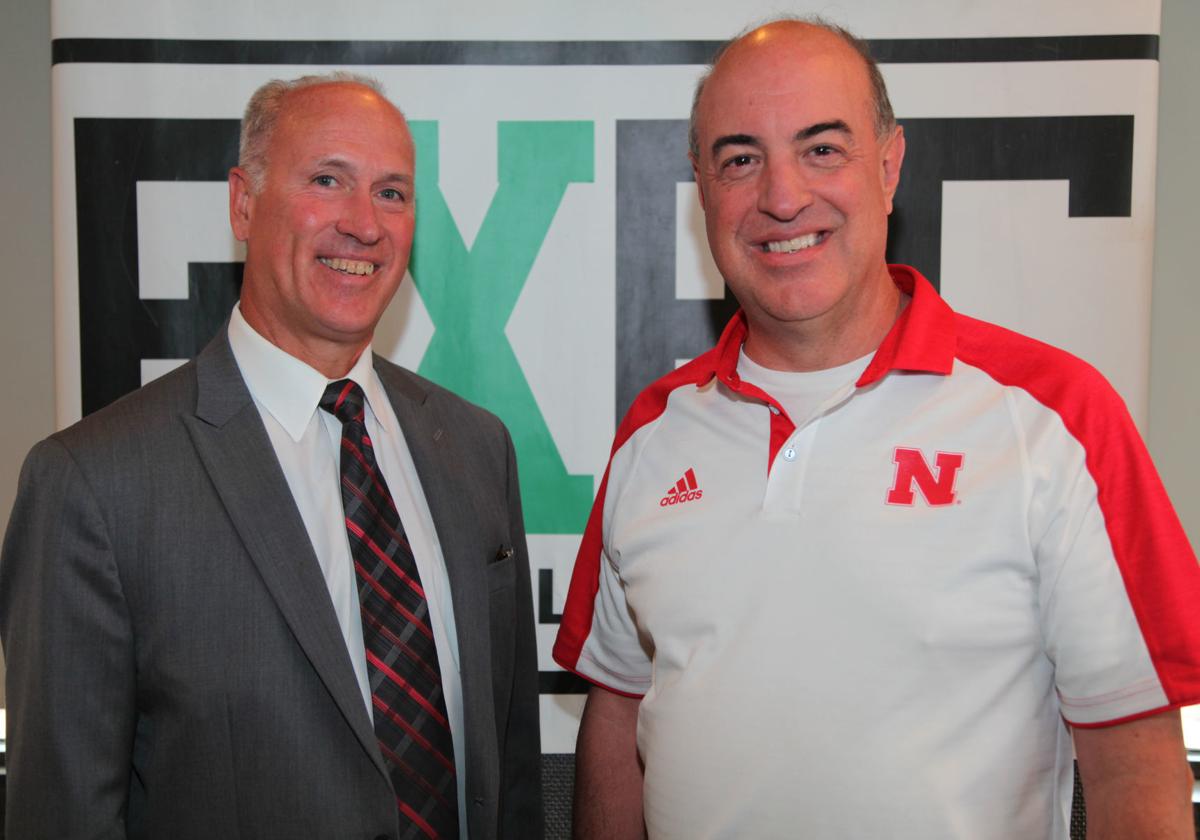 About this time of year in Nebraska, people start paying some real attention toward football. Practices have begun for Husker football, and there's optimism in the air, seasoned with caution after two back-to-back 4-8 seasons.
Greg Sharpe discussed his "cautious optimism" about the upcoming season of Nebraska football with the Executive Club Aug. 5 at its weekly luncheon in downtown Lincoln at the Nebraska Club.
"They've been running around in their underwear for the past four days," said Sharpe, who's entering into his 12th season as the Voice of Husker Football. "I'm looking forward to the real stuff starting on Wednesday when they get into their full pads."
Sharpe believes the Big Ten West Division is up for grabs this year, after Northwestern took the crown last season and all western rosters include some missing pieces in 2019.
"We've got some issues, but all of the west teams have got issues," said Sharpe, after spending some time listening to players and coaches at the Big Ten Media Days in Chicago July 18-19.
"I think we'll be very competitive with our defensive front," Sharpe said about the Husker defense. "I like what I see there with our depth and strength conditioning. It's funny what happens when you actually lift some weights. We've been pushed around these past few seasons. I think we're going to like what we see there. We have a chance to be pretty good, but time will tell."
In looking at the rest of the division, Sharpe said Wisconsin and Iowa have some holes to fill on defense and that Northwestern would have a hard time defending the west division title this year. But one of the teams from the west that caught his attention is Minnesota, especially with how it finished out the season last year.
"Minnesota has a character, and some people think P.J. Fleck is a clown," Sharpe said about the Gopher head coach whose team won three out of four at season end. "But he's got his kids' attention, and I liked the way they finished last year."
After watching a few recent Husker fall practices, Sharpe said he's excited about the newcomers on the team.
"I think the freshmen are going to be key this year to the team's success," said Sharpe, who mentioned a few standouts. "Quentin Newsome has been impressive. And, there's (Luke) McCaffrey. Boy, he can run. He looks to be the fastest of the quarterbacks."
Another standout for Sharpe this fall comes from the transfer portal.
"I really like the Cal (University of California-Berkeley) transfer Kanawai Noa (a wide receiver). He's a huge addition we got in May. He's a really nice addition to the team that the defense has mentioned from practices has made a big impact offensively."
But, of course, Sharpe said the primary weapon and whom the offense will still flow through is quarterback Adrian Martinez. He described Martinez as a "tremendous player." He said it also definitely helps that he will be capably backed up by Noah Vedral, McCaffrey and Andrew Bunch.
One of the primary things that sparked attention at Sharpe's Executive Club presentation was when he spoke about the lack of a separate football facility, which the top teams in the country already possess.
"There's been a lot of talk about separate facilities for football. And, when I talked with (Athletic Director) Bill Moos, he said Nebraska's probably in about the middle of the pack in terms of football facilities in the Big Ten," said Sharpe. "Back in 2002, that was the last thing done for football with the north stadium expansion. The real football facilities are stand-alone buildings. If we want to compete, we'd better look like the Oklahomas, Clemsons and Alabamas of the world."
On this particular Monday afternoon, the Husker basketball team was busy playing in its first game overseas this summer.
"The basketball team is playing over in Italy right now. They're playing some Sigma Nu's or something," Sharpe said, jokingly referring to the Husker opponent Stella Azzurra Academy, a third-tier professional team in Italy. The Huskers won 87-56.
Turning to Husker baseball, Sharpe said that before Darin Erstad stepped down, he had recommended hiring Will Bolt to AD Moos. And, Sharpe believes it's a perfect fit.
"He's going to work with it," Sharpe said about the new head Husker baseball coach. "He's a hard-working guy, and he's going to put some time in with this team."
Be the first to know
Get local news delivered to your inbox!