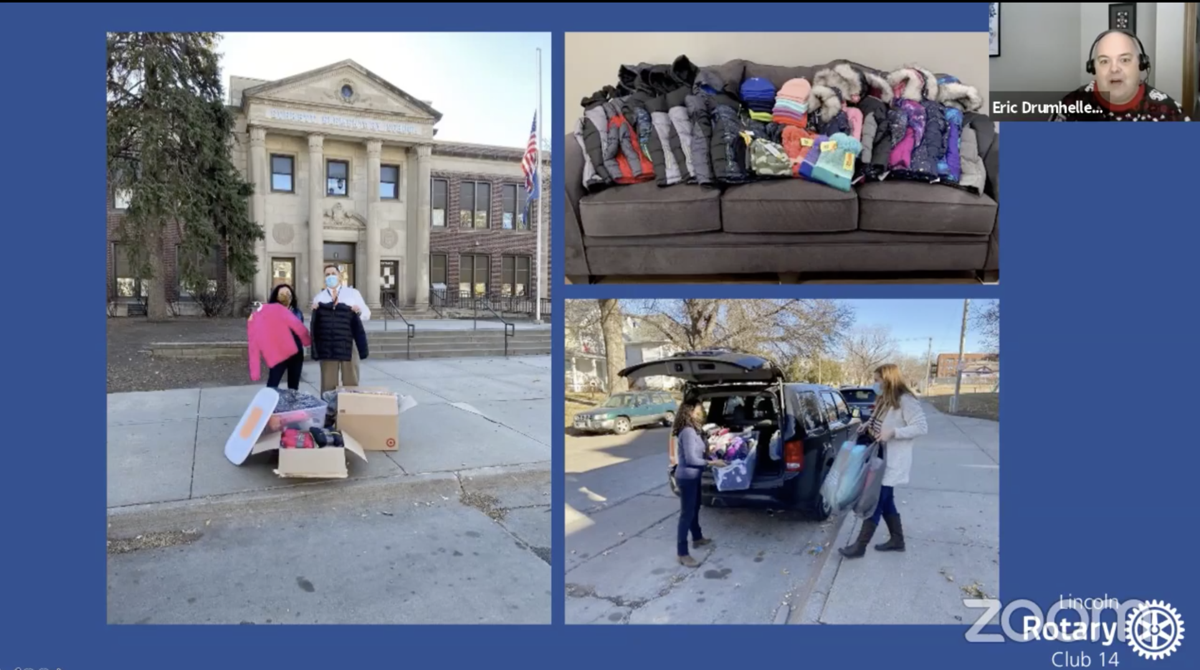 The news and social media are filled with the joy of turning a page on the calendar, welcoming a new year with all the promises we hope it has in store for us. Indeed, right now it looks as though this next year won't be as challenging and difficult as the one we just finished. But as we ponder what lies ahead, there will be changes. Most agree, there's no going "back to normal."
Lincoln's Downtown Rotary Club, also known as Rotary 14, has already begun to consider what 2021 will be like for the organization as it enters its 111th year. The very first Rotary club was started in Chicago in 1905 so that professionals could exchange ideas and form meaningful and lifelong friendships. Humans need and want connection with one another. We're social beings, and we benefit from relationships.
Charles Vogl, in his book "The Art of Community," points out that "We know that social relationships have profound positive effects on our physical and mental health, longevity and happiness. Loneliness kills, and the quality of our relationships matters."
When club members were asked what they missed during the pandemic, the number one response was that they missed catching up with people they met through Rotary. Put another way, they missed their friends in the club.
While Rotary 14 doesn't have a date in mind when club members can meet in person again, when that does happen, members plan to continue Facebook livestreaming and are discussing how to incorporate international guests in meetings. In addition, the club plans to make use of online presentations to virtually host speakers from across the country and even around the world.
While it's clear that people need and want in-person connections and meetings, we've discovered that for those clubs that switched to online meetings, there are some aspects that members want to continue. When Rotary 14 members were asked about things the club did during the pandemic that should continue, nearly 80% mentioned the benefit of having guest speakers from outside our geographic area who addressed the club virtually. Nearly 70% mentioned the benefit of having international guests participate in virtual meetings. There are Rotary clubs in 140 different countries.
Some members even suggested continuing to have a virtual aspect for club meetings so that people who were ill, those who didn't have time to travel to an in-person meeting, and even people who live in another city but might desire a connection to our geographic area could attend.
"I think our club members will be even more appreciative of one another," said Eric Drumheller, Club 14's president during much of the COVID quarantine. "I also believe the pandemic has increased our awareness of how we can make a positive impact within our community and around the world."
Rotary 14, just like the other Rotary, civic and service clubs in Lincoln and around the world, switched to online meetings early in 2020. Yet while some organizations may have lost members during the quarantine, Rotary 14 has actually grown. In addition to weekly online meetings, the club conducted virtual coffee sessions, virtual happy hours and even a virtual holiday party.
Rotary 14 (https://rotary14.net/) is not only Nebraska's largest service club, it stands among the largest Rotary clubs in the world. Rotary International includes 1.3 million members meeting in nearly 30,000 clubs worldwide. Rotary International is the only service organization with a seat at the United Nations. Because of this international connection, Rotary 14 works with clubs in the Dominican Republic, South America, Europe and Africa to foster projects focused on education, health, community development and improving the environment.