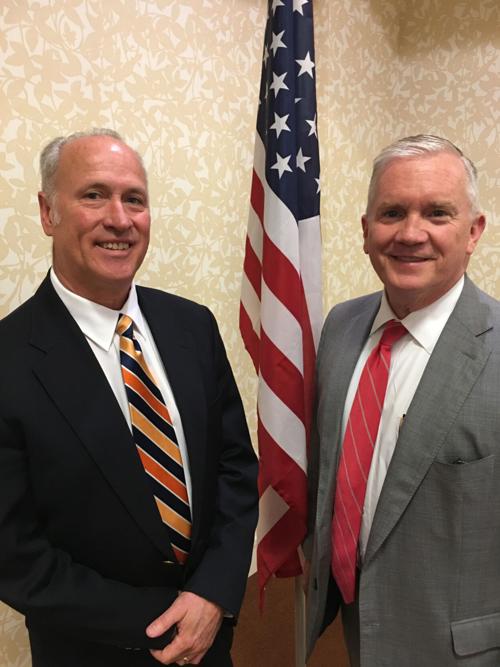 A funny thing happened on Nebraska Board of Regents representative Tim Clare's trip to the Executive Club …
You could excuse Clare for not being prepared to answer the burning question, "What's up with the Husker AD job?" on Monday. After all, the NU Regent had scheduled his visit with the Lincoln club members months before the June 28 date. He did not know then that NU Athletic Director Bill Moos would announce his retirement the Friday before the weekend.
But, that didn't mean the three-term NU Regent was going to back away from questions concerning Husker athletics at this time.
"I didn't know anything about it," Clare said about the elephant in the room, Moos' abrupt departure. "I don't know what to tell you. I learned the same way as you."
However, Clare did express pure appreciation for the many things accomplished by Moos in almost four years in Lincoln.
"He's done a great job," Clare said right away about Moos at the weekly luncheon at the Hilton Garden Inn in the Haymarket district of downtown Lincoln. "He's done some amazing things. I have nothing but good things to say about him. And now, the process begins to bring someone in to fill his shoes. The process is a very important thing, and I know that Chancellor (Ronnie) Green is going to put together a good process and Ted Carter, our president, will be involved. And, that's the extent of what I know about it."
A father of five, Clare also clearly understood another possible impact on Moos' decision to retire early could very well have struck closer to home.
"That pull of family is pretty tough. You only get so many trips around the sun," Clare said. "He still has that ranch out in Washington, and he has one son playing football at Cal Berkeley. That's a big factor."
With that, Clare leaped into his regularly scheduled program about the ever-changing worldwide impact of education, research and activities surrounding the University of Nebraska campuses. The first point he illustrated was NU's leadership. He started at the top with President Ted Carter, who started his term as the eighth president of the university at the beginning of 2020.
"When Ted (Carter) got here, he started re-establishing the relationship with the legislature and the governor, something his predecessor Hank Bounds did before him," Clare said about the former Top-Gun fighter pilot and U.S. Navy vice admiral. "And, one of the important things he said during the pandemic is, 'We're going to be back up and going in the fall semester.'"
Clare then mentioned the remaining leadership under Carter, which included UNL Chancellor Green, UNMC Chancellor Jeff Gold, UNK Chancellor Doug Kristensen and newly appointed UNO Chancellor Joanne Li, who was recently confirmed.
"She's really a dynamic person who's going to do great things for UNO," said Clare, who was first elected as a Regent in 2008. "She could have landed anywhere with her talents, but she decided on Nebraska."
Then Clare highlighted the funds being raised by the billion-dollar annual economic engine for the state of Nebraska.
"We (NU) produce about $4.5 billion revenue in economic development for the state of Nebraska," said Clare, a partner of Rembolt Ludtke law firm whose practice includes estate and business planning. "The university enrolls 52,000 students and produces 11,000 graduates every year for the workforce. There's going to be a lot of jobs available. There's likely 100,000 jobs out there, and we've got to fill them with our people, people from Nebraska."
Clare expressed a pride and sense of responsibility toward his alma mater and his state.
"What we try to produce is an affordable, quality education at Nebraska," said Clare, who received his undergraduate degree from UNL and his law degree from Creighton University. "We have a duty to make sure these kids get through school and then find a job in Nebraska."
The author, Tim Brusnahan, is program chair for the Lincoln Executive Club and employed by Marco.