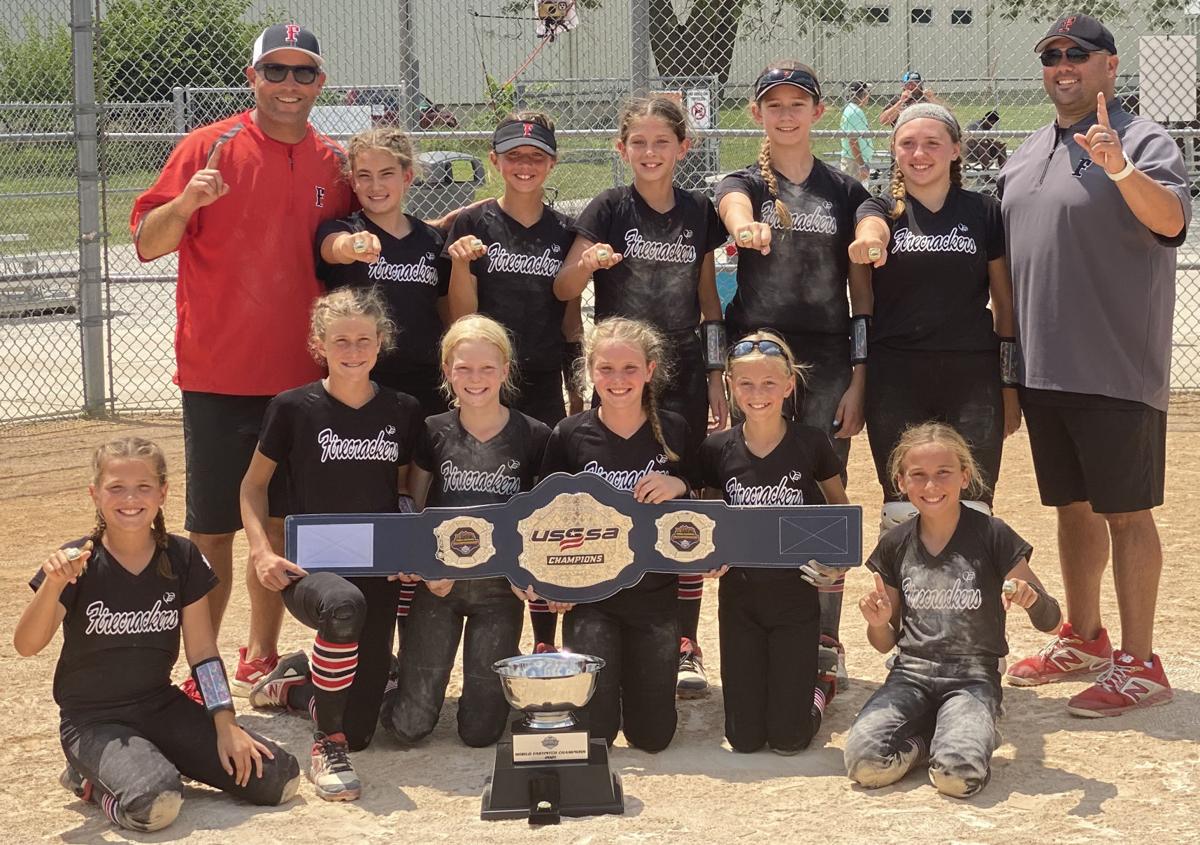 The Nebraska Firecrackers 10U softball team is living the dream.
Any young softball player would love to play on an undefeated team that wins four national tournament championships en route to a 70-0 season. But the odds of that happening are microscopic.
The 11 girls on the Firecrackers 10U team can honestly say they've been there and done that. They spent the past few months beating the odds – and 70 opposing teams along the way.
The team's sensational summer has left its head coach with a highly unusual problem: What does the team do for an encore when fall ball rolls around?
"As these young ladies go on to high school and college softball programs, I hope they'll look back and remember the special experience they had in the summer of 2021," said Jason Cline, who had the pleasure of coaching the talented team.
Season in review
The Firecrackers 10U team members played a steady diet of tournaments. Locally, they were crowned 10U Class A state champions, won a Memorial Day weekend tournament in Grand Island, and captured the Quakes Classic and a tourney in Omaha. The Firecrackers' closest call came when they played up an age division and won 6-5 over the Omaha Quakes 12U team.
They began their string of national tournament titles June 5 by winning the OKC Road to the Show, emerging victorious in a field of teams from Texas, Oklahoma and Arkansas. Playing over the Fourth of July, they won the Ringneck International Invitational in Sioux Falls, South Dakota.
Later in July, they won the USA Elite Select Fastpitch World Championships on July 15. Nine days later, they sealed a perfect summer by winning the NAFA Northern National Championship.
Fielding a team composed exclusively of homegrown talent was a source of pride for Cline, whose team went up against opponents from 14 states over the course of the summer.
"We played tournaments where opposing teams brought in players from out of town and even out of state," said Cline. "But our girls played hard and competed well. They're a very special team … a talented group."
The Lincoln team was coming off a 34-6 season in 2020 that included a Class B state tournament championship.
Stat leaders
The Nebraska Firecrackers hit .417 for the year and pounded 20 home runs, led by Madynn Dunham's team-high six.
Raegan Brandt sported the team's top batting average, hitting at a .577 clip. Catcher Skyla Whitten played nearly perfect defense during the team's perfect season, recording a sparkling .998 fielding percentage.
The Firecrackers' stingy pitchers kept the team in games by keeping opponents off the scoreboard. Maisey McCarty -- whose mom, Kim Legg, was a member of the Husker women's volleyball team in 1994 and 1995 -- was a member of a stalwart Firecrackers pitching staff that also included Madynn Dunham and Raegan Brandt. Together, they comprised a pitching staff dubbed by Coach Cline as "the three-headed monster." They posted a sterling 0.692 ERA, held opponents to a combined .106 batting average, and recorded 563 total strikeouts. Dunham led the way, recording 205 whiffs in 93 innings pitched.
College ties
Coach Cline was assistant women's softball coach at Cal State Northridge, an NCAA Division I school in Hayward, California, for three seasons, from 2004-2006, before coming to Lincoln.
Coaching talent runs in the family. Cline's sister Jen Ogee was hitting coach for the Husker women's softball program from 2002-2008 before accepting a coaching position with the University of New Mexico women's softball program.
The hitting instructor for the Firecrackers 10U team is former Husker baseball player Tanner Lubach, a draft choice of the Los Angeles Angels in 2015.
The Firecrackers 10U team practices throughout the year at an indoor training facility near 48th and Old Cheney Road. The fall season schedule will take the team to tournaments in Nebraska, Iowa and Kansas City.