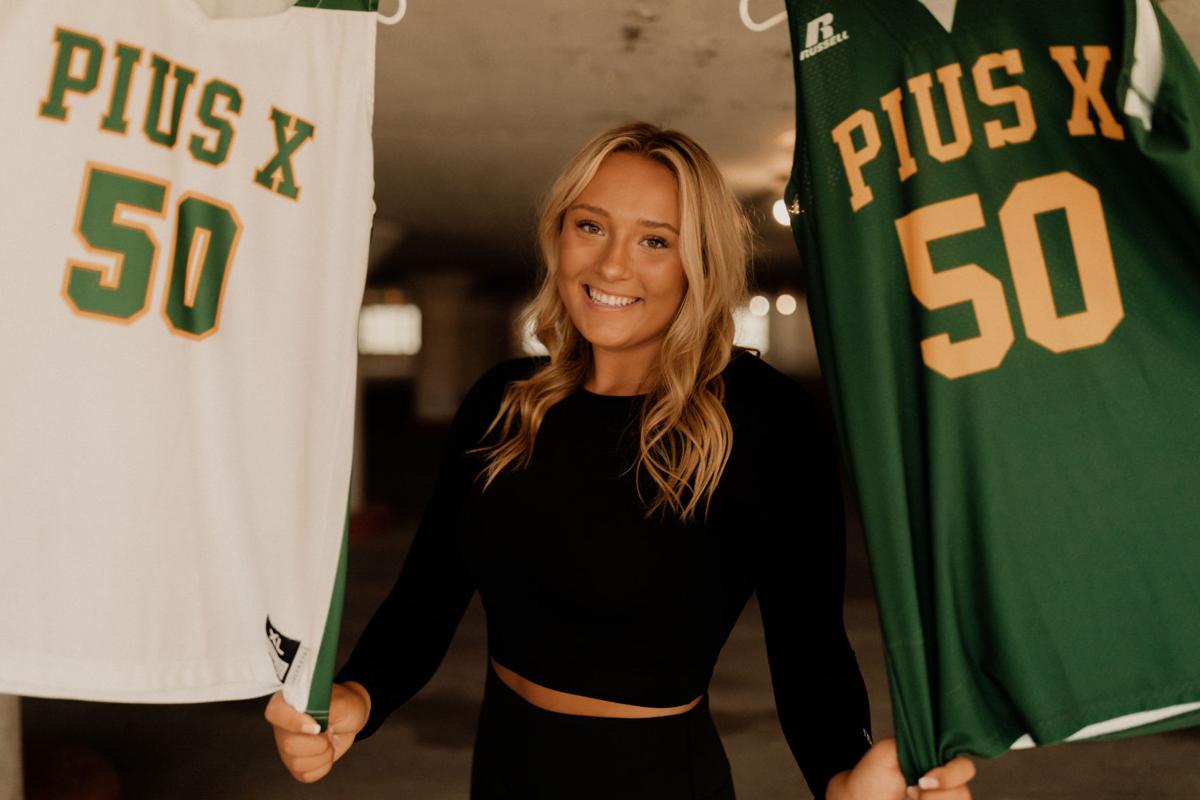 Basketball Coach Ryan Psota uses a number of superlatives to describe Alexis Markowski, calling the Lincoln Pius X High School senior "a dominant force," an "exemplary figure" and a "great teammate."
The Girls & Women in Sports & Fitness (GWSF) Committee has added another title to the stellar scholar-athlete's list of accolades, selecting her to receive one of the two Star City Sports Youth Athlete of the Year awards.
There's one title that both coach and player would like to add to the basketball standout's list of achievements next week: being a member of a two-time state championship tournament team. Markowski played on her first state championship team last year. Pius X made the state semifinals in her sophomore season.
"Her legacy at Pius X High School will continue for years to come after she graduates this spring," Psota says of his 6-foot 3-inch post player and future Husker cager.
Career scoring leader
The most recent chapter in that legacy was written last weekend in Grand Island, where the Thunderbolts' post player scored 21 points in a 60-4 breeze past the Discoverers and became her high school's career scoring leader in the process. The outcome on Feb. 19 pushed the Husker recruit's career scoring total to 1,380 points, surpassing Maddie Simon – a former Husker – by two points. (Simon was a Husker from 2016-2019 and is now playing pro ball in Germany.)
In her junior season, Markowski added a punctuation mark to the Thunderbolts' state championship by accumulating 80 points in her team's three state tournament victories, tying a 37-year-old state tournament record in the process.
16 school records
The fact that Markowski holds a combined 16 school records – 13 in basketball, three in volleyball – is an accurate barometer of the indelible mark she's made at Pius X. Among the career records she's set are three-year totals for rebounds, blocks, consecutive games in double-figure scoring, and number of games having scored at least 20 and 30 points.
The top-ranked and defending Class A state champion Thunderbolts are carrying a head of steam into the postseason:
 They strengthened their grip atop the state's Class A standings on Markowski's historic night by winning Feb. 19 at Grand Island to improve their season's record to 20-0.
 Starting postseason play Tuesday evening, the Bolts hit the gas pedal early, establishing a 34-2 command after one quarter en route to a 79-27 triumph over Omaha South. Markowski scored 14 points, all in the first half, and a dozen of her teammates cracked the scoring column in the district opener.
Pius X now has a scintillating 67-6 overall mark in girls basketball since Markowski joined the program at the beginning of the 2018-2019 season. Coach Psota said that beyond his star player filling up the stat sheet, Markowski's presence elevates her teammates' level of play.
"Alexis has undoubtedly rubbed off on our younger players, who will try to emulate her hard work and dedication, and will try to sustain the current high level of basketball being played at Pius X," said Psota.
Volleyball, too
Markowski also excelled for Coach Katie Wenz's Pius X volleyball teams the past three seasons. The middle blocker earned postseason honors for a program that made the state semifinals in her junior year and was state tournament runner-up the previous year. In the process, Markowski set school volleyball records for blocks in a match, season and career.
As a senior, the imposing blocker earned second team Class A All-State and first team All-City laurels, in addition to Academic All-Conference recognition in both basketball and volleyball. Coach Wenz said Markowski's advanced volleyball skills were evident in the early stages of her sophomore season, after injuries forced her to forgo her freshman year.
"As a sophomore, she took on a major role of starting on a very talented team that forced her to step out of her comfort zone and really step up and take chances and play at a competitive level 100% of the time, yet still keep a relaxed and confident composure," Wenz reflected.
"Alexis took that knowledge and taught others that same mindset. She continued to be a leader and carry on the tradition of success in the Pius X volleyball program."