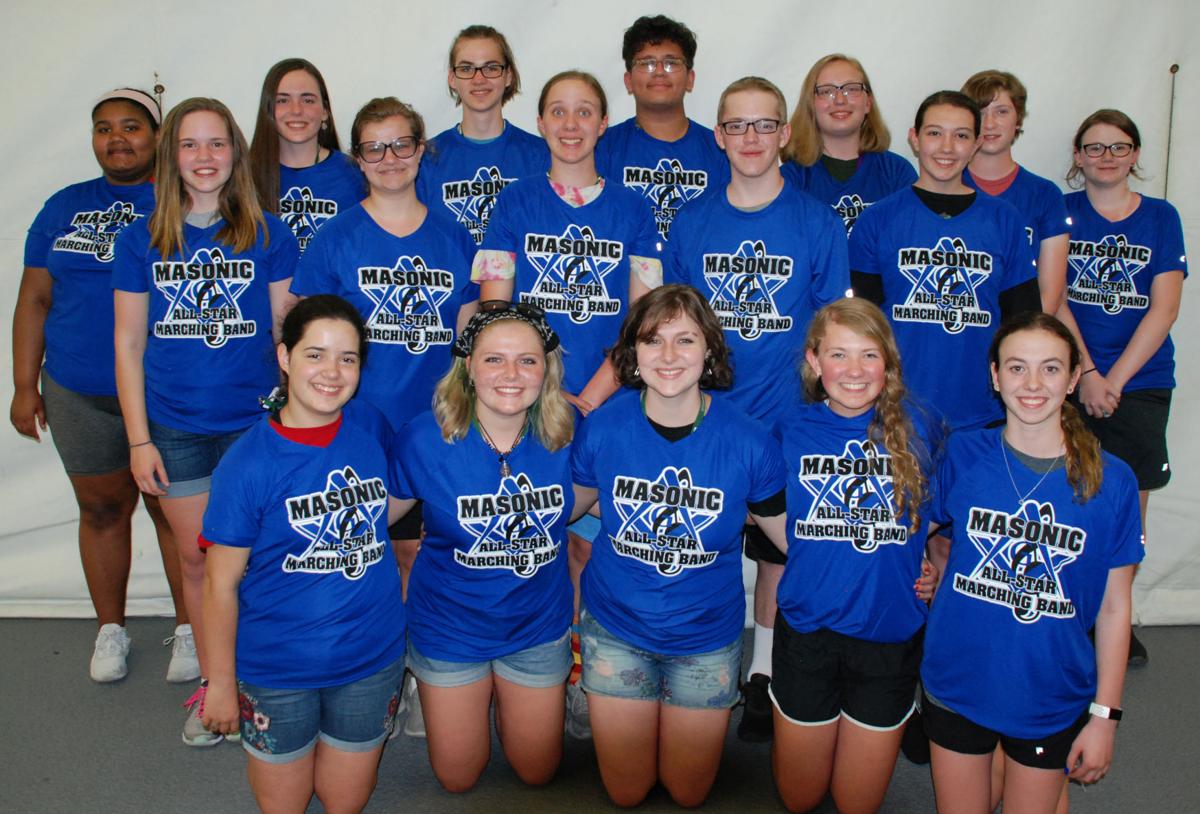 Two Lincoln Christian High School students, six Lincoln North Star High School students, three Norris High School students and six Waverly High School students were among 182 high school students from across Nebraska who participated in the 26th annual Masonic All-Star Marching Band, which performed Saturday, June 5, during Shrine Bowl festivities in Kearney.
The local participants were: Brynley Prang, daughter of Greg and Tami Prang; Austin Ockinga, son of Steven and Ashley Ockinga; Briley Ockinga, daughter of Steven and Ashley Ockinga; Seanna MacDonald, daughter of Jim and Harmony MacDonald; Anna Mollo, daughter of Nick and Christina Mollo; Elizabeth Heeren, daughter of Derek and Amber Heeren; Sarah Stepp, daughter of Nancy Stepp and Jim Stepp; Autumn Weaver, daughter of Chris Weaver and Shelli Rine; Preston Lemons, son of Mike and Kelli Lemons; Burlynn McCluskey, daughter of Shandie Stewart and Shane Williams; Imari Harris, daughter of Jennifer Martin; Elise Van Cleave, daughter of Mike and Erin VanCleave; Malcolm Witte, son of Carl and Dawn Witte; Marcos Ortiz, son of Maria Ibarra and Benjamin Ortiz; Jenna Helter, daughter of John and Charity Helter; Anna Rohrer, daughter of Rodney and Mary Rohrer; and Kaylee Stearman, daughter of Christy Stearman.
The band gave its first public performance with a concert at Harmon Park on Friday evening, June 4. Band members led the Shrine Bowl Parade down Kearney's Central and First Avenue on Saturday morning, June 5, and also performed the pre-game National Anthem and during halftime of the 61st annual Shrine Bowl football game at Ron and Carol Cope Stadium, on Foster Field, at the University of Nebraska-Kearney.
Scholarships from area Masonic Lodges covered the cost of the camp for band members.
"The band members worked hard during the week preparing for the Shrine Bowl performances," said Jim Carlton, grand master of Nebraska Masons. "They also had a lot of fun meeting new people and enjoyed the activities, but they understand the main reason for the long hours and hard work. Patients at the Shriners Hospitals for Children will benefit the most from the band's efforts this past week. We sincerely appreciate their contribution to raise awareness and funds to enable the Shriners to help even more children."
Freemasonry is the oldest and largest fraternal organization in the world and is based on the lessons of living a life of brotherhood and high moral standards as portrayed symbolically in the work of stone masons who built the cathedrals, abbeys and castles of Europe.