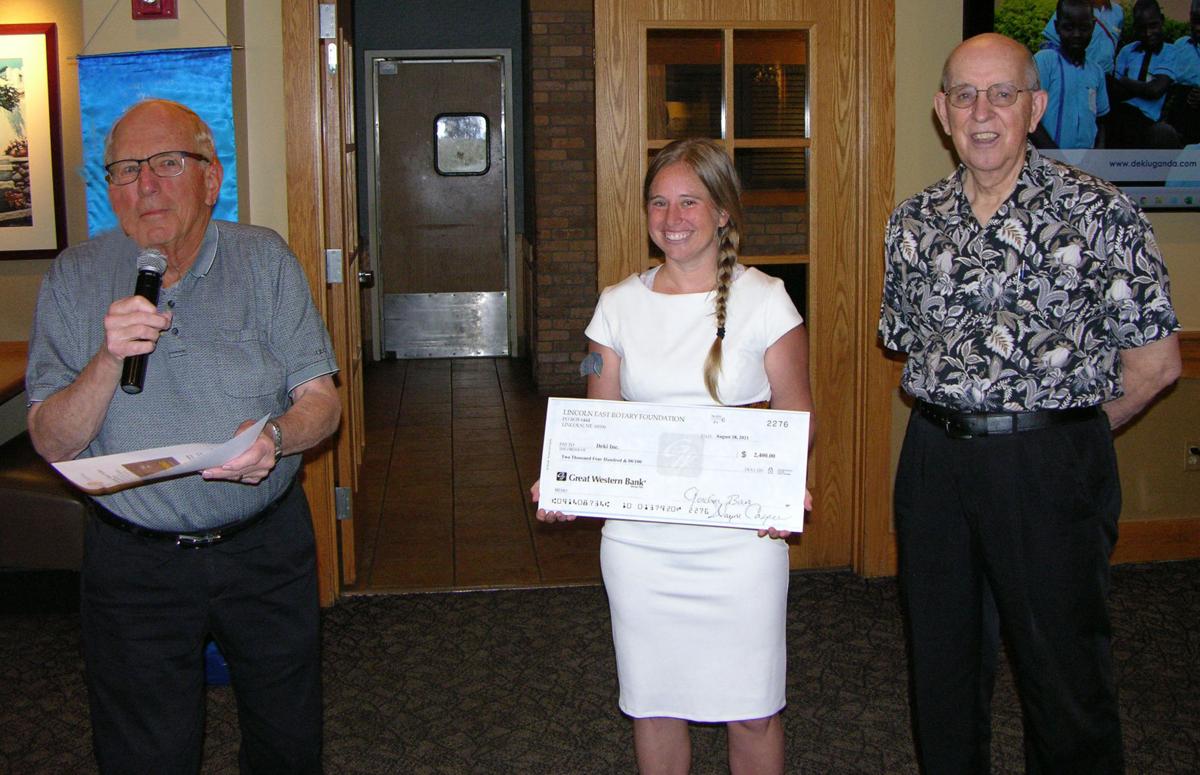 Shauna Davidson recently shared with Lincoln East Rotary an update on the two primary schools she has help establish in Northern Uganda.
Davidson is co-founder and board president of Deki, which provides free primary education to children in rural Northern Uganda. She focuses her work in international development, with a focus on youth and education. She has been living and working in Uganda the past six years.
Lincoln East Rotary Foundation Chair Gordon Bair and Wayne Casper, Foundation treasurer, presented a check for $2,400 to Davidson to help Deki with school supplies for the children at Nahla Nursery and Primary School and Hayden Primary School in Northern Uganda.
Did you know that in some villages in Northern Uganda, up to 70% of children do not attend school? Rotary envisions a world where all children have the opportunity to create the future they dream of, and believes this starts with access to quality primary education.
Davidson explained that Deki is helping by providing free quality education to children in Northern Uganda. Deki's mission is to provide sustainable access to quality primary education to children in Northern Uganda. It's vision is seeing access to quality education as a powerful force that changes people's lives, empowering them to lift Northern Uganda out of poverty.
Deki provides over 800 children with access to quality primary education in Agweng Sub-County, the majority of which were not previously attending school, Davidson said.
Schools were built in the Orit Barpunu area, where Deki has been able to help many students.
Situation: The closest primary school to Orit Barpunu village before Nahla is a two-hour walk and often impossible to reach during the rainy season. There, only 29% of children in the village go to school, leaving 71% of children with no education.
For those attending the school, the quality of education is poor. Teachers are inconsistent and often do not show up. Not getting a good education, children work on the family farm, continuing the poverty cycle.
Solution: The flagship school opened in February 2018 and currently has 350 children, 12 teachers, a head teacher, cooks, guard and cleaning staff. All staff members are hired from the local community.
Etyang Fred, co-founder, provides oversight over operations and has made sure that villagers are engaged through every stage of the process to make the school successful.
Impact: The goal is for education to be a means for the people of Orit Barpunu to further development of their community. Providing the children of Orit Barpunu with an education will give them skills they can use to build a new future for themselves and their families, Davidson said.
Two schools in Northern Uganda, Nahla Nursery and Primary School and Hayden Primary School, provide education to over 800 students. Deki hires and pays the teachers and makes sure the quality of education is high.
Building another school in a remote area in northern Uganda, where children have no access to education, is in the final stages. Schools are built in partnership with "Growing Hearts of Africa Foundation."
Davidson said the partnership focuses on creating sustainable schools that can one day be handed over to the community to run. Sustainability plans are being developed to make this possible.
Due to the COVID-19 pandemic, the Nahla and Hayden schools are currently closed, reversing years of progress made toward access to education in Uganda. Many students in rural villages, like the ones served by Deki, can't access remote learning options. Only 3% of households in Uganda have an individually owned computer, and only 6.6% of rural households have access to internet. Many of these families don't have electricity in their homes.
The longer students are disengaged from education, the lower the likelihood they will return to school in the future, as students start working to help support their families and girls get married early, Davidson said. Deki is taking action to keep the students engaged in education. Many of the teachers go to a trading place and let the students know that they can go there to pick up lessons and tbring back their homework. This helps keep the students engaged.
Davidson also shared a piece of her own personal history. Two years ago, she became a Rotarian, but because of COVID-19 she has been unable to have an in-person meeting.